First announced in November 2021, the debut edition of Challenge Malta took place on Sunday 15 May.
A relatively small entry saw Germany and Netherlands top the Pro Women and Men's podiums, respectively.
Thoes chases down Sainter
Despite exiting the water three minutes down on Great Britain's Chantal Sainter (nee Cummings) and Margi Santimaria (ITA), Germany's Svenja Thoes – winner of Challenge Sardinia back in 2018 – was able to fight back to top spot.
She halved her deficit to the British athlete on the bike – overtaking Santimaria in the process – and then with a closing run of 1:20:31, sealed the deal to catch Chantal and eventually cross the line with a winning margin of around seven and half minutes.
Keeping it in the family
The name Niek Heldoorn (NED) is likely a new name for almost all of you – but the surname may ring a few bells. Niek's father, Frank Heldoorn won IRONMAN UK (Sherbourne) in 2006, was twice a winner at IRONMAN Lanzarote and finished in the top-10 in Kona, three-times.
Those genes were put to good use on Sunday, when Niek exited the swim in a leading group with Caleb Noble (AUS) and Ognjen Stojanovic (SRB). Kristian Grue (NOR) powered through on the bike to join Heldoorn and Noble starting the run. Never much between them over the half marathon, the Dutch athlete was finally able to close out the win by just 20 seconds.
Challenge Malta 2022 Results
Sunday 15 May 2022
PRO Men
1. Niek Heldoorn (NED) – 3:44:58
2. Kristian Grue (NOR) – 3:45:18
3. Caleb Noble (AUS) – 3:46:00
4. Ognjen Stojanovic (SRB) – 3:48:08
5. Kristian Rød (NOR) – 3:49:19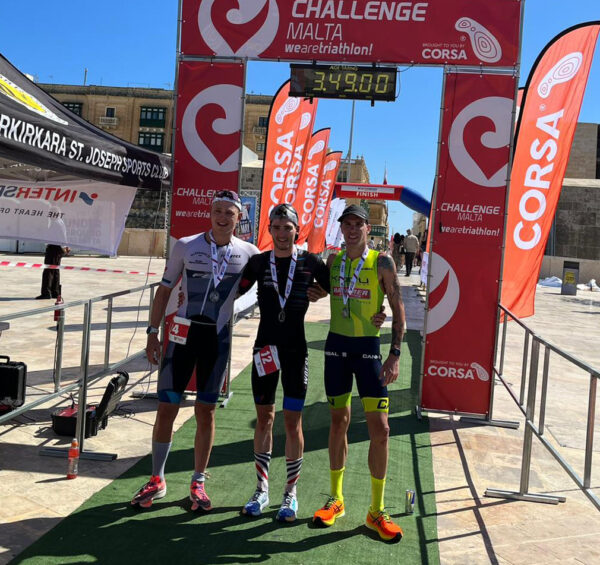 PRO Women
1. Svenja Thoes (GER) – 4:17:17
2. Chantal Sainter (GBR) – 4:24:44
3. Margie Santimaria (ITA) – 4:29:50
4. Valentina D'Angeli (ITA) – 4:39:17
5. Dominique Lothaller (AUT) – 4:56:40