Chris Leiferman just couldn't understand it – the harder he biked the further he fell behind. Welcome to the 2021 IRONMAN World Championship in St George.
A brutal course in St George delivered a brutal race as Kristian Blummenfelt ran down Braden Currie in Utah on Saturday. Leiferman meanwhile was the top American finisher with a highly creditable fourth place.
A little earlier in the day though Leiferman was distinctly concerned by the impact on the standings (or lack of) from a breakneck 112 miles on the bike.
Lionel Sanders, Cam Wurf, Sebastian Kienle and Ben Hoffman were with Chris as part of a chasing pack desperately trying to keep tabs on a leading group of five men.
Leiferman bike debrief
"The bike was out of control, fast and hard," he explained.
"You kept getting splits and you're looking on the computer and you're thinking it's way out of your limit.
"Then you hear a split – 4:30 back and then you're still on the limit. Then you hear you're 5:00 back and then you're 5:30.
"You're like what the heck, like we're losing time and I'm way out of my limit."
While the action was fast and furious, Leiferman absolutely loved the process. He sees this type of experience as one which will only improve his race craft.
"With Lionel and Sebi and Hoffman, we were just racing, it was a race. It was really cool – I felt really honoured to be riding with those guys.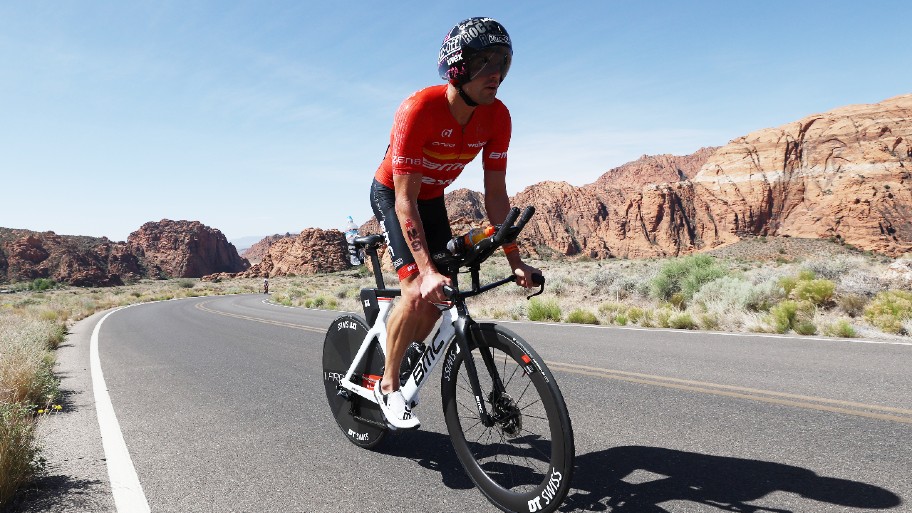 "At the same time, kind of that stepping stone, the way you can get better is to put yourself out there and to be able to put yourself on the limit and ride with those top guys. It was extremely extremely hard."
'I just screwed myself over'
While the bike may have been fun, there was another nagging doubt at the back of Leiferman's mind throughout – how would he now get through the marathon?
"The entire bike I was thinking that – like I just screwed myself over, I'm done. I knew that it was a strong man's course and pacing yourself, running your own race, don't chase.
"The wind was kind of favourable in a sense I thought, in that the longer climb coming back towards the finish, you had the tailwind. It was just a really tough course."
While Leiferman missed out on a podium spot, he was absolutely delighted to be the first home athlete to cross the line. It was something he had craved.
"Fourth is legit in my mind, but that top American spot was something that I've always set a goal for myself. So I did it!"