Three-time World Champion adds ETU Powerman Duathlon Championship title in Sankt Wendel
We previewed the event last week and asked, "Can the three-time ITU Powerman World Champion add the European Championship on Sunday?". Of course, we fully expected the answer to be "yes!", and Emma Pooley duly delivered, winning the Sankt Wendel ETU Powerman Middle Distance Duathlon European Championships in Germany. With a winning margin of nine minutes, it wasn't even close.
She may be small in stature, but Pooley is far from a small-time athlete – you don't win Olympic Silver medals (2008, Beijing, Individual Time Trial), by luck!
Of course, while she is best know for her cycling prowess, she is also a talented runner, having started her sporting career as an age-group triathlete / duathlete. She's also won marathons…
Covering the opening 10km run in the company of Sandrina Illes (AUT), Pooley then left her quickly on the bike, never to be seen or threatened again. The fastest bike split and the best second run split too was complete domination.
There's an extended race report from Paul Groves on the ETU website HERE.
Sankt Wendel ETU Powerman Middle Distance Duathlon European Championships – 21st May 2017
10km / 60km / 10km – ELITE
WOMEN
1st – Emma Pooley (GBR) – 3:19:48
2nd – Laura Zimmermann (GER) – 3:28:49
3rd – Sandrina Illes (AUT) – 3:39:55
9th – Dionne Allen (GBR) – 3:43:16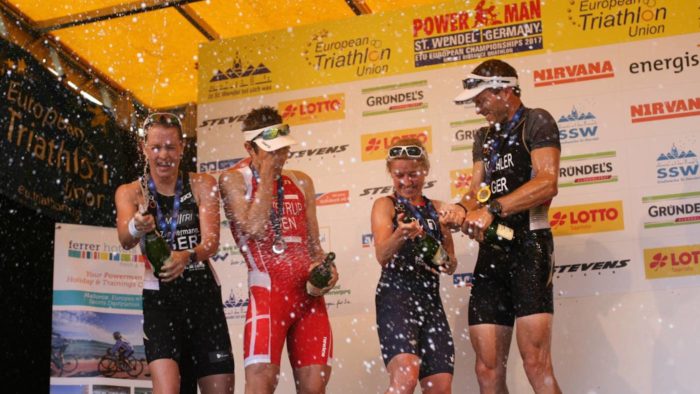 MEN
1st – Felix Köhler (GER) – 2:58:28
2nd – Søren Bystrup (DEN) – 2:59:04
3rd – Benjamin Choquert (FRA) – 2:59:51
14th – Julian Lings (GBR) – 3:11:27
15th – Ben Price (GBR) – 3:11:36
20th – Peter Ellis (GBR) – 3:16:01