It was a case of Tri becomes Du for the best or Europe's paratriathletes on Saturday in Olsztyn, Poland. The European Paratriathlon Championships saw its typical sprint distance triathlon format revised, thanks to cold water conditions and a cancelled swim.
Plan B was a run-bike-run duathlon. The swim was replaced by a 2.4km run and a shortened (14.7km) bike.
All change
For paratriathletes, the impact of such changes is perhaps even greater than normal. While para athletes compete within their six categories, the range of impairments even within one category can be significant – and such a format change massively alter an athlete's competitive prospects.
No swim, a shorter bike and even more running massively changes the prospects for Great Britain's Paralympic silver medallist, George Peasgood (PTS5), for example. Also a Paralympic medallist and World Champion in paracycling, he excels in the water too.
Already up against the legendary Martin Schulz, he will likely have been among the most frustrated with Saturday's race, seeing his greatest strengths removed or reduced. He did however go on to take bronze, behind the silver medal of another Brit, Michael Salisbury, an impressive new addition to the British Paratriathlon squad.
Paralympians shine
When all was said and done, many of the names at the top of the results lists were as expected. Jetze Plat (NED – PTWC), Alexis Hanquinquant (FRA = PTS4), Schulz (GER – PTS5) and Susanna Rodriguez (ESP – PTVI) all added further European Championship success to their Paralympic Games gold medals from Tokyo. They really are the best of the best.
There were British gold medals from Tokyo 2020 bronze medallist, Claire Cashmore (PTS5) and Dave Ellis (Guided by Luke Pollard) in the visually impaired category. It's a big year for Dave and Luke, with the Commonwealth Games featuring the PTVI division in Birmingham.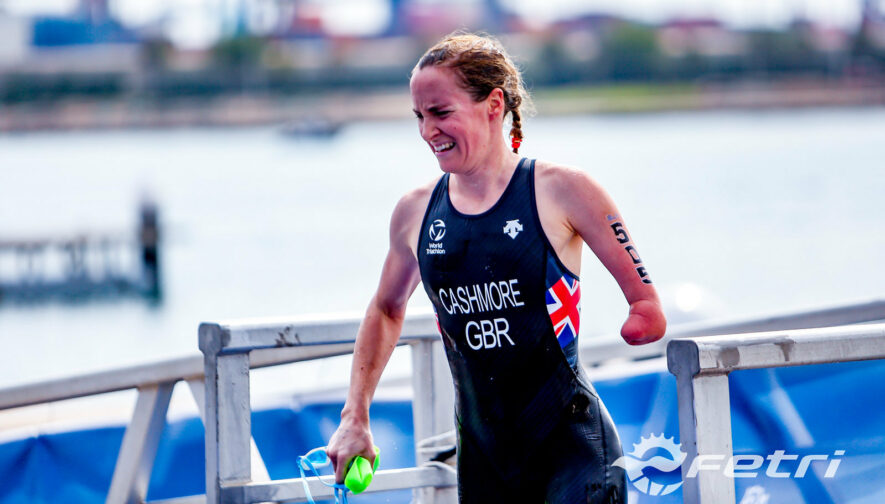 Just to add an extra challenge into the mix for Dave and Luke, their win didn't come incident free:
Europe Triathlon Championships Olsztyn 2022 results
Elite Paratriathlon – Saturday 28 May 2022 – 2.4km run / 14.7km bike / 5.2km run**
(** format amended due to cold water conditions)
PTWC
1. Jetze Plat (NED) – 42:13
2. Geert Schipper (NED) – 43:46
3. Florian Brungraber (AUT) – 43:55
6. Joshua Landemann (GBR) – 52:53
1. Mona Francis (FRA) – 56:57
2. Margret Ijdema (NED) – 59:46
3. Ekaterini Saranti (GRE) – 1:21:44
PTS2
1. Maurits Morsink (NED) – 54:58
2. Jules Ribstein (FRA) – 56:15
3. Lionel Morales (ESP) – 58:59
1. Veronica Plebani (ITA) – 1:16:32
2. Rakel Mateo Uriarte (ESP) – 1:34:31
PTS3
1. Daniel Molina (ESP) – 55:41
2. Nico Van Der Burgt (NED) – 57:32
3. Kini Carrasco (ESP) – 1:00:53
1. Sanne Koopman (NED) – 1:15:38
PTS4
1. Alexis Hanquinquant (FRA) – 47:24
2. Pierre-Antoine Baerle (FRA) – 49:50
3. Antonio Franko (CRO) – 50:23
4. Finley Jakes (GBR) – 52:35
1. Andrea Miguelez Ranz (ESP) – 1:01:57
2. Marta Frances Gomez (ESP) – 1:02:32
3. Elke Van Engelen (GER) – 1:02:55
PTS5
1. Martin Schulz (GER) – 46:11
2. Michael Salisbury (GBR) – 47:13
3. George Peasgood (GBR) – 47:32
1. Claire Cashmore (GBR) – 54:16
2. Gwladys Lemoussu (FRA) – 55:59
3. Alisa Kolpalchy (UKR) – 57:32
PTVI
1. Dave Ellis (Guide Luke Pollard) – 47:20
2. Thibaut Rigaudeau (FRA) – 47:52
3. Lazar Filipovic (SRB) – 48:08
6. Oscar Kelly (Guide Jamie Price) – 49:09
1. Susanna Rodriguez (ESP) – 54:10
2. Alison Peasgood (Guide Hazel MacLeod) – 56:22
3. Annouck Curzillat (FRA) – 56:51