Reigning Olympic Champion Dame Flora Duffy admits it came as "a big surprise" when she heard Gwen Jorgensen, the woman she succeeded as Olympic champion, was returning to the sport with the intention of competing at Paris 2024.
But underlining the challenge that awaits Jorgensen, Duffy warned the "level has really increased" in recent years.
Speaking to us at the Global Triathlon Awards, where she was named the female athlete of the year, Duffy said she will be interested to see how the comeback maps out but is unsure on the impact that 2016 Olympic Champion Jorgensen will now have on the women's race dynamics.
"It was a big surprise"
Duffy said: "It was a big surprise to myself and many others to hear that Gwen was going to return to triathlon."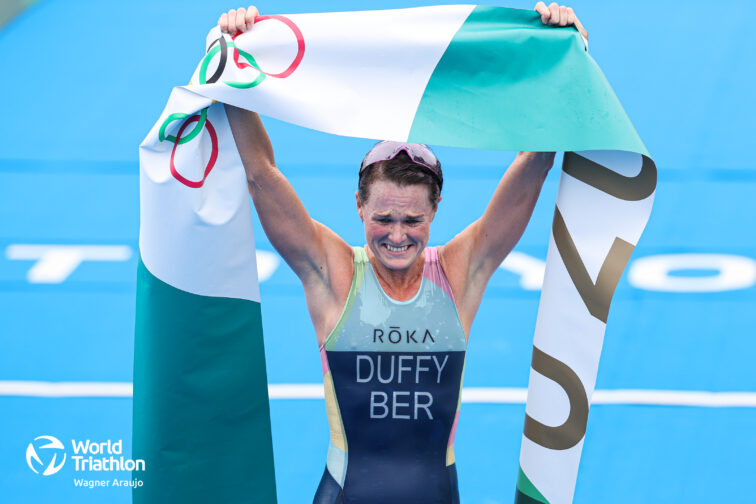 Duffy finished eighth behind gold medallist Jorgensen at the Rio Olympics in 2016, before taking the title herself in Tokyo in 2021.
Jorgensen, who raced for the Bowerman Track Club and Nike during her running career, announced at the start of December that she would be returning to triathlon, after almost six years out of the sport.
Jorgensen explained she was "inspired" by the USA's mixed-team relay silver medal in Tokyo and added: "I hope to contribute to that team in 2024 and think Team USA can be one step higher in Paris."
"Level has really increased"
Jorgensen, who in triathlon holds five of the fastest ten Olympic distance run splits, will hope her running prowess can change the dynamics of the women's racing at the Olympic Games in 18 months time.
But Duffy sounded a cautionary note: "I don't believe it will change too much as since the time that she has stopped racing the level has really increased."
The 2022 World Champion added: "In particular in the run, but it has really increased across the board, in swim, bike and run.
"It will be interesting to see how her journey goes but I don't think the race dynamics will change at all initially."
Although Jorgensen offers a different threat to Duffy's title defence, the Bermudian is the current Olympic, Commonwealth and World champion for a reason, and will relish racing the strongest field possible next year in what could be her final Olympic Games.