Already an all-time great of the sport, Bermuda's triple World Triathlon Champion Flora Duffy found herself in an incredibly unusual situation on Saturday at the AJ Bell World Triathlon Championship Series Leeds – dropped on the bike from a leading trio of three.
She crossed the line in seventh (the lowest position she has finished in a race for four years), but does retain second place in the Maurice Lacroix World Triathlon Championship Rankings, currently headed by Georgia Taylor-Brown.
A rough few weeks
One of the strongest riders we've ever seen in short course racing, everything appeared to be going perfectly early in the race for the Olympic and Commonwealth champion, when a leading trio of Sophie Coldwell, Taylor Spivey and the Bermudian broke clear from the chasing group.
Working well together and extending their lead, surely Duffy was set for a second win in Leeds?
And then all of a sudden, Coldwell and Spivey were alone, and Duffy was drifting back towards the chase pack.
"It was really hard out there. I had a pretty rough few weeks between Yokohama [Ed. third place] and here.
"I got Covid and It didn't leave me much time to prepare.
"This is a brutal race to jump into off of not ideal preparation, so it was okay, not my best.
"I have had Covid twice. I took a massive break at the end of last year, then I got Covid, so I only really got training in March.
"It's hard off the back of last year. I'm definitely building into this year and getting Covid again wasn't ideal!
"It's not great, but at the same time, it's a long year and this is only the second race.
"Hopefully, I can be a little bit more strategic and get some solid training weeks in, so I don't show up to these races so underdone and having to race these girls who are all flying and so strong. It's just tough."
Commonwealth Games goals
While we didn't get to see the best of Duffy in June, there is still hope that we will be able to do just that in July. The defending champion from the Gold Coast in 2018, Flora is intent on defending that title at Birmingham 2022.
"I'm definitely going to do the Commonwealth Games, that's a focus for me.
After seventh in Leeds, I need to probably reassess if I want to do Montreal and Hamburg [Ed. the next two rounds of the World Triathlon Championship Series]. At some point, I need to have a chunk where I can just train."
For now, Flora is heading back to Boulder, Colorado.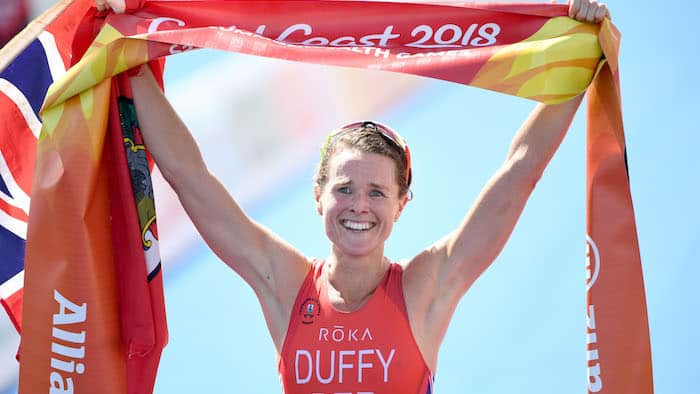 Long distance objectives?
That Covid positive of course prevented Flora's planned start recently at IRONMAN 70.3 Chattanooga – and with it, qualification for the 70.3 World Championship in late October 2022. It will likely mean some tough scheduling decisions will have to be made.
"I do still want to qualify for the 70.3 worlds, but that's getting harder. The qualification window closes July 3. There's a lot going on.
"It was my one opportunity and I missed it, so now I've got to reassess what I want to do with my year, whether I still want to focus on that or whether I want to focus on the (World Triathlon) series.
"I have achieved everything, but it still would be nice to feel I am up at the front fighting and not on the back foot in every race. It would be nice not to be in that position."