Gustav Iden believes his fifth-place finish in London's Arena Games final on Saturday could be "the turning point" as he bids to get his 2024 Olympic bid into top gear.
The reigning IRONMAN World Champion was delighted after putting himself right in the battle for a podium spot until the dying seconds. And despite picking up a five-second time penalty for leaving his shoes outside the transition box.
Iden has been an absolute superstar over longer distances in the last couple of years, claiming IMWC glory in Kona and the 70.3 World Championship in St George. But now he craves the gold which eluded him in Tokyo two years ago. Paris is now the main target, and he feels London might just have got him back on the right track.
Gustav Iden on Arena Games
Writing afterwards in an Instagram post, he admitted the last few months have been a struggle in training, but he believes better times are now ahead.
"Thank you, London! That was crazy. I didn't make it easy for myself with a penalty already before the race was on, but finishing 5th at the @superleaguetriathlon Arena Games was way better than expected!
"Especially when I did it the looong and brutal way with the repechage in the morning. Been struggling in training the last few months so I feel like this was the turning point. The Short Course Athlete is back ;)"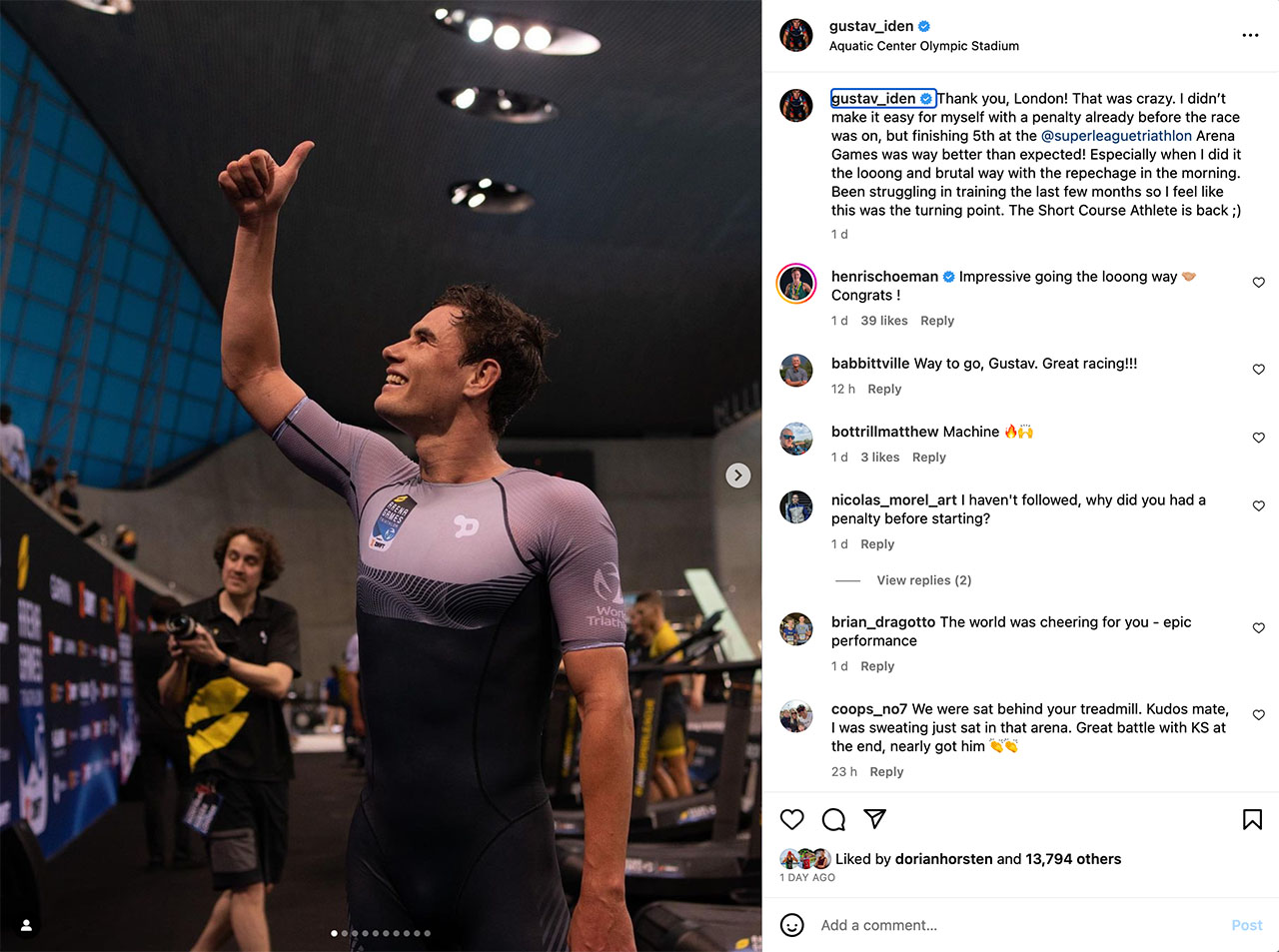 Iden eventually finished Saturday's final in a time of 34:14 – just 10 seconds behind second-place finisher, Henri Schoeman of South Africa. Italy's Nicolo Strada won the event in 33:41.
Norwegians ramping up Paris countdown
Iden and Norwegian team-mate Kristian Blummenfelt are both dropping back down in distance for that Paris bid – no easy task. 'Big Blu' of course is the reigning Olympic champion after that lung-bursting dash to glory in the Japanese capital two years ago.