Gwen Jorgensen is looking to step up to Olympic distance as she continues her triathlon comeback – but admits it's not been easy finding suitable races.
The 2016 Olympic gold medallist and two-time World Champion has raced three times this year since returning to the sport after over six years out – and just months after the birth of her second child – as she continues her ambitious attempt to make it to Paris 2024.
All those events – third in an Oceania Triathlon Cup event in Taupo, 14th at the World Triathlon Cup New Plymouth and second to fellow Olympian Katie Zaferes at the Americas Triathlon Cup St. Peters Missouri last weekend – were over the sprint distance.
Limited opportunities
But speaking in her latest YouTube update which is embedded below, she explained: "The biggest question I've been getting is what's my next race? I'd really like to do an Olympic distance race but there isn't really anything coming up that I have the opportunity to race in.
"And I'd really like to do something higher than a Continental Cup.
"There's a World Cup in June [World Triathlon Cup Huatulco in Mexico, again at the sprint distance] and if there are any opportunities before then I'll definitely grab them if they come along my way."
That underlines that arguably the biggest challenge for Jorgensen as she attempts to break into what's sure to be a formidable American squad for next year's Olympics, is getting on start lists and earning ranking points.
Seeing improvements
Looking back on her latest display which saw her finish 50 seconds behind Zaferes, she admitted: "I've realised with my racing that it's not going to be on my own timeline. I'd like to be better but I've seen improvement every week which is really exciting.
"The swim [in Missouri] was much improved for me compared to the first two races back. I just kept working my way up and I remember being in second coming out of the water but the stats say third!
"Katie took the race wire-to-wire which was pretty awesome to see and it was great to be back on the course racing with her.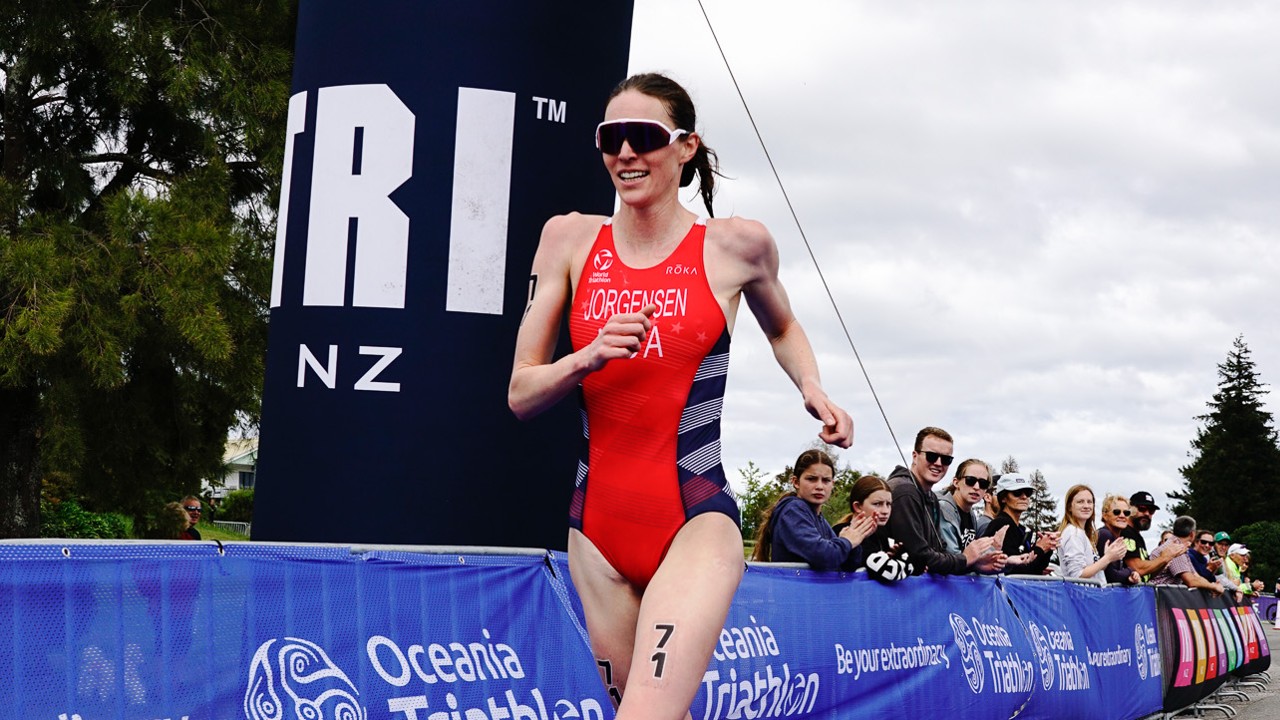 "On the bike and the run I felt extremely flat. I was around 70-80 seconds down on Katie coming into T2. I didn't feel great starting the run – [but] it felt super-hot having come down from the snow in Boulder.
"In the past I have a history of performing really bad in heat and humidity when I haven't trained for it so I was actually really happy with how that race went considering my lack of heat prep."
TRI247 wonders…
While fully respectful that Team Jorgensen will be exploring all avenues, could a European base be an option this summer?
Our Chief Correspondent John Levison says: "She could come to Europe in mid/late June, possibly after that Huatulco race on the 17th. There are European Cup races on 10th June, 17th June, 24th June, 1st July and then a World Cup on 8th/9th July.
"The WTCS events are Hamburg (15th/16th July) and Sunderland (29th/30th July) – I'd guess that for either of the two WTCS events, wait-lists will roll down, plus in the interim Gwen can be picking up the points to earn a place at them and/or show enough that USA Triathlon would want to pick her."
The two WTCS weekends also both have Mixed Team Relays, the big motivation for Jorgensen originally setting her sights on Paris 2024…