World Champion smashes course record in Poland
It was never in doubt really, was it? Jan Frodeno winning IRONMAN 70.3 Gdynia in Poland today will likely come as a surprise to precisely nobody. Even beating the 2018 course record (by eight minutes) of Tim O'Donnell is pretty much par for the course. He will be a significant absence from the IRONMAN 70.3 World Championship in Nice next month, but if that decision helps provide a 100% ready Frodeno in Kona, that will quickly be forgotten.
Like Jan, Amelia Rose Watkinson (NZL) lead the way from the first pedal revolutions of the bike and was never seen again, setting the fastest bike and run splits on the way to a big win. Given she was only one second slower than Great Britain's Claire Hann in the swim too, we'll chalk that one up to an all-round great day for the Kiwi. It wasn't quite perfect however – as she managed to overcook a corner descending on the bike and crash, crossing the line with the results of that impact still very visible courtesy of the blood on her nose.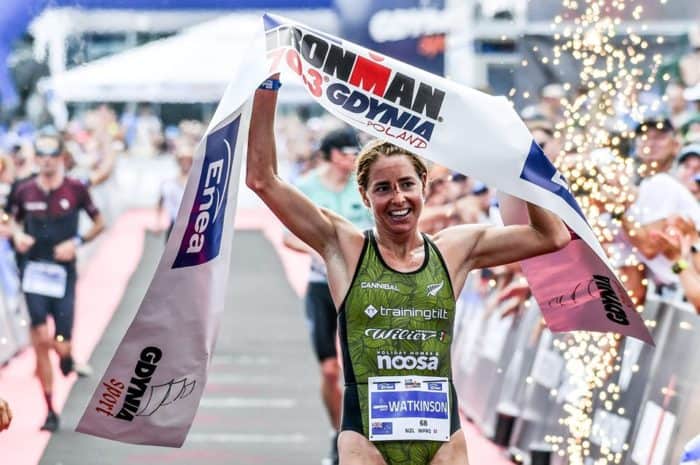 ENEA Ironman 70.3 Gdynia – Sunday 11th August 2019
1.9km / 90km / 21.1km
PRO MEN
1st – Jan Frodeno (GER) – 3:39:36
2nd – Maurica Clavel (GER) – 3:43:46
3rd – Miki Tagholt (DEN) – 3:46:28
7th – Thomas Davis (GBR) – 3:50:35
8th – Colin Norris (GBR) – 3:52:35
https://www.instagram.com/p/B1Br0BPBPi7/
PRO WOMEN
1st – Amelia Rose Watkinson (NZL) – 4:06:50
2nd – Lisa Huetthaler (AUT) – 4:15:37
3rd – Susie Cheetham (GBR) – 4:17:43
4th – Claire Hann (GBR) – 4:20:28
DNF – Tara Grosvenor (GBR)
https://www.instagram.com/p/B1B-MVlhDnQ/