Hayden Wilde is relishing locking horns with Alex Yee and Kristian Blummenfelt again following his impressive overall win in Super League Triathlon's Championship Series.
The Kiwi barely put a foot wrong over the course of the five races and still made the podium in the finale in Neom even though he revealed his training had switched up to the Olympic distance ahead of the end-of-season showdown with his fellow Tokyo Olympic medallists in Abu Dhabi on 26 November.
Talking about the Saudi Arabia contest which saw him take third behind Matt Hauser and Jonny Brownlee, he told us: "Kudos to the lads – Matty and Jonny put on a masterclass. Even on a good day for me they'd have been hard to beat.
"Jonny was just applying big pressure on the run and I couldn't respond. I think I might have burnt the biscuits catching back up on the first run when I had a bit of a kerfuffle in transition with another athlete coming into the mount and from there the body never turned up – but it turned up enough to get a third place.
"When Matt [who also won in Munich] has been on, he's been on big time and it's been really nice to battle with him. The same with Jonny – he's back in form and it's great to see."
Important stepping stone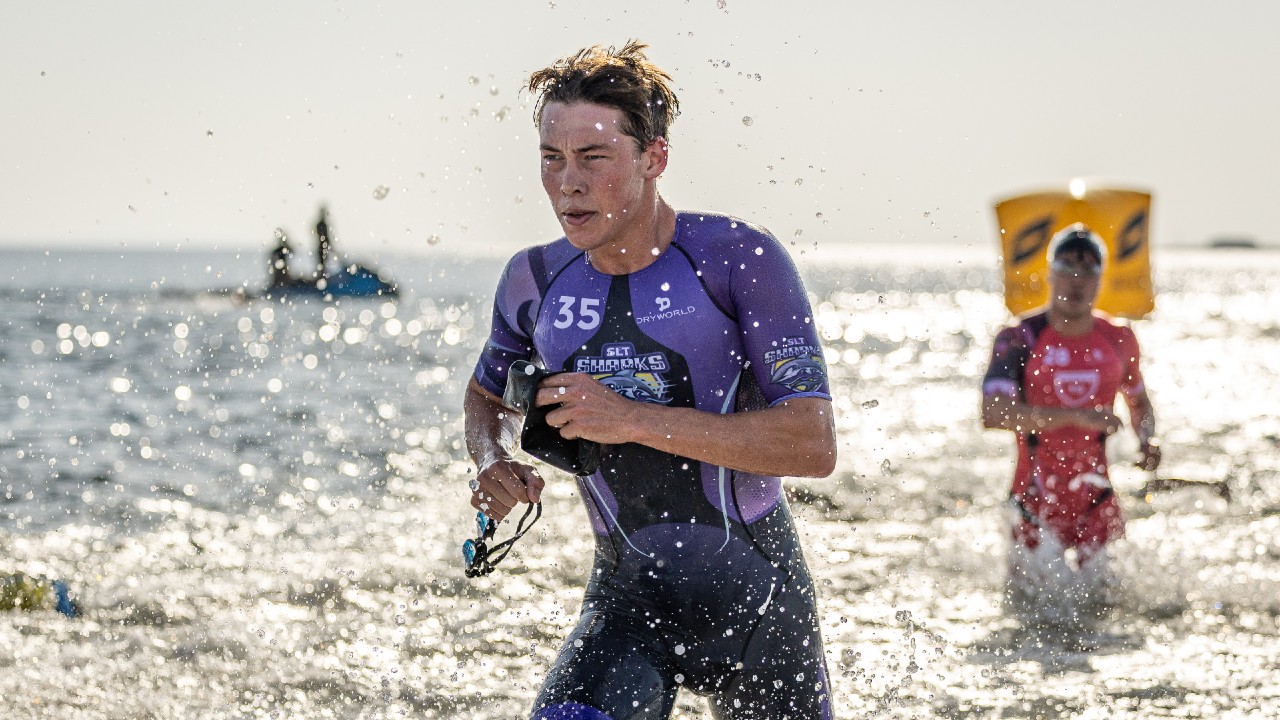 SLT has played a key role in Wilde's progression in the sport, ever since his debut back in 2018 – before which he had been working as a landscape gardener – and the moment he really made his mark when sprinting against Mario Mola soon after.
He acknowledged as much when he said: "I got the opportunity thanks to Macca [Chris McCormack] – I hadn't really had that chance before and since then it's just been an awesome progression. To finish up on top of the standings is a pretty unreal feeling."
And he now hopes it can now prove a similar springboard to those following in his footsteps, adding: "It's a great opportunity for any athlete and I'm just looking at those young athletes up there – the likes of Dan [Dixon] and a few other guys out there as well like Max Stapley. These are still U23 athletes and for them to have these opportunities like I had a few seasons ago is a great thing. In a few years I wouldn't be surprised to see those boys up front."
Different dynamics
But back to the present and Wilde headed straight to Abu Dhabi after Neom saying: "It's now just head down and going for it.
"The last three weeks I've actually been purposely training purely for Olympic distance so I've had a feeling I was coming into Neom probably the same form as a Munich – a little bit tired but knowing that I've done the training.
My main goal now is to fully focus on the World Series.
"I haven't raced Alex since London Super League, but I haven't raced him in the ITU since the Commonwealths.
"And with Kristian it's since the Collins Cup, where I wasn't 100%. So, yeah, it's going to be interesting to have those two boys, especially Kristian, in the mix again. It's going to make the dynamics a little bit different. So really looking forward to it, I can't wait."