Canadian Matthew Sharpe continued the strong start to his longer-course career with a maiden win at IRONMAN 70.3 Boulder at the weekend.
He emerged victorious over a strong North American contingent, as Justin Metzler and Ben Hoffman rounded out the podium with impressive performances.
Though as Sharpe admitted afterwards, he was rapidly reconsidering his step up in distance during the event!
Impressive debut
In the first IRONMAN 70.3 of his career, former ITU racer Sharpe experienced a baptism of fire in Boulder.
In his post-race interview, Sharpe said that even after leading out of the water, his initial strategy of "trying to go right from the gun" was quickly reduced to trying to "hang on for dear life" after being caught so quickly by the chasers on the bike leg.
He credited the competition he was up against for a tough race, revealing that out on the course: "It feels okay now but there were a few [tough] moments – I think I retired from the sport about three times during that race!"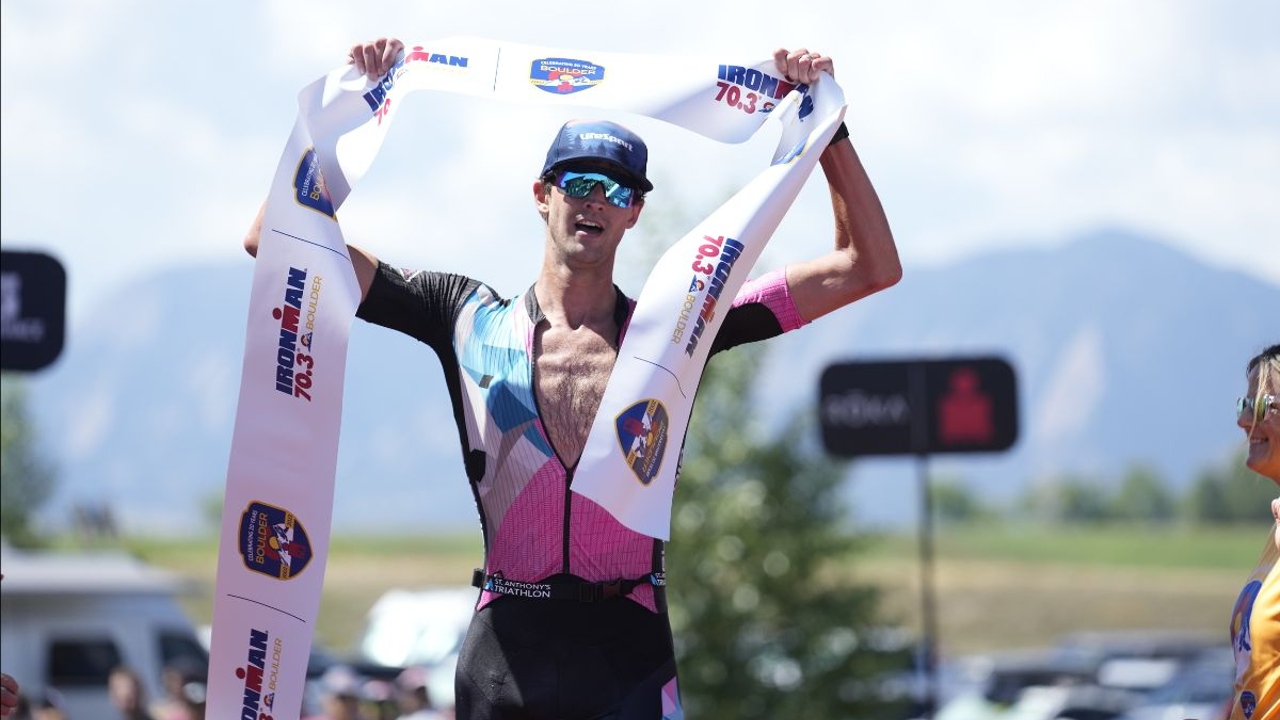 The Tokyo 2020 Olympian said the warm weather and altitude had pushed him to his "very limits" but added: "It really was an incredible experience and the community really stepped up to support."
Deja vu for Metzler and Hoffman
After a tough race a fortnight ago at IRONMAN Lake Placid, runner-up Metzler admitted that whilst he wasn't feeling at his best, unsurprising after a hard racing block that also included a victory at IRONMAN 70.3 Oregon.
He said: "This is my third race in six weeks but I live a mile and a half down the road so I just rolled the dice. I just had to trust my mindset and trust my ability to suffer and the support out there was amazing."
And on the running duel he had with Hoffman, Metzler added: "This isn't the first battle I've had with Ben – we had a side-by-side run for 11 miles in 2016 I think it was. He got the better of me that day and I said I can't let him get me today!"
Hoffman, who won IRONMAN Texas earlier on this year, also "had some miles in my legs" on race day, as he has his sights firmly set on the IRONMAN World Championships in Kona this autumn, stating that he thinks racing in Boulder "will be a good fitness boost heading into the last block before Hawaii".
The wily veteran, who turns 39 this month, added: "On the run, I just tried to be patient, and I think it paid off, as I found myself up there at the end."