Britain's Nikki Bartlett and Belgium's Christophe De Keyser were impressive winners of IRONMAN 70.3 Marbella on Sunday.
They achieved their victories in contrasting style – De Keyser was to the fore right from the start but had to hold off the strong-running Chris Leiferman (USA) at the business end of the race before confirming his first IRONMAN 70.3 triumph.
Whereas Bartlett put the hammer down in the second half of the bike leg and powered clear of her rivals, never looking like getting caught as she triumphed by over four minutes in 4:32:41.
PRO Men – De Keyser holds on
Christophe De Keyser led pretty much throughout the men's race having exited the water alongside Alexander Berggen (SWE), the duo holding a 43 seconds lead at that point.
But De Keyser emerged from T1 with a narrow advantage and he was soon solo on the bike.
Behind him, Leiferman, South Africa's Bradley Weiss – part of that thrilling home 1-2-3 at IRONMAN South Africa last month – and Martin Ulloa (CHI) had emerged as the main threats.
At one point De Keyser's advantage had grown to just under three minutes but it started to come down heading to T2 and by the start of the run Leiferman was 1:32 adrift.
And while that was slowly chipped away it was always just enough, with De Keyser crossing the line in 3:58:56, 30 seconds ahead of Leiferman, with Weiss 1:42 back in third.
All three men's half marathon times were within 1:02 of each other, with Leiferman a best-of-the-day 1:11:48.
Pro Women – Bartlett bosses it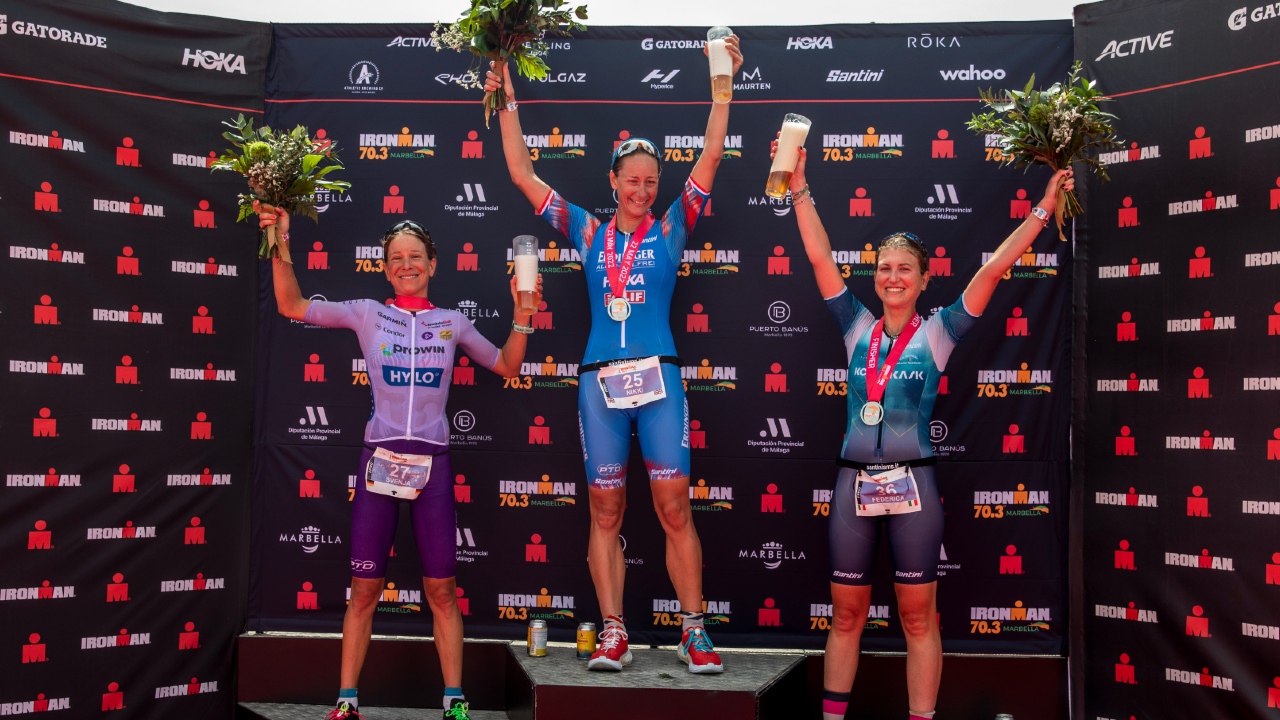 In the women's race a decisive move on the bike saw Nikki Bartlett assume control.
She'd dropped nearly three minutes back on the swim, coming out of the water in eighth behind solo leader Katharina Krüger (GER).
But Bartlett – along with Federica de Nicola (ITA) and Line Thams (DEN) – had bridged that gap to Krüger within the first 35km of the bike leg.
And from that point onwards it was one-way traffic; Bartlett having an advantage of over two minutes by the time she arrived at T2.
That had doubled to around 4:30 midway through the run and remained in that region, with Germany's Svenja Thoes – winner of Challenge Malta a week ago – coming out of the pack to take second at 4:23 back, with de Nicola in third and Brits Olivia Mitchell and Debbie Greig rounding out the top five.
IRONMAN 70.3 Marbella 2022 results
Sunday May 22, 2022 – 1.9km / 90km / 21.1lm
PRO Men
Christophe De Keyser (BEL) 3:58:56
Chris Leiferman (USA) 3:59:26
Bradley Weiss (RSA) 4:00:38
Martin Ulloa (CHI) 4:04:38
Domenico Passuello (ITA) 4:08:02
PRO WOMEN
Nikki Bartlett (GBR) 4:32:41
Svenja Thoes (GER) 4:37:05
Federica de Nicola (ITA) 4:40:25
Olivia Mitchell (GBR) 4:48:50
Debbie Greig (GBR) 4:50:21