Sam Long didn't want to talk about redemption beforehand but he claimed what must be a sweet victory at the Intermountain Health IRONMAN 70.3 North American Championship St George.
The American star had endured a frustrating start to the season and was returning to the venue of a hugely contentious penalty which derailed his hopes at last year's IRONMAN 70.3 World Championship.
He also suffered an agonising defeat in a sprint finish in this race in 2021, losing out by just five seconds to Lionel Sanders.
But there was no need for a sprint today as the 27-year-old put the power down on the bike to surge through the field and open up a lead of nearly three minutes which he never looked like relinquishing on a well-executed run.
Trevor Foley (USA) and Jackson Laundry (CAN) joined him on the podium, with Sanders in fourth.
Swim – Dubrick sets the pace
There were chilly conditions for the swim in the Sand Hollow Reservoir and it was Marc Dubrick (USA) who opened up a lead straight away.
He clocked a 23:45 and exited the water with an advantage of over 30 seconds from Luis Ortiz (USA) who headed a 10-man chase pack.
On the long run through transition, the waiting age groupers gave Dubrick a great ovation as he ran towards his bike while in behind him three of pre-race favourites; Laundry, Matt Hanson (USA) and Long were 14th, 15th and 16th – all around a minute and 40 seconds back.
But it was over three minutes back to Sanders, runner-up at the rescheduled IRONMAN World Championship in St George 12 months ago.
Bike – Long climbs into the lead
Many eyes on the bike were always going to be on Long and he didn't disappoint.
Dylan Gillespie (USA), third behind Tim O'Donnell recently at IRONMAN 70.3 Peru, had eased past Dubrick early on in the bike to take the lead.
But within the first five miles Long had leapt from 16th to second and he and Gillespie would dispute the lead for the next 40 miles.
But Long put the hammer down on the climb up Snow Canyon and that proved to be the race-defining move as he went two-and-a-half minutes clear.
Sanders had moved up to fourth before that climb but a dropped chain cost him and he'd have four minutes to make up starting the run.
But the Canadian's current training partner Foley was the man who just pipped Long for the fastest bike time which took him up to second place.
Long was doing everything right though and a super-quick transition saw him put in another 15 seconds to his rivals.
Run – 'Big Unit' closes out the win
Foley put down a marker early on the first of two run loops, taking back 17 seconds on Long in the first mile.
Laundry in third was also within range, with Gillespie and Sanders in fourth and fifth and still with four minutes to make up while Hanson surely had too much to do at +7:44.
But Long looked composed throughout and by the end of that opening lap he'd re-established his original advantage and would never look back as he claimed a welcome win.
Foley chased him home and crossed the line 2:22 behind, with Laundry in third at +3:06. And all of the first three men clocked a 1:12 half marathon.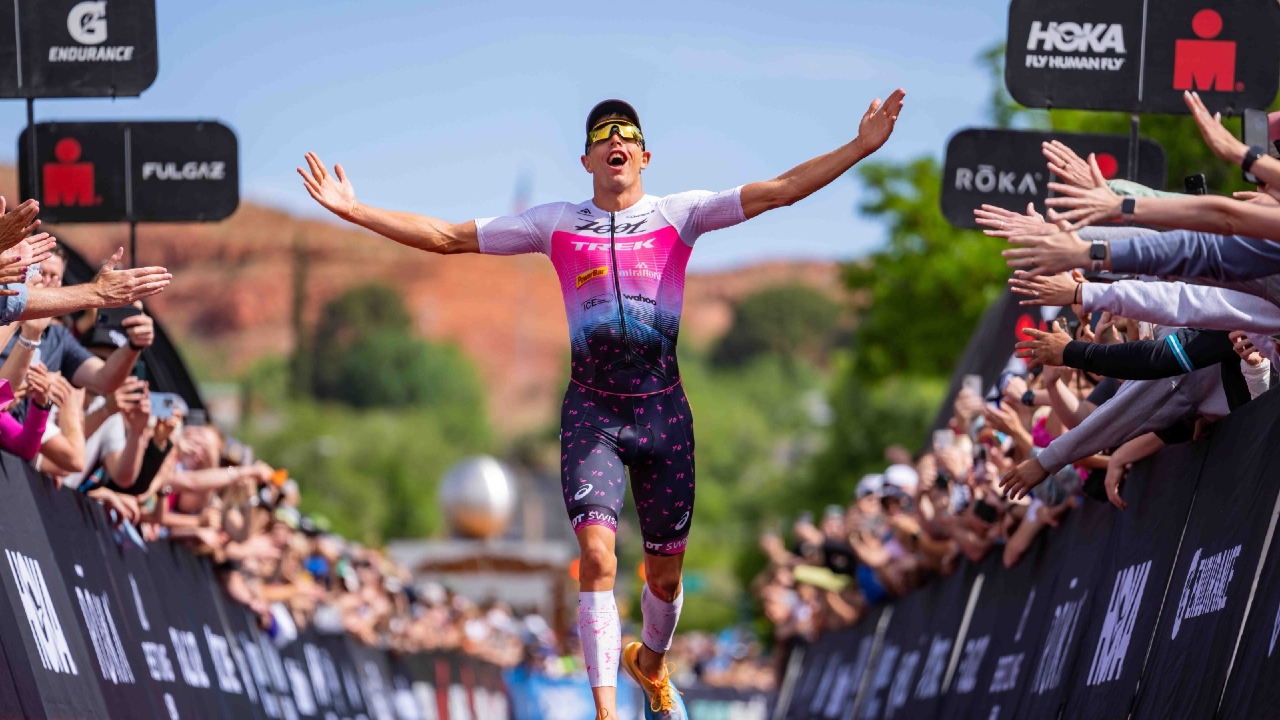 IRONMAN 70.3 St George 2023 results
Saturday 6 May 2023 – 1.9km / 90km / 21.1km
St George, Utah – North American Championship
PRO Men
1. Sam Long (USA) – 3:43:05
2. Trevor Foley (USA) – 3:45:27
3. Jackson Laundry (CAN) – 3:46:11
4. Lionel Sanders (CAN) – 3:48:20
5. Tomas Rodriguez Hernandez (MEX) – 3:48:23
6. Matt Hanson (USA) – 3:51:17
7. Marc Dubrick (USA) – 3:51:27
8. Benjamin Deal (USA) – 3:55:18
9. Dylan Gillespie (USA) – 3:55:41
10. Justin Metzler (USA) – 3:56:47