The first edition of IRONMAN 70.3 Tasmania produced two strong winners, each significant for different reasons.
Olympian Jake Birtwhistle had been tempted to step up to the 70.3 distance ahead of schedule by the fact the race's inaugural running was on his home patch. He'll now switch back his focus to Paris 2024.
And Ellie Salthouse was looking to carry on where she left off at the end of last season, when she rounded off what had been a somewhat frustrating 2022 with a victory at IRONMAN 70.3 Melbourne.
Home comforts
"I'm stoked, that was a really cool race and to win on debut is pretty special and to do it at home in the first event of IRONMAN in Tassie is something even cooler and and I hope to come back in the future years," said a delighted Birtwhistle.
"I don't get the chance to race here that often and especially at an event of this level so to be here in Tassie and to race like that and to have all the support out on course was really special as well."
Birtwhistle came out of the water alongside Brisbane's Josh Amberger, with the pair pushing hard early to put a gap on the chasing pack as they made their way through the 90km bike course.
But by T2 the top seven were all within 30 seconds of each other, with Matt Burton the first off the bike and Birtwhistle third. Caleb Noble got the early jump on the 21.1km run around the Hobart waterfront, opening up an almost minute gap at the front before Birtwhistle chipped away at it, eventually take the lead with five kilometres to go.
Birtwhistle explained: "I really had no idea what was going to happen out there today, my plan was to follow and see what happened and I found myself out the front with Josh (Amberger) for a while there and the rest caught us about 80km into the bike and I thought we had done it all for nothing for a while.
"But I just tried to stay cool on the run for that first lap, just stick to my pace and hope that I would be able to bring Caleb back on the last lap and thankfully I was able to get there and do that.
"I'm really happy that I was to execute the whole race – it was a tough day but the crowd support definitely helped get me through.
"My first time racing this distance I didn't want to go too early, even when I hit the lead I wanted to turn the screws a bit and all of a sudden started cramping instantly so went from trying to get away with a lead to battling myself for a while, Mitch [Kibby] was then coming in real hot in the last kilometre so I had to keep pushing through, it was a really hard race and I'm stoked."
Hopefully a sign of things to come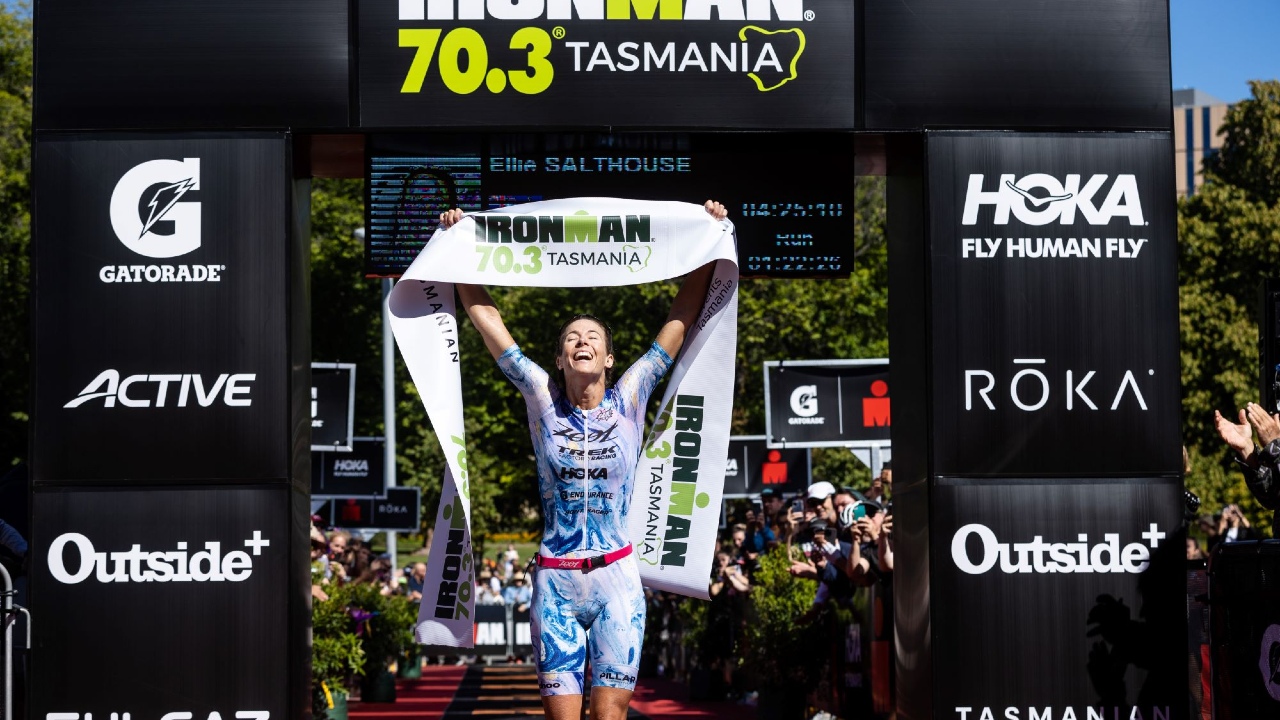 Salthouse meanwhile was at the front of the field all day, showing the form that has taken her to multiple IRONMAN 70.3 victories across the world, bagging the win in 4:25:08, less than a minute ahead of Grace Thek, with Penny Slater third.
Salthouse and Chloe Hartnett pushed ahead early on the bike, trading positions at the front before Slater and Thek caught them towards the end of the 90km, with the top four starting the run within 30 seconds of each other. Salthouse hit the lead within the first kilometre and didn't look back from there, going on to win her 14th IRONMAN 70.3 race win.
"The plan was to go from the gun and be on my own all day but I had some company which was a surprise but I just stuck to my plan and I knew my run legs were really good.
"I've been training well on the run so I had to back myself when all four girls came together and luckily it paid off," said Salthouse. "It wasn't my best day performance wise, I was a bit sick earlier in the week, I was questioning whether I was even going to come down but I came good and ended up coming down.
"You don't want to be running with Grace breathing down your neck, she's quite a fast runner typically so I had to have a bit of a gap, I couldn't slack off at all," she said. "To finish last year with a win and to start this year with a win means that the Aussie campaign is off to a great start and hopefully it's a sign of things to come.
"I was just lacking a little bit of power today and a little bit of energy but to take the win is really special, my parents are here and my boyfriend is here, it's really nice to be able to race in Australia."
Asked her impressions of the first IRONMAN 70.3 in Tasmania, she added: "It was actually warmer than I expected, coming from Queensland I've been cold all week so I was expecting the worse but it was a little warmer than expected which was a pleasant surprise.
"The bike course was a lot harder than on paper, obviously quite hilly and lots of technical parts so you had to be attentive the whole course but it made it go quickly and kept you on your toes."