It was an Australian double in the debut edition of IRONMAN 70.3 Tasmania as Jake Birtwhistle and Ellie Salthouse took the honours.
Olympian Birtwhistle belied the fact it was his debut at the distance as he proved strongest in a three-way battle with Mitch Kibby and Caleb Noble in the men's race.
And Salthouse underlined her top-seeded status by seeing off Grace Thek on a day where Aussies filled every position on the podiums.
Pro Women – Salthouse sees off Thek
Salthouse continued where she left off at the end of 2022 with an impressive victory in the women's event.
She was a winner on her last start at November's IRONMAN 70.3 Melbourne, an important victory following a tough year for the 29-year-old.
And she was to the fore throughout here. The 1.9km swim in the River Derwent took place in calm waters, with the 17.8 degrees temperature meaning it was wetsuit optional.
Salthouse led the way with Chloe Hartnett, the pair coming out of the water together and they also worked well on the hilly bike course to put more than a minute between themselves and the rest.
But in the latter stages on two wheels both Penny Slater and Grace Thek closed markedly, so much so that Slater was first out of T2 just ahead of Salthouse.
Salthouse was by far the quickest on the run though, moving back to the head of affairs early on and then gradually stretching her advantage. At the halfway point she was nearly a minute ahead of Thek and Slater, underlining the form she'd spoken about before the race.
"I've had a great few months of base training and am feeling really good leading into IRONMAN 70.3 Tasmania, probably the fittest I've felt at this time of the year," she'd said. "All three disciplines are going great in training so I'm looking forward to seeing what I can do on the race course."
And that was demonstrated in style as she stopped the clock in 4:25:08 after a 1:22:23 half marathon.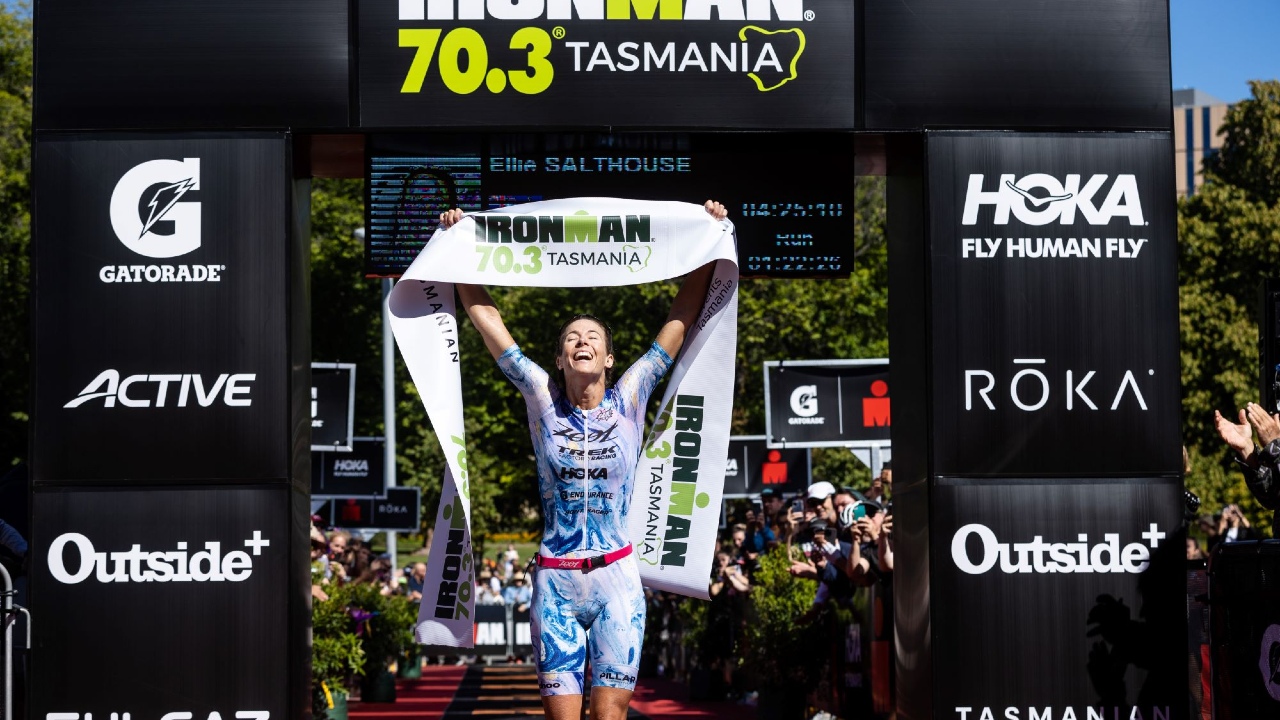 Second, just under a minute behind, was Thek – a week after she was married in Melbourne in one of the more unconventional race build ups, with Slater rounding out the podium.
Pro Men – Impressive debut from Birtwhistle
Jake Birtwhistle made the perfect start to his 70.3 career – even though he will be largely putting the distance on hold until after the Paris Olympics.
Speaking beforehand he'd explained his reasoning for stepping up, saying: "Being in Tassie, as a Tasmanian, it felt like too good of an opportunity to miss, especially when I was already getting motivated by the idea.
"That time will come soon when I will fully step up, but for now it's a bit of an exploration to see what it's all like and hopefully I'll enjoy it and that will be the path I'll lead after next year. Until then my focus will still be on the Olympics."
And here his speed proved the difference as he just came out on top in a thrilling race.
It was no surprise at all to see Josh Amberger leading the way in the water but Birtwhistle was right on his feet and the duo dictated early on during the bike leg, with Caleb Noble and the rest over a minute adrift.
But things all changed heading towards T2 as Matt Burton and Mitch Kibby moved to the head of affairs, with Noble also in the mix now, just 17 seconds back starting the run. No fewer than seven athletes were within half a minute.
Noble surged to the front within the first mile and had a 30 seconds advantage at the halfway stage.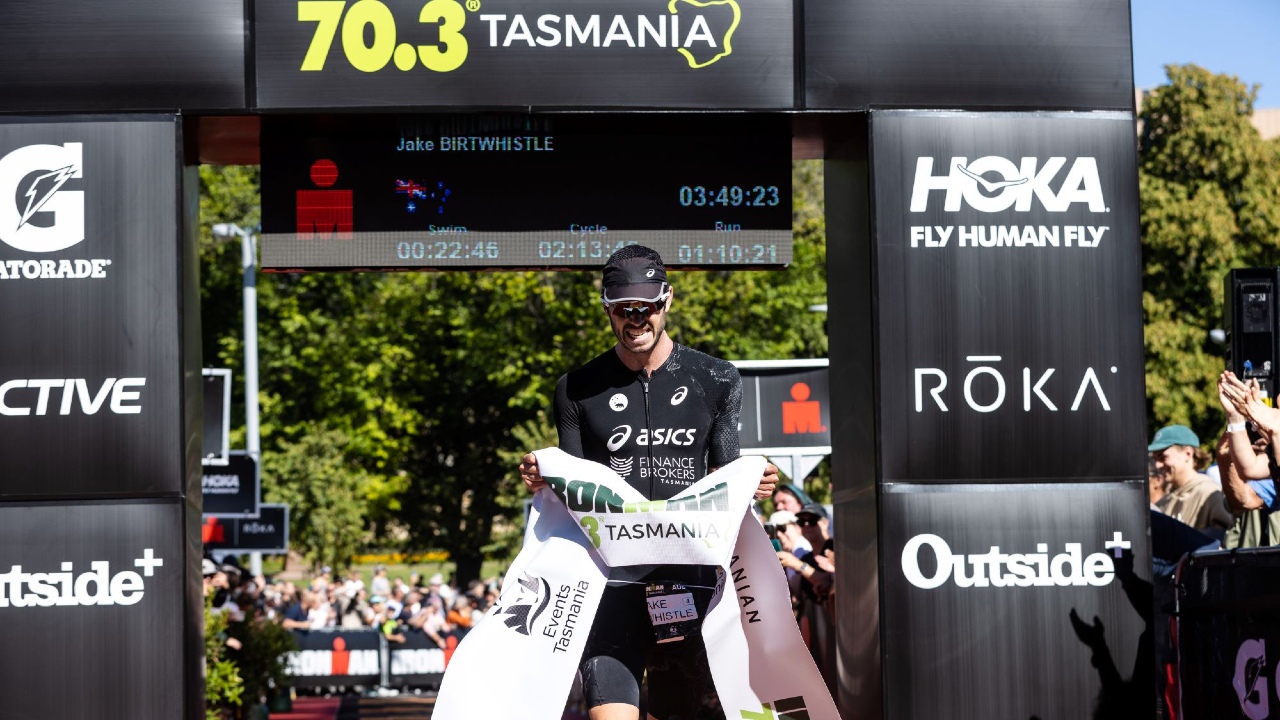 But Birtwhistle joined him with 5k to go and it soon became obvious that, barring any late disasters, that pair and Kibby were going to be filling the podium positions.
But in what order was the big question and that was only answered late on as Birtwhistle held off KIbby by just 15 seconds, with Noble in third and a further five minutes and more back to the rest.
Click here for quotes and reaction from both Birtwhistle and Salthouse.
IRONMAN 70.3 Tasmania 2023 results
Pro Men
1. Jake Birtwhistle (AUS) – 3:49:21
2. Mitch Kibby (AUS) – 3:49:36
3. Caleb Noble (AUS) – 3:50:17
4. Josh Amberger (AUS) – 3:55:17
5. Kurt McDonald (AUS) – 3:56:39
Pro Women
1. Ellie Salthouse (AUS) – 4:25:08
2. Grace Thek (AUS) – 4:26:06
3. Penny Slater (AUS) – 4:29:36
4. Sophie Perry (AUS) – 4:35:00
5. Chloe Hartnett (AUS) – 4:35:05