Britain's Lydia Dant extended her stunning run of form since turning Pro with victory at IRONMAN 70.3 Vichy on Saturday while Arnaud Guilloux led home a French clean sweep of the first five places in the men's race.
Usually one of the most scenic races on the calendar, things were a little different this year.
For there was no swim in Lake Allier due to torrential rain in the days before which resulted in poor water quality.
Pro Women – Dant times it perfectly
It all meant it was simply a bike / run format and it was Lucy Byram (GBR), winner of Challenge Wales earlier this season, who was quickest on two wheels with her 2:21:46.
But home hope Charlene Clavel was just 12 seconds back and there was then a gap of 1:29 to Dant and daylight to the rest.
Before the halfway point of the run Dant had cut her deficit to Byram to 43 seconds as Clavel dropped back – and it looked set for a close finish between the Brits.
And so it proved as Dant took the lead in the last 5km as she clocked a 1:21:03 run to land the spoils by 22 seconds from Byram, with Clavel rounding out the podium.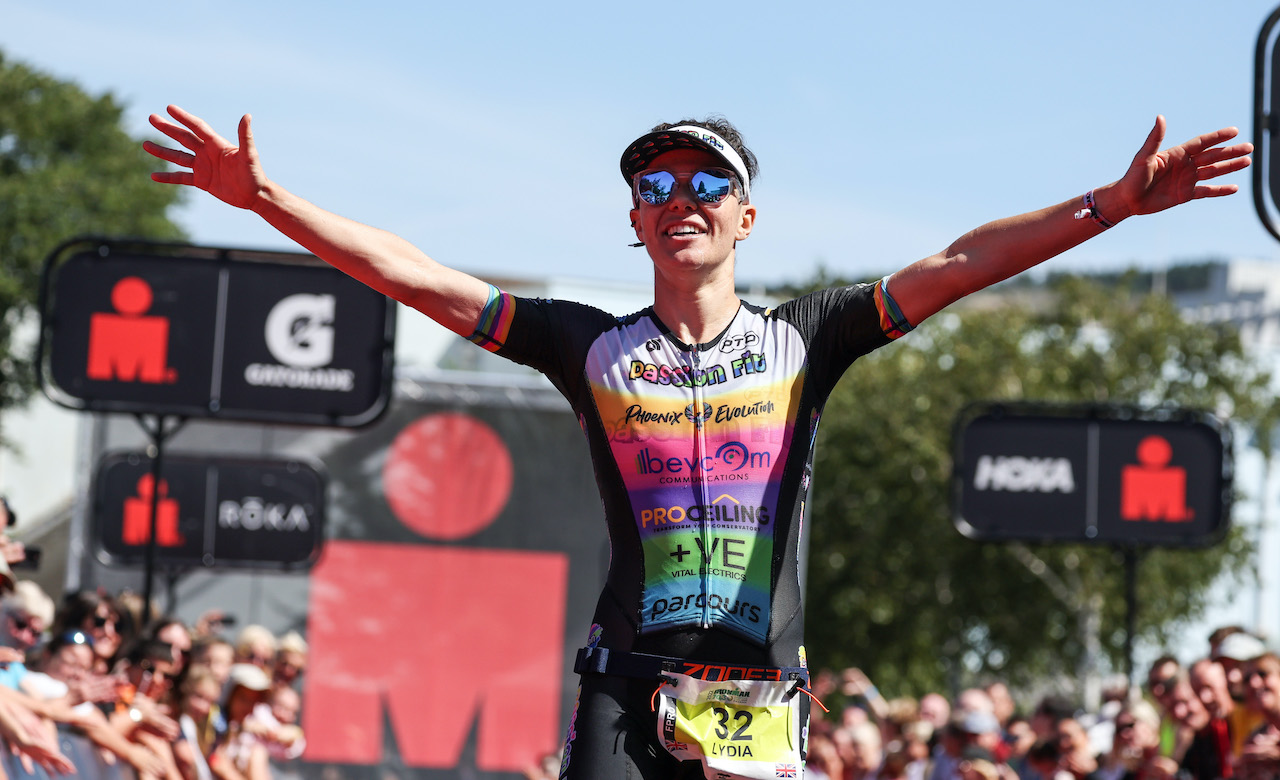 Since transitioning from top age-grouper and securing her Pro licence, Dant's highlights have included victory at IRONMAN Lanzarote and a second place at IRONMAN 70.3 Luxembourg.
Just a fortnight ago she added another podium courtesy of a second place finish at IRONMAN 70.3 Swansea and today's display showed no signs of the sequence stopping.
Pro Men – French dominance
Giulio Molinari (ITA) and Guilloux who were head and shoulders above the rest on the bike, clocking 2:08:38 and 2:08:54 respectively.
Going into the transition for the run that gave them a lead of over two minutes over James Scott-Farrington (GBR) in third.
Guilloux, who qualified for the upcoming IRONMAN World Championship in Kona thanks to his fourth place finish in Florida last November, was soon in charge in the half marathon but the big question was whether the charging Leon Chevalier (FRA) would be able to overhaul him.
Chevalier clocked a 1:11:38 to Guilloux's 1:13:21 but it was the latter who prevailed by 30 seconds in a total time of 3:23:43.
Dylan Magnien made it an all-French podium – indeed the hosts filled the first five places.
IRONMAN 70.3 Vichy 2022 results
Saturday 20 August 2022 – swim cancelled / 90km / 21.1km
PRO Women
1. Lydia Dant (GBR) – 3:45:53
2. Lucy Byram (GBR) – 3:46:14
3. Charlene Clavel (FRA) – 3:49:06
4. Justine Guerard (FRA) – 3:54:21
5. Marion Legrand (FRA) – 3:57:20
PRO Men
1. Arnaud Guilloux (FRA) – 3:23:43
2. Leon Chevalier (FRA) – 3:24:13
3. Dylan Magnien (FRA) – 3:24:41
4. Simon Vlain (FRA) – 3:26:39
5. Erwan Jacobi (FRA) – 3:27:04