The IRONMAN World Championship was first held in Kailua-Kona, Hawaii in 1981 (the inaugural Ironman was in 1978 in O'ahu, Hawaii) and it was won by former Olympic cyclist, John Howard, in a time of 9 hours, 38 minutes, and 29 seconds.
The Kona-winning times have improved year-on-year, but for a long time it appeared that breaking eight hours in Kona was not possible. Then came 2018, and Patrick Lange won his second Kona title breaking the tape in 7 hours, 52 minutes, and 39 seconds!
Whilst training and nutrition have developed greatly in 40 years, arguably the main contributor to finishing times dropping so dramatically is technology.
Here are some of the biggest tech changes and advances that have made waves in Kona – and check out our guide for highlights to look out for this year.
Swim tech
In the early years athletes simply swam in trunks and swimsuits, and to a large extent the swim tech has not changed a lot. This is mainly because the swim in Kona will always be non-wetsuit, due to the water temperature.
Swimskin
However, a big swim tech change occurred in 2006 when Normann Stadler won his second IRONMAN World Championship. Stadler was renowned as an uber-cyclist, but in 2006 he had a particularly good swim, coming out of the water within touching distance of his competitors for the overall title. In this swim he wore the Blueseventy PointZero 3 swimskin.
A swimskin is a thin one-piece suit, normally sleeveless, that fits tightly over an athlete's trisuit. Swimskin technology has developed since 2006 but the primary purpose remains, and that is to help the athlete glide through the water, providing significant gains.
One Minute Plus!
Using a swimskin, compared to just a trisuit, can save around two seconds per 100m, which over a 3.8km Ironman swim could amount to up to 1 minute and 20 seconds – the difference between making, and not making, the front pack and/or the pace-line.
Due to the potential savings, at Kona 2022 all of the professional athletes will probably be wearing a swimskin and it is likely a large number of competitive amateurs will be doing the same.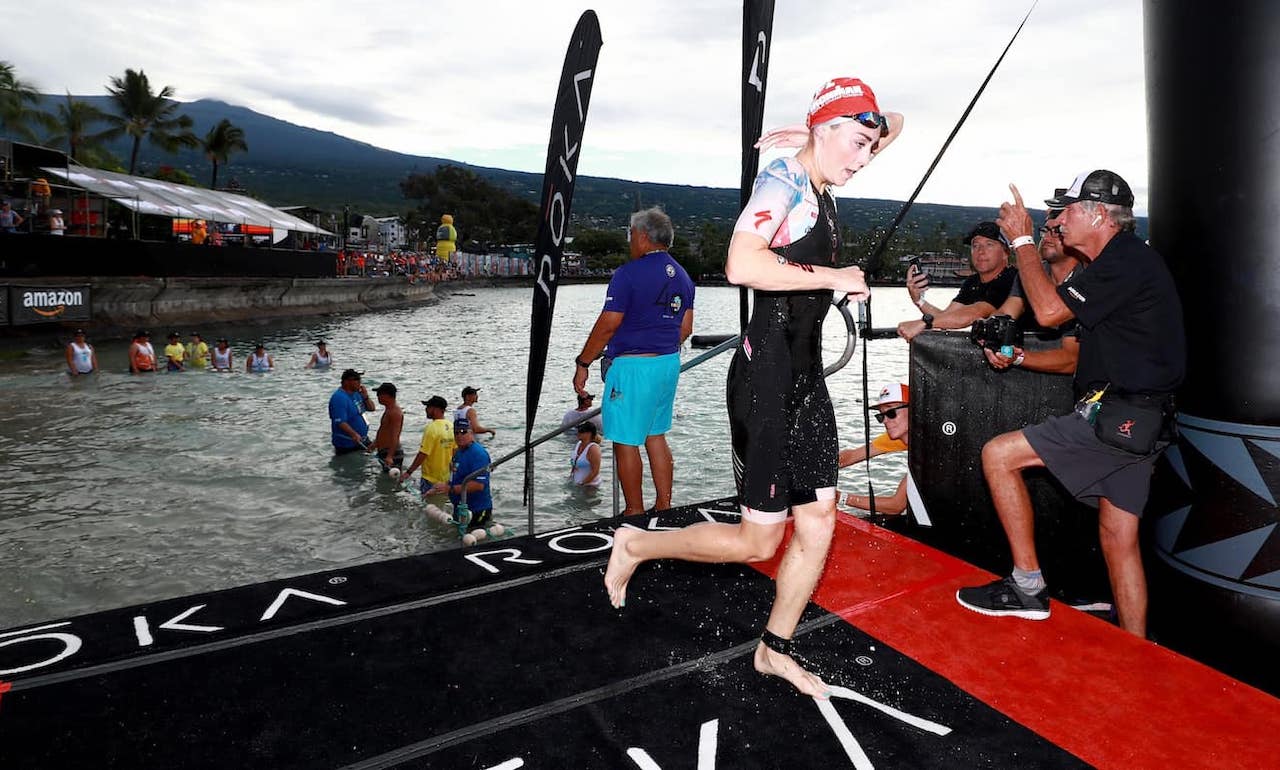 Bike tech
Cycling in general has progressed hugely since the late 1970s and early 1980s, including:
The emergence of aluminium frames, the first production carbon frame launched in 1986 (the Look KG86), to monocoque carbon frames.
Alloy wheels to deep section carbon hoops (with tri and four-spoke wheelsets having a renaissance).
Rim brakes to the arrival of disc-brakes.
Classic drop handlebars to integrated cockpits.
Mechanical gears, with levers on the downtube, being replaced by electric gears and blips (and even wireless groupsets).
Unlike pro-cycling which is limited by the rules and regulations of its governing body, the UCI, triathlon-bike design is not subject to the same degree of restriction. As a result, triathlon bikes have consistently pushed the boundaries of convention and led the way in terms of innovation.
Tri-bars
Tri-bars became big news and entered the wider endurance sport conscience when the great American cyclist, Greg Lemond, used tri-bars in the 1989 Tour de France. He overcame a deficit of 50 seconds at the start of the 24.5km final time trial, to take the overall victory by only 8 seconds. Lemond used tri-bars and an aero helmet, his competitor Laurent Fignon did not. Incredible.
However, as is often the case, the triathlon-world had already adopted these wind-cheating handlebar extensions.
In 1987 aerodynamic-trailblazer Scott Tinley, and many of pro-field, used tri-bars. The make-up of the tri-bars varied, some riders used large-one piece handlebars whereas others had two independent extensions. The answer was clear, if you wanted to be competitive tri-bars were a must.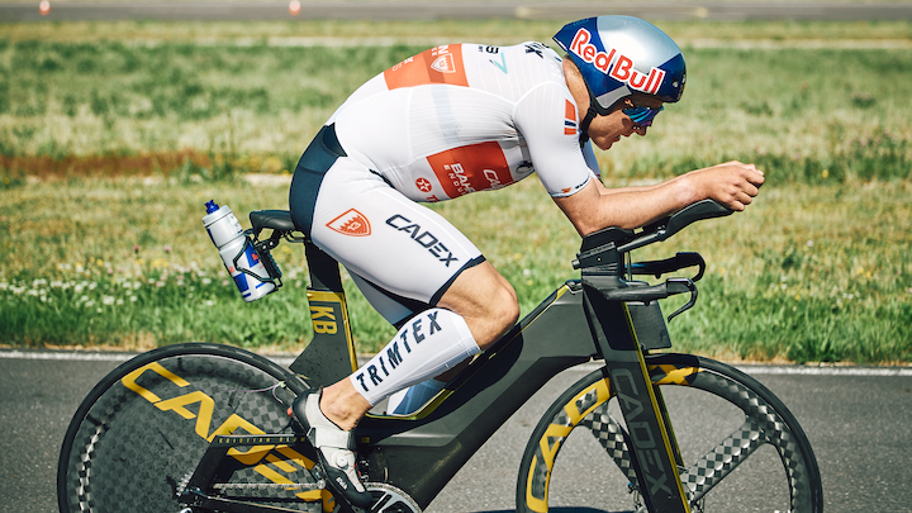 Prior to the wide adoption of tri-bars, the bikes used in Kona had already taken innovative approaches to saving watts and cheating the wind. For example, in 1986 some riders used low-pro bikes – these paired a smaller front wheel and larger rear wheel, normally a 650C front and a 700C rear, to lower the front end of the bike. Also, at the 1985 edition of Kona, Tinley was one of the first athletes to use a set of handlebars designed to make aero gains, wide-upturned bull horns. Such handlebars became common and for many years similar bars acted as the base bar onto which tri-bar extensions were added.
Helmets
Interestingly, even in the mid-1980s, despite the lack of scientific aero testing (such as wind-tunnels), riders were using helmets with fairings (similar to modern time trial helmets), or helmets with net-covers or a solid shell (that looked more akin to a BMX helmet). In fact, at the 2022 IRONMAN World Championship in Kona, due to the continuing challenge of balancing aero gains and ventilation needs, you will see a similar range in styles of helmets being worn, including long-tailed aero helmets, normal well-ventilated road helmets, and aero-road helmets.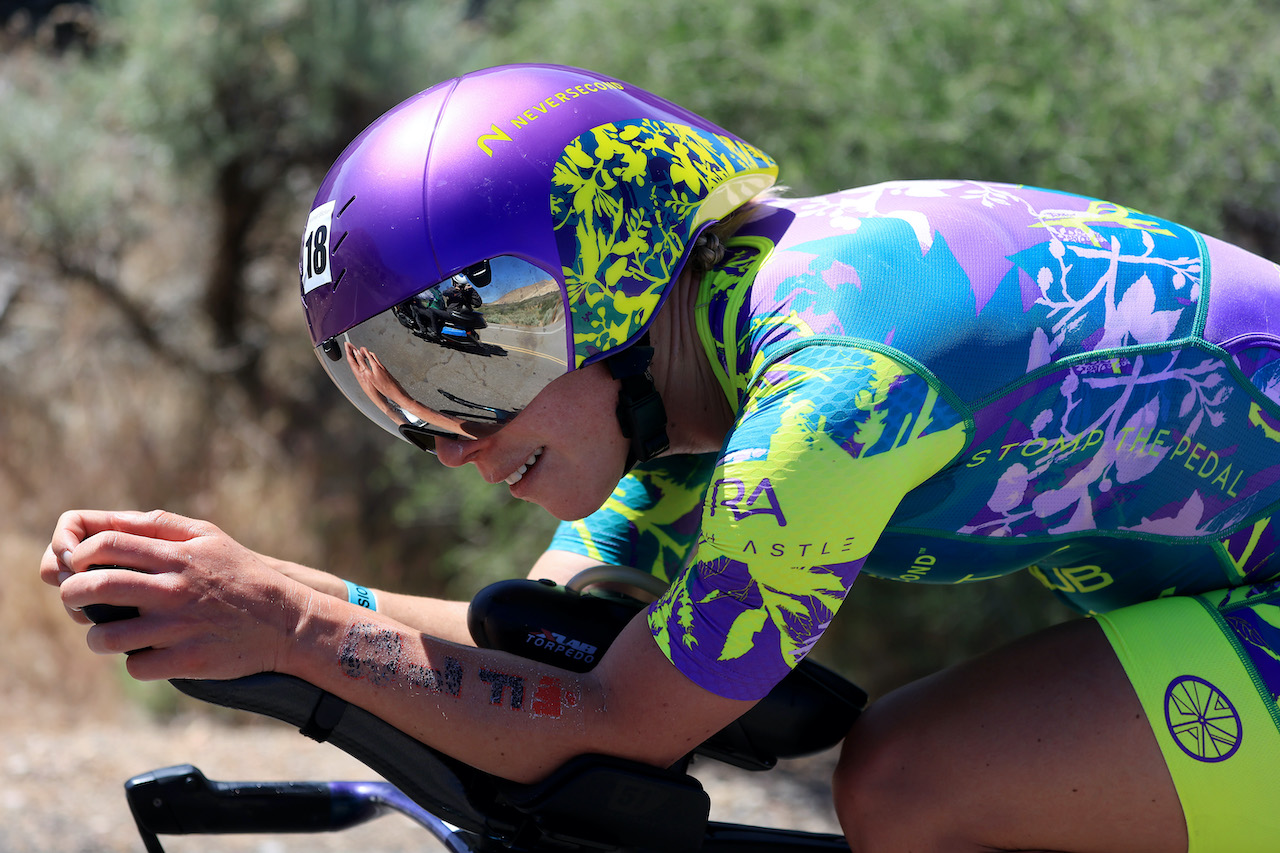 Trisuits
A trisuit, as the name suggests, is designed to be worn across all three disciplines. Trisuits are not new, however, as recently as the late nineties the world's best long-distance triathletes were often making a full costume change to vest and shorts before stepping out of T2 onto the famous Kona run course.
In the early 2000s tri-suits became more popular, but these were predominantly two-piece suits. However, the biggest change concerning trisuits occurred as recently as circa 2013, the advent of sleeved trisuits.
High-tech material is far more slippery through the air than bare skin, and the development of special textured sleeves allows athletes to make potentially significant watt savings on the bike. Another benefit of the sleeved suits is added protection from the sun.
Up to and including the 2013 race edition, sleeved race suits were a rarity. But, come 2014 a number of top contenders had moved from classic tank-top style trisuits to sleeved suits. Of particular note, male winner Sebastian Kienle was one such athlete to make the change and to reap the rewards!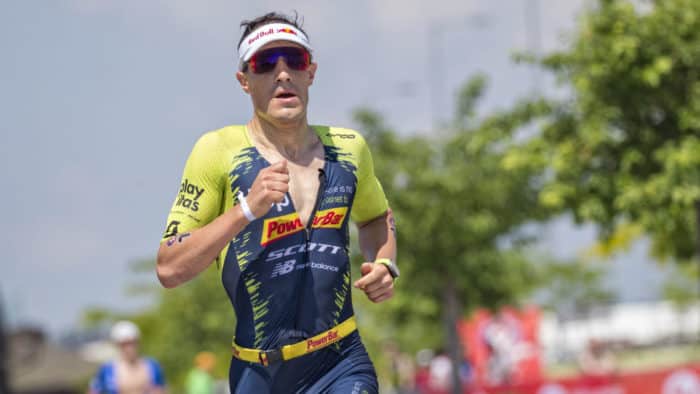 Eye-catching and divisive bikes
The IRONMAN World Championship in Kona is triathlon's biggest annual event. Therefore, it is commonly the best place and time to launch the world's most striking bikes.
Back in 2016 Cervelo showed the competition how to gain traction and exposure with a product launch. After a week of teasers, on 4 October 2016 Cervelo revealed one of the most eye-catching and divisive bikes ever seen – the Cervelo P5X.
The bike's beam-frame design, although not a first, was rare for the time; the Cervelo was one of the first triathlon bikes to only be available with disc-brakes (and thru-axles); the frame incorporated storage and hydration options; and, it came with a sky-high price tag (for the time) of circa £14,000.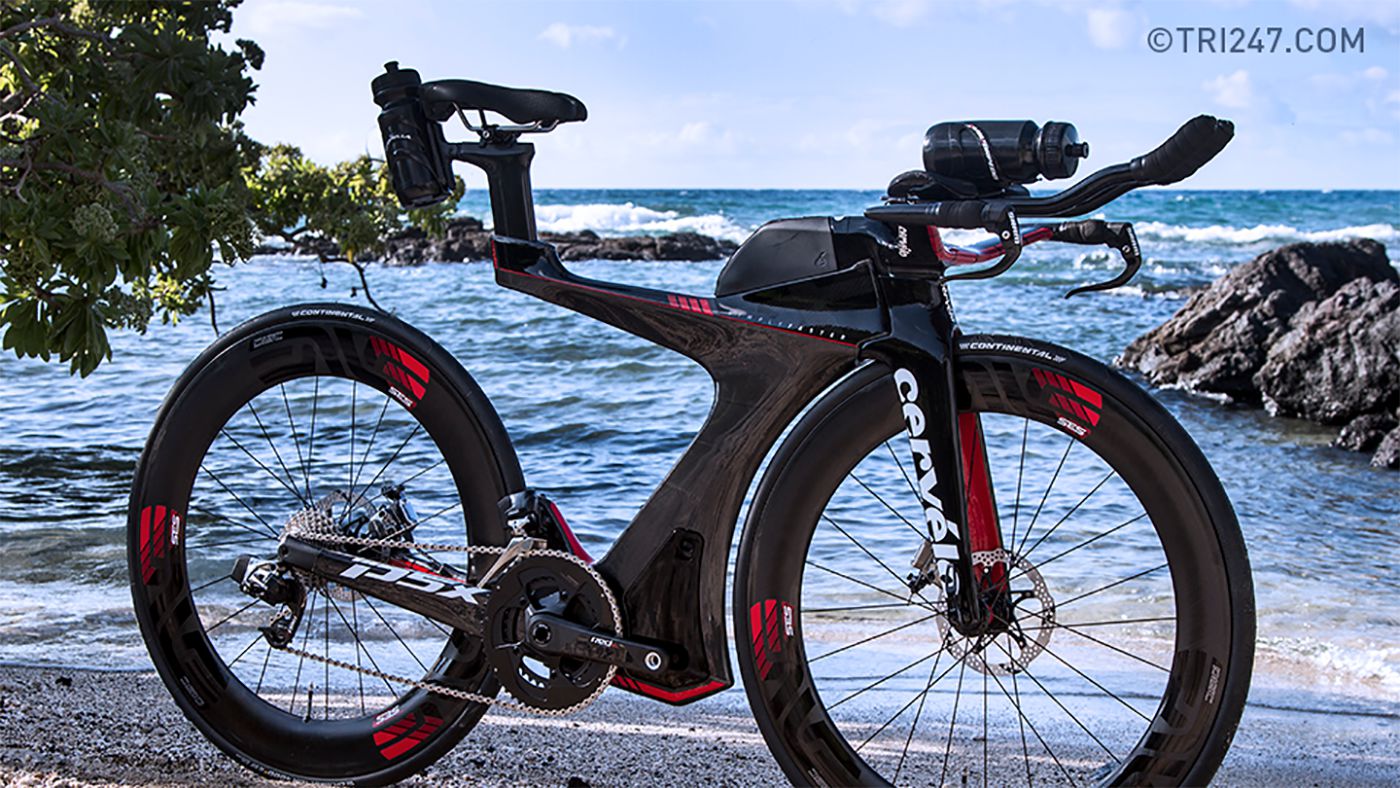 At the time Cervelo claimed the P5X was ground-breaking and there was talk that the P5X was the future of triathlon bikes. To date, beam bikes remain a minority amongst pro-triathletes, but disc-brakes are dominant, and all high-end triathlon bikes have aero-gains in consideration when positioning storage and hydration options. Also, the price of all top-end bikes is creeping upwards!
Run tech
Running is the simplest of activities when it comes to tech. As mentioned, most pro- athletes now complete the run wearing a tri-suit rather than changing into a running vest. Lionel Sanders however, typically, still bucks that trend in full distance racing!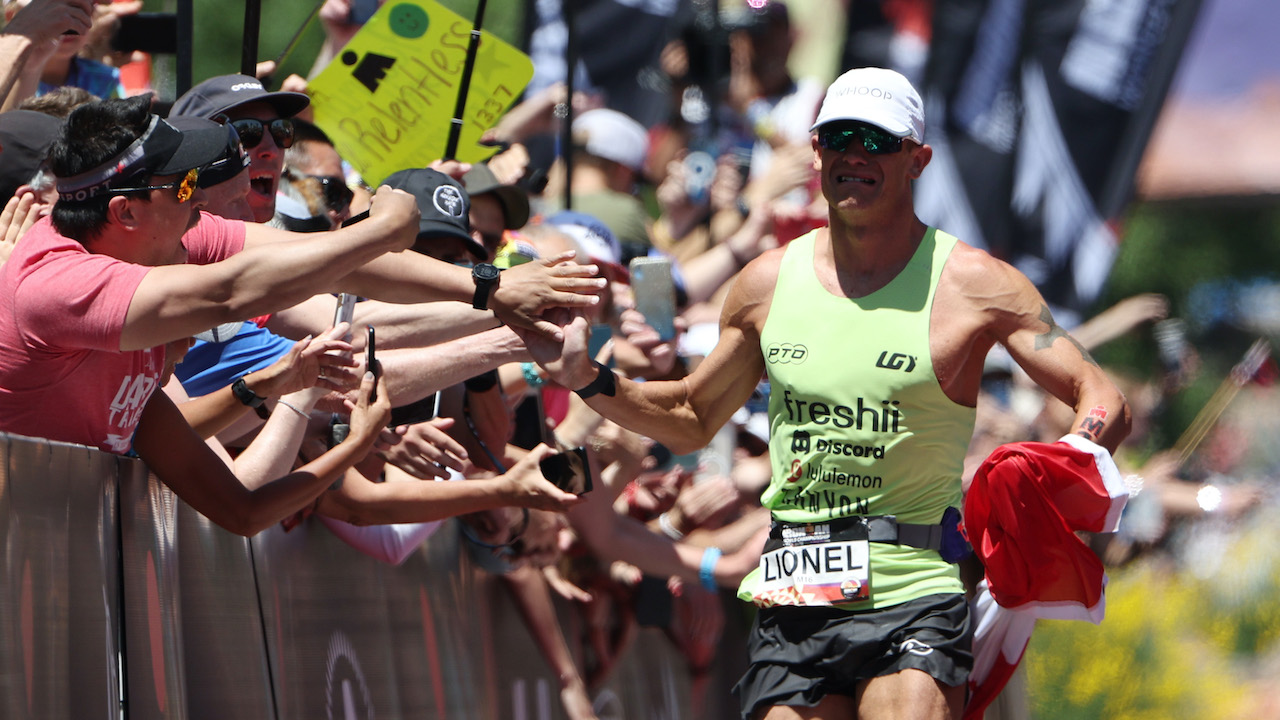 Headbands
However in Kona, the heat is a huge factor. Visors and hats are a very good idea (or rather a necessity) in Kona, and we have seen some athletes using innovative head and wrist bands to improve cooling.
In 2019 the Omius brand arrived in Kona with little fanfare, but come race day the Omius headband made quite an impression – numerous pro athletes wore the Omius headband, such as Laura Phillip, Anne Haug, Joe Skipper and Tim O'Donnell.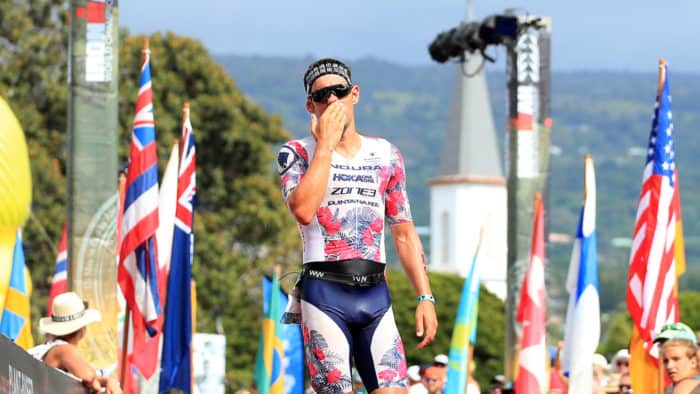 Omius claims its head band "… increases the number of spots where sweat (or water) can evaporate, boosting its evaporation rate and therefore its cooling effect." If the assertion is accurate, the reason for the popularity of the headband in Kona is obvious!
Super Shoes
When it comes to run technology, triathlon like the sport of running, saw little tech advances for decades… then boom, along came Nike with its carbon-plated super shoes.
In 2019, on her way to victory Anne Haug ran the marathon in 2 hours, 51 minutes, and 7 seconds, wearing a pair of green Nike Vaporfly Next % (as did the rest of the women's podium).
The claimed benefits of the Nike shoes are incredible (up to 5% faster than normal racing shoes) and the reaction of the sporting-world reinforced that there must be a significant benefit. If the advantage is close to 5%, an athlete that would otherwise run at four minute kilometre pace could save towards 1 minute per 5k, meaning a saving of north of 8 minutes across the full marathon distance!
In response to the success of Nike's carbon shoes all other running shoe companies had to play catch up. There is now far more competition and options available for athletes across all of the major runner shoe brands. ASICS' Metaspeed have proved popular amongst elite triathletes and have been worn by athletes such as Lucy Charles-Barclay and Kristian Blummenfelt.
However, due to the COVID pandemic, 2022 will be the first time on the big island that all of the pro-field shall be wearing carbon shoes, and we may see even faster run splits than 2019!