The IRONMAN World Championship in Kona is triathlon's biggest annual event. It is also the perfect place to launch or reveal a new product.
Here is a selection of the tech to look out for this week and be sure to check out our look back at Kona tech advances through the years.
Not so new bike – Cadex Tri
Interestingly, the most talked about bike at Kona 2022 may be a bike launched months before race day – the Cadex Tri.
Kristian Blummenfelt has already tasted success on multiple occasions astride his gold decaled Cadex Tri, including at the IRONMAN World Championship in St George, Utah. The big question is whether he can repeat that success at Kona?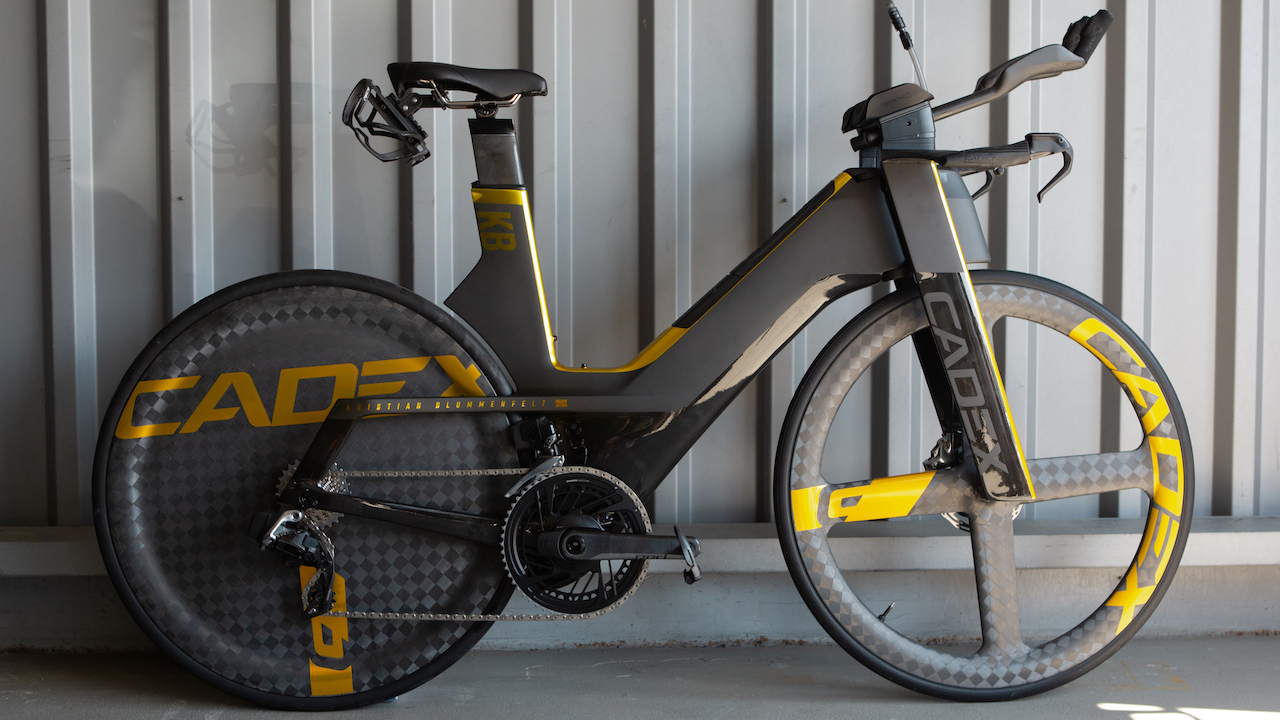 Fast trisuits – Trimtex Insane
Unfortunately for Blummenfelt's competition, the Cadex Tri is not the only high-tech piece of equipment in the Norwegian's arsenal. He wore an eye-catching white Trimtex trisuit at the Tokyo Olympics, and he'll be wearing Trimtex's latest (and refined) flagship suit, the Insane, at Kona.
The suit was developed through the experiences and testing environments of both Tokyo and Sub7, and Blummenfelt is quite taken with his latest bit of boundary pushing tech, stating: "[It is] The absolute fastest racesuit on the market".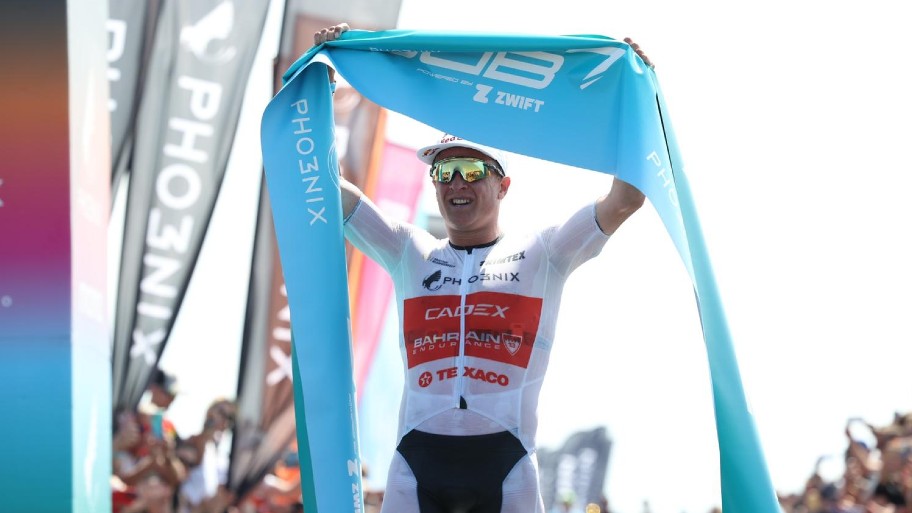 Trimtex asserts the Insane is not only the lightest suit on the market, but that it offers an envious combination of game changing aerodynamic performance (for example, raised white dots are positioned on the shoulder (Tritex calls them 'Turbulators') to improve aerodynamic performance), ground-breaking thermoregulation and cooling performance (ideal for Kona's conditions), and is made with hydrodynamic woven fabrics and technology.
It is only fair that Blummenfelt is not the only athlete wearing the sleeved-Insane suit at Kona. Other athletes to don the Insane are Sweden's Lisa Norden (London Olympic silver medallist), Great Britain's Laura Siddall (pictured below) and German, Maurice Clavel.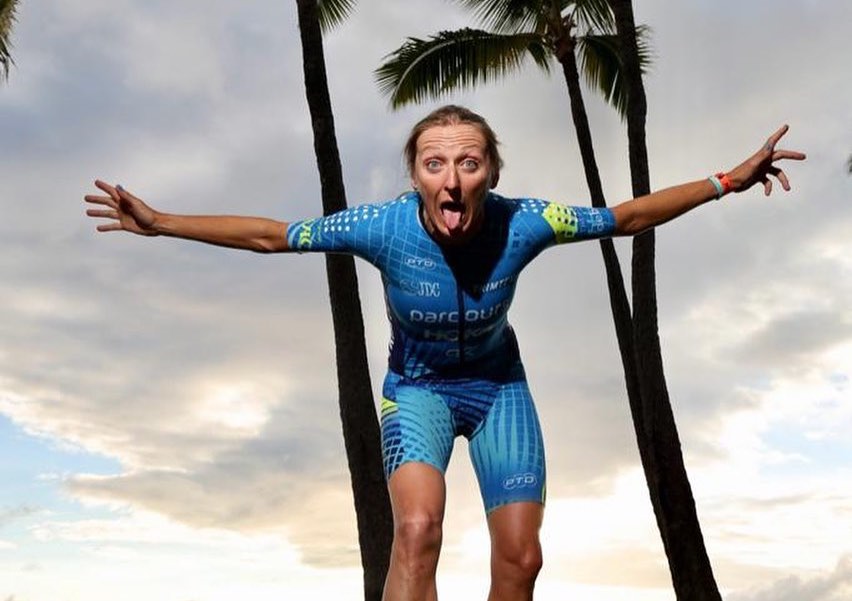 Prototype bikes – Cube Aerium C68X
It wouldn't be Kona without several teaser pictures and social media posts, before the big reveal of a new or prototype bike.
If you follow German Florian Angert you will have seen that, fresh after finishing fifth at the US Open, he will be racing in Kona on a new Cube Aerium C:68X prototype. Aside from the very cool-looking camouflage-effect paint job, the most notable change to the existing Aerium is the addition of disc brakes!
Florian won't be alone, and Lucy Charles-Barclay will also be using the prototype. The initial pictures of Charles-Barclay with the bike showed the same paintjob as Angert and matching cycling kit. However, Charles-Barclay has recently been showing off her special Endura suit for Kona, and with that has shown a glimpse of her riding a Cube with a metallic-pink colour scheme – with impressive attention to detail, it looks as if Charles-Barclay's watt saving rear-mech cover also complies with the pink theme.
Crazy wheels – HED Jet 180
Rear disc wheels are banned at Kona due to the unpredictable and at times dangerous winds. However, HED sponsored athletes such as Magnus Ditlev and Lionel Sanders may be seen on race day riding down from Hawi using a wheel that looks as much like a rear disc wheel as is possible without actually being a disc wheel.
The HED Jet 180 is designed to be the go-to wheel where disc wheels are not permitted, and sounds very much like the American brand had one particular race in mind. In HED's words: "If you're racing where discs are not allowed, where extreme crosswinds are likely….The 180 is your wheel."
Ditlev has been spotted getting acquainted with the Queen K whilst using the HED Jet 180, which is probably a good idea if you are planning to use a wheel with a 180mm deep rim. To put that in perspective, most deep section rear wheels are circa 80mm deep.
Ditlev will be using a disc version of the tubeless compatible HED Jet 180, but it is also available in classic rim-brake version.
Helmet wraps – Red Bull and Muc-Off
Red Bull athletes are often easy to spot on the bike leg due to their helmets being decked out in the blue and silver livery of the drinks brand. However, it can be a challenge at times to work out the lid the athlete is actually wearing.
Well, for Lucy Charles-Barclay it is no longer such a challenge as she has announced her partnership with KASK. However it will require an eagle-eye to tell which exact KASK helmet she dons for the race.
Charles-Barclay, like other KASK sponsored athletes (such as Braden Currie), will be choosing between the stubby tailed Bambino Pro and the longer tailed options, the Bambino Pro Evo or the Mistral. From Charles-Barclay's pre-race pictures it looks like she'll be opting for the Bambino Pro Evo.
All of the helmets at Lucy's disposal are equipped with visors, are said to combine leading aerodynamics and with enhanced ventilation to provide coolness and comfort throughout the 180km.
Red Bull is not the only company providing cool wraps on crash hats. Laura Philipp (fourth place at the 2019 Ironman World Championship) is sponsored by Muc-Off and she has been snapped training on the Queen K in a very sleek looking Uvex road helmet (arguably cooler than the Red Bull livery). She wrote on Instagram that she'll be using her full aero race helmet come race day.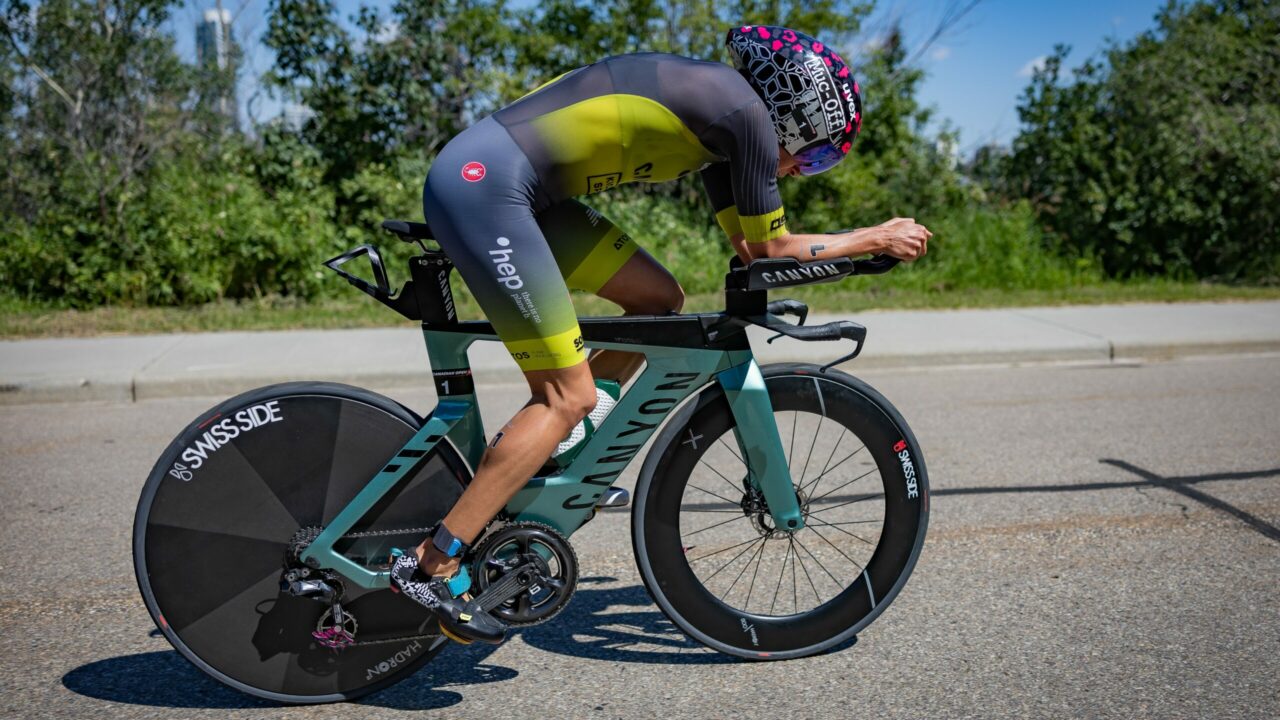 Incredible high-tech cockpits
The ultimate upgrade in recent years has arguably been high-tech cockpits, all of which are designed to find the optimal balance of aerodynamics and comfort. The types of set-up vary, from those consisting of one-piece carbon bars, fully integrated set-ups, separate ski-extensions, to mono-bars.
In 2019 they were relatively rare, with only a few lucky athletes having access or the funds necessary to acquire this high-end tech (pro athletes have been known to use duct-tape to get their desired position on a budget). But in the last three years the number and the quality (in terms of aesthetics and aerodynamics), has increased greatly.
There are various brands offering these high-end cockpit configurations (or provide elements of the set-up), including Drag2Zero (Lionel Sanders, Chris Leiferman, Matt Hanson), Wattshop (David McNamee), AeroCoach, Revolver (Joe Skipper). However, often the set-ups are unbranded or it is hard to decipher – so, keep your eyes peeled.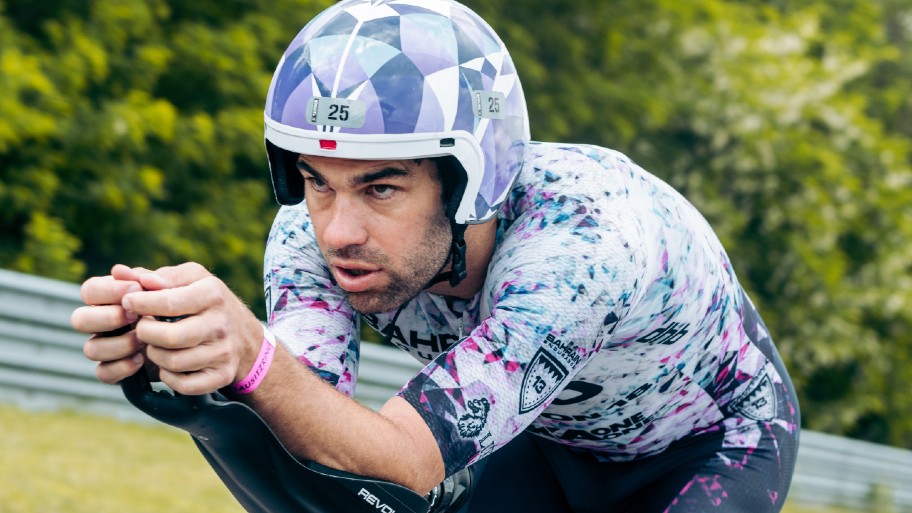 Omius headbands
Although not a new product, the Omius headbands and wristbands first made an appearance at Kona in 2019. It is quite likely you will be curious as to what the intricate looking head band athletes such as Anne Haug is wearing.
The premise of the Omius headbands and wristbands is that by providing more places or surface area for your sweat (or water) to evaporate, the water evaporates quicker, which improves the cooling effect. The Omius products were a hit in 2019 – it will be interesting to see whether they are as popular in 2022.
Eye-catching paint jobs
In 2018 Specialized stole the show in terms of the best attention-grabbing product launch, with the reveal of the (then) new Specialized S-Works Shiv Disc. The Shiv remains one of the most noticeable bikes in triathlon and at the forefront of triathlon-fans' conscience, in part due to being ridden to multiple race victories, but also due to the striking orange paint jobs of the Zwift Triathlon Academy's suite of Shivs.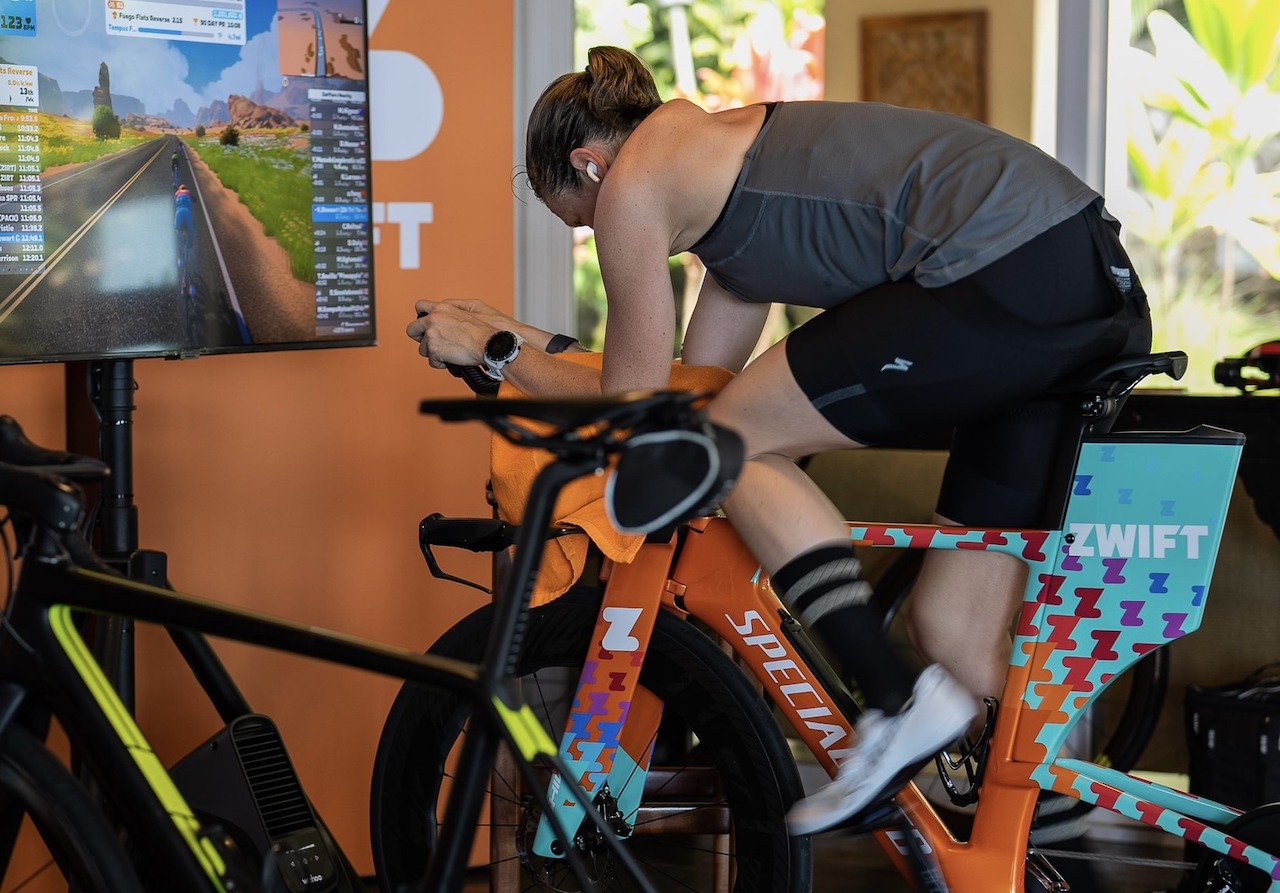 For 2022 Specialized, in conjunction with artist Elena Aker, have provided more paint jobs that are pleasing on the eye – in particular, Sarah True's purple and orange offering and Josh Amberger's green and mint version.
If you didn't know any better, it is almost as if Trek had seen what Specliaized were doing and thought, 'What can we do to match that?' The answer is pretty impressive. It is impossible for Rudy von Berg's Trek Speed Concept not to stand out from the crowd. Von Berg's normal Trek Speed Concept has a lick of gold decals, and the Kona version has raised the gold rating to 100. The chrome/mirrored gold covering is quite something!
Kona edition trisuits
Lucy Charles-Barclay is not alone in revealing a new 2022 Kona kit. Just as special paintjobs for the athletes' bikes are popular, Kona edition trisuits are a given – with some being available to buy.
Zoot Sports have released a Kahe Kai (sea flow) signature range of kit designed in collaboration with Ben Hoffman, said to represent his many great performances on the Big Island (which include 2nd in 2014 and 4th in both 2019 and 2016).