Some people say you should never meet your heroes. Well, having been fortunate to meet Tim Don, I can confirm that he is just as friendly and cool as you'd expect him to be. Legend.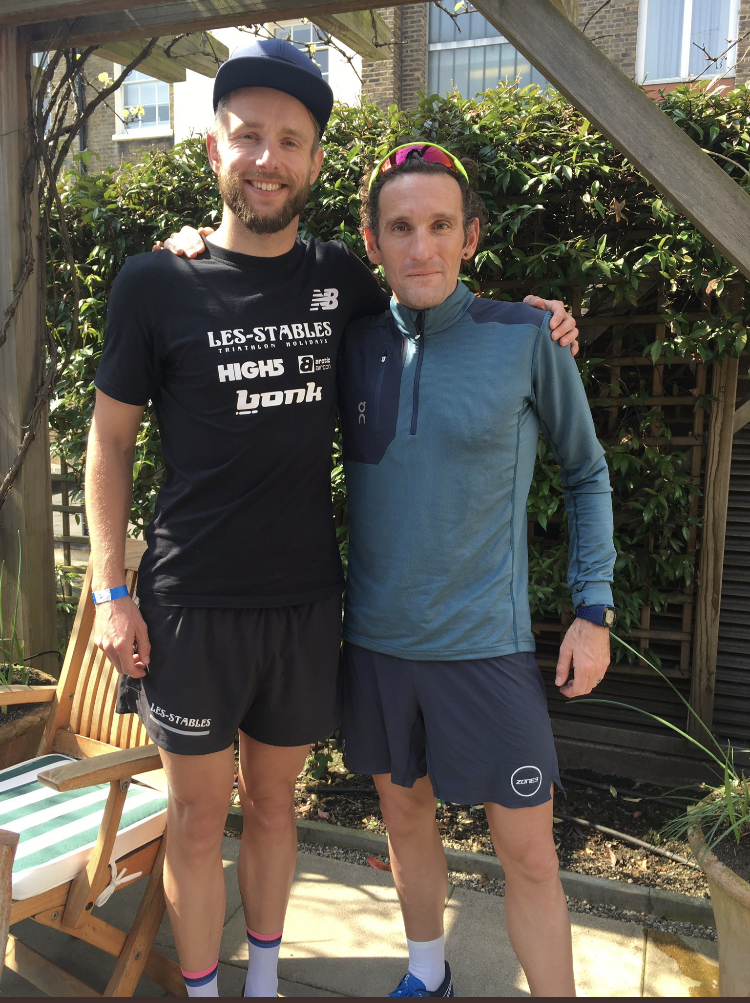 Such an athlete deserves a bike befitting of his/her status, and for Don in 2021 that bike is the Specialized S-Works Shiv Disc.
I think that 'legend' of triathlon is an appropriate moniker for an athlete that: is a 3-time Olympian; has been a 4-time ITU World Champion (across triathlon, duathlon and aquathlon); has achieved two IRONMAN 70.3 World Championship podiums; holds the IRONMAN world best of 7:40:23; ran a 13.39 5k on the track (before the days of carbon shoes); and, most impressively has comeback from breaking his neck (and gaining the tag-line, 'the man with the halo'), to race at elite-level.
Tim Don is a Specialized-'lifer' (Johan Badenhorst, Specialized Global Triathlon Program Manager, explained what it means to be a Specialized athlete), and his affiliation with the American brand has seen him riding various iterations of a Specialized Shiv for a decade (in 2011 the Shiv replaced the Transition as the company's top-of-the-range triathlon focussed bike). For the 2021 race season, Don is riding a Specialized S-Works Shiv Disc.
SHIVstory
Don is clearly a fan of the Shiv, and he has some history with the bike:
"I love this bike. I have been riding a Shiv since 2011 first on the SHIV cone as I call it, awesome bike, then the Shiv Tri came out and I was lucky enough to be at the launch in Kona when Crowie [Craig Alexander – Collins Cup, International Team Captain] smashed the bike and went on to win…..again!
For me back then it was the first bike I had seen that was specifically for triathlon, it was UCI illegal and had the frame integrated bladder as well as the fuelcell. Back then I was on Zipp wheels and the combo was great."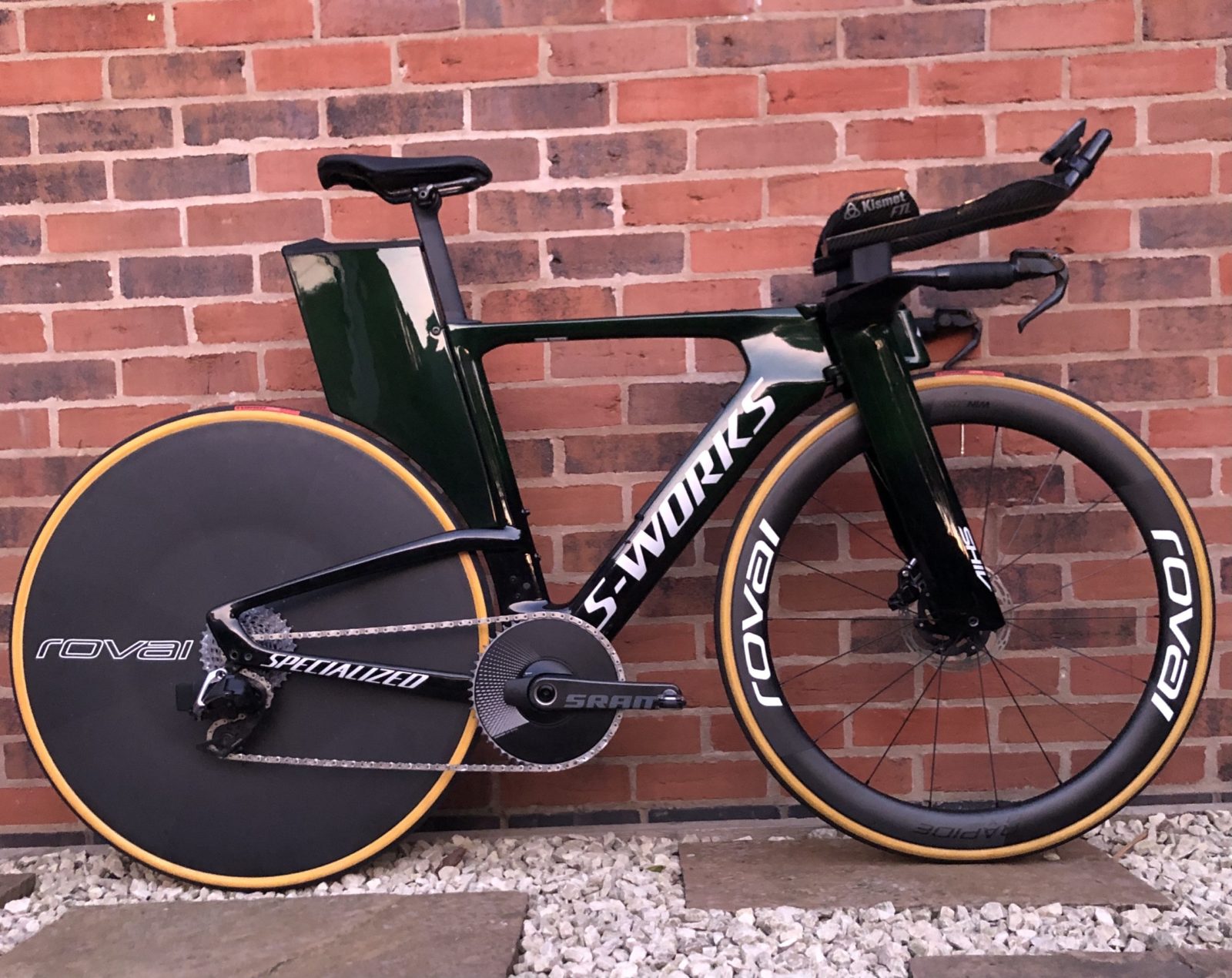 As mentioned, Don was a very successful short-course athlete, where the bike-leg is not always such a huge factor as it is in non-drafting races, and the type of riding is significantly different. Don explained some of the challenges and considerations, including power output and aerodynamics, when it came to moving up to longer distance races:
"I loved racing this bike [the Shiv] and when I switched over full time to 70.3 and Ironman racing, I took notice of my position and went into the [Specialized] WINtunnel at Morgan Hill to refine my position. This was where we changed my front end to a custom set up, but the change was radical for me and I was losing power. The trade-off initially was not good, we slowly moved my position to the optimal one over time."
Disc brakes are 'so much better…'
In late October 2018 Specialized announced that its flagship Shiv models would be embracing disc-brakes. Don described his experiences of the Shiv disc and confirmed there was far more 'tech' and innovation than you might have first thought:
"I first rode the current Shiv Disc in May 2019 at Morgan Hill and wow, it was fast so fast, and the adaptability of it for my position was perfect.
"They had improved the storage (SWAT) and hydration with no cost to aero.
"Having disc brakes made descending in Boulder so much easier on my forearms, I loved it. They [Specialized] did not just put disc brakes on a standard fork, they redesigned the whole fork from the ground up. It is basically two blades and looks cool!"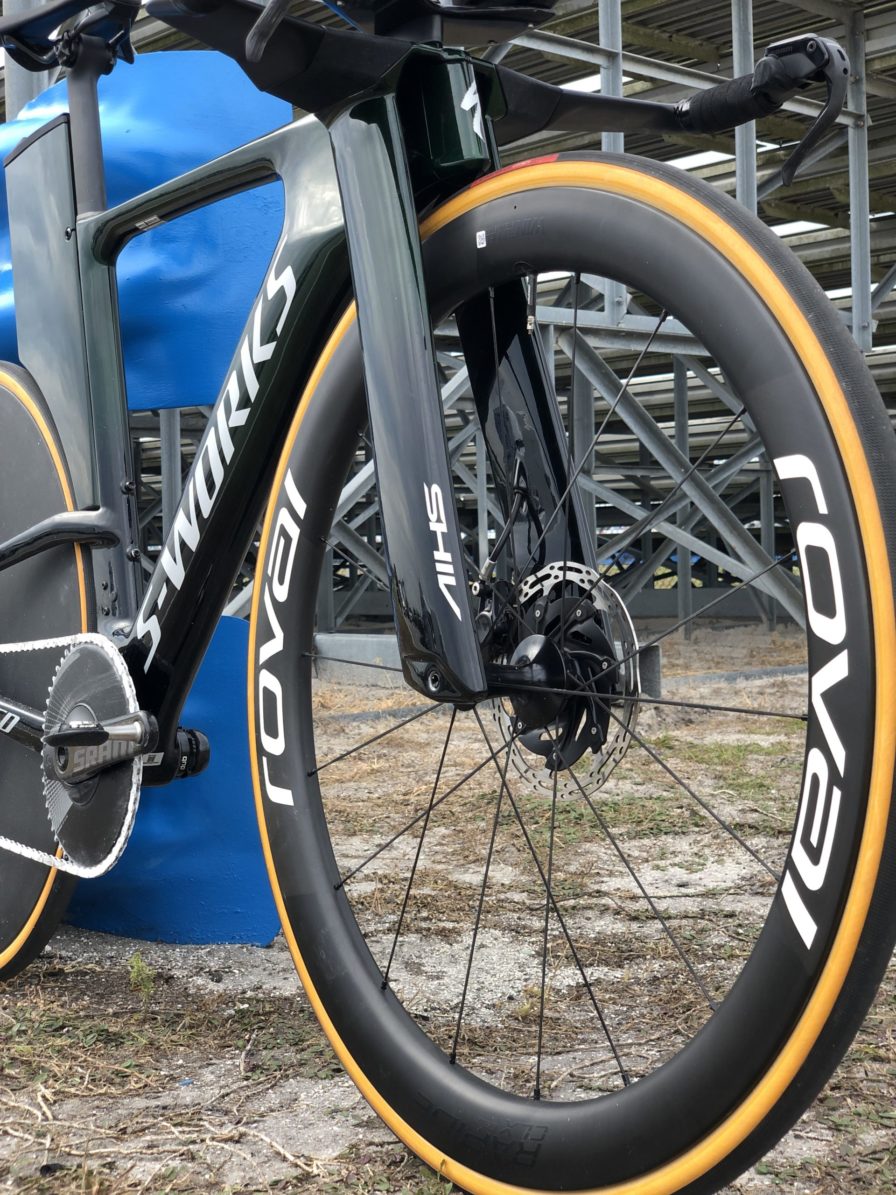 Tim went on to reiterate his positive view on disc-brakes, his views on their merits are clear:
"Disc brakes on a TT are a game changer, especially when you are coming in hot to a corner or on a long descent. From the old school aero brakes, stopping power is so much better."
Nutrition storage
Don referred above to the nutrition storage options on the Shiv, and he further explained he has carefully thought about where and how to store his on-bike nutrition:
"In races I use the fuelcell and one 750ml bottle between my arms and refill/replace them at aid stations. For my gels I put them in the in-frame storage so they are out the wind."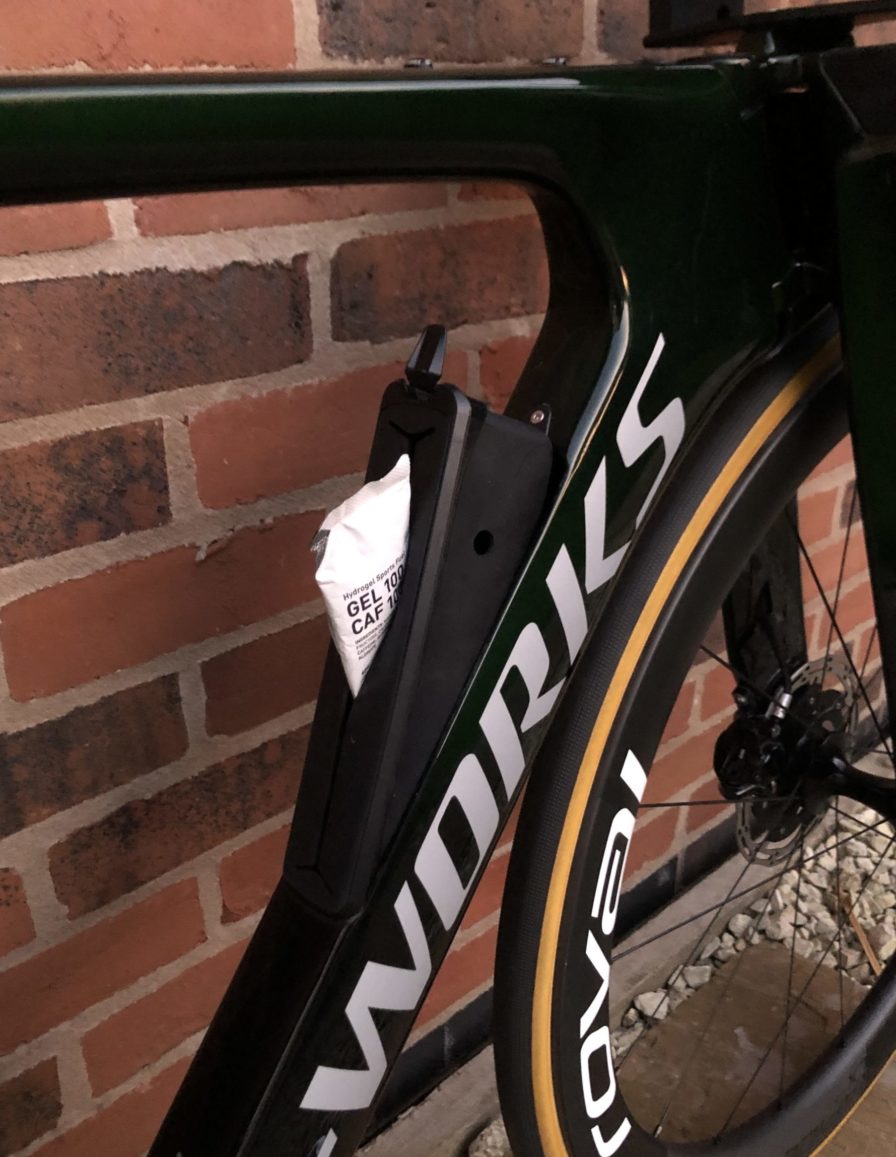 Don rides a Small sized Shiv (he uses 52cm frames for his road bike) with the interesting crank length of 167.5mm:
"I ride 167.5mm, for me it feels right. I jumped down from 170mm which I had been riding since 2005, and on a TT bike especially it allows my hip angle to be slightly more open [which it is understood is intended to aid running off the bike]."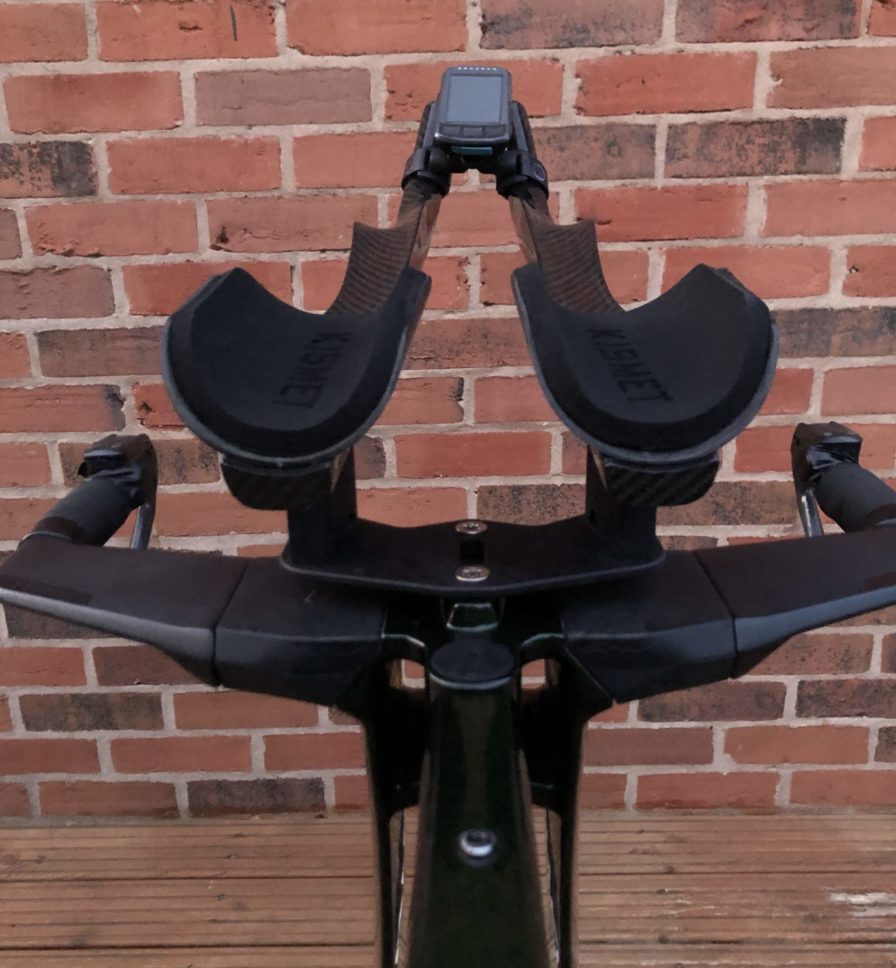 The front end of Don's Shiv is customised for comfort and aero gains, and includes aero bars from Kismet, but he said everything else can be seen on the Specialized website.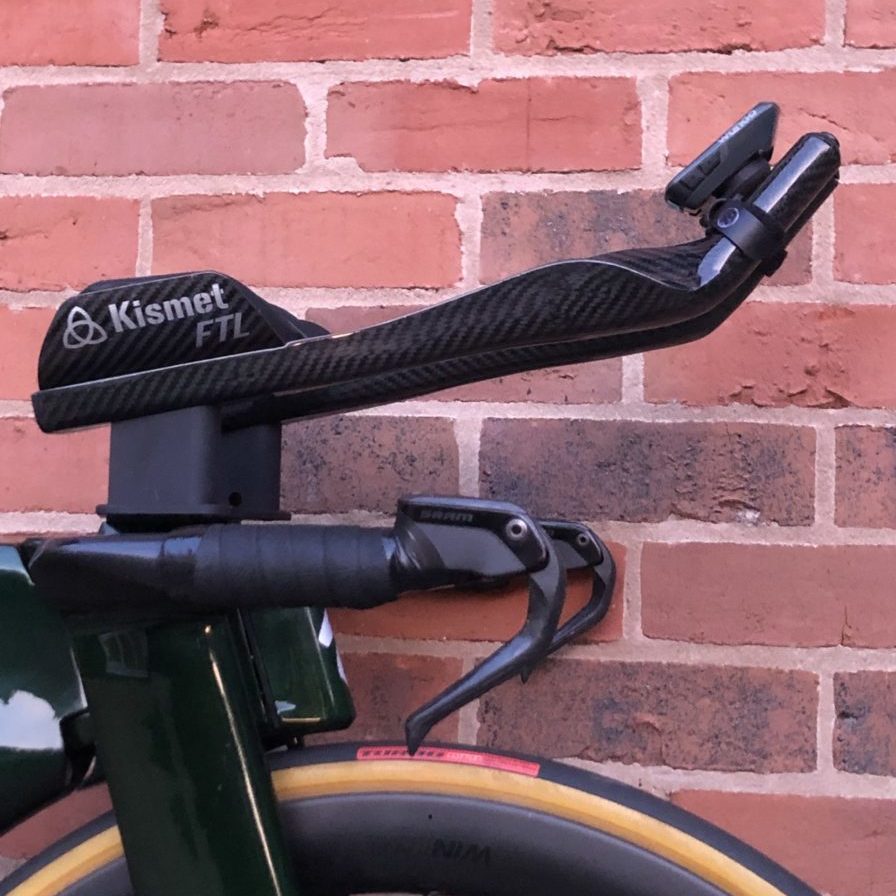 Aero matters
Don works closely with Matt Bottrill of Matt Bottrill Performance Coaching (himself a serial cycling national time trial winner and renowned expert at riding fast!), and the combination of Specialized's resources and Bottrill's knowhow have allowed Don to obtain (or more accurately, to continually pursue), an optimal riding position:
"I have been in the WINtunnel at Specialized HQ a few times and with Matt [Bottrill] and his trained eye for everything aero and power we have the good handle on it, but it is always evolving and we are always looking for more. I love this side of the sport, I am amazed how few athletes take this seriously, it's crazy giving away free speed."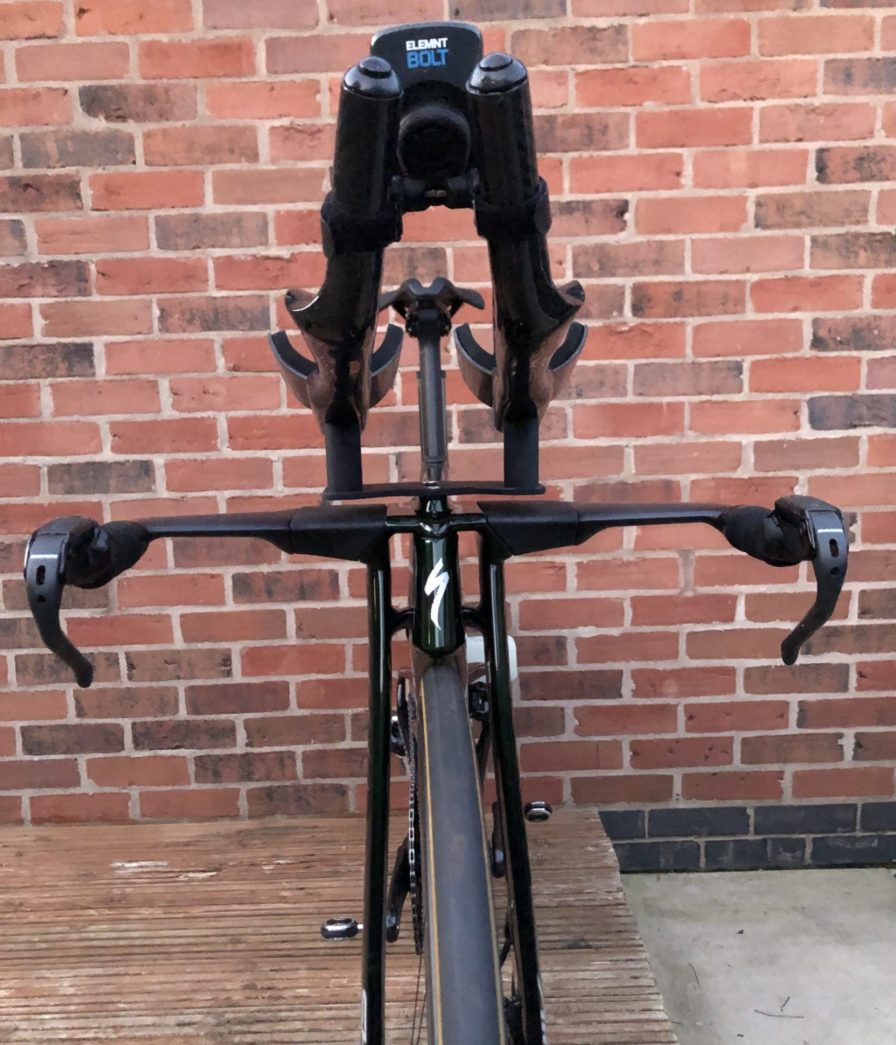 Gear and component-wise, Don has equipped his SHIV with SRAM's single ring 12-speed SRAM Red AXS x1. He opts for a 52-teeth chainring and 10-33 cassette which he believes is a versatile combination and on race day he treats himself to a special chain:
"The gear ratio is good for nearly any course, (though) if I was say racing Embrunman I would put a 50 on the front. When I race I also add an ICE friction chain, so smooth and fast."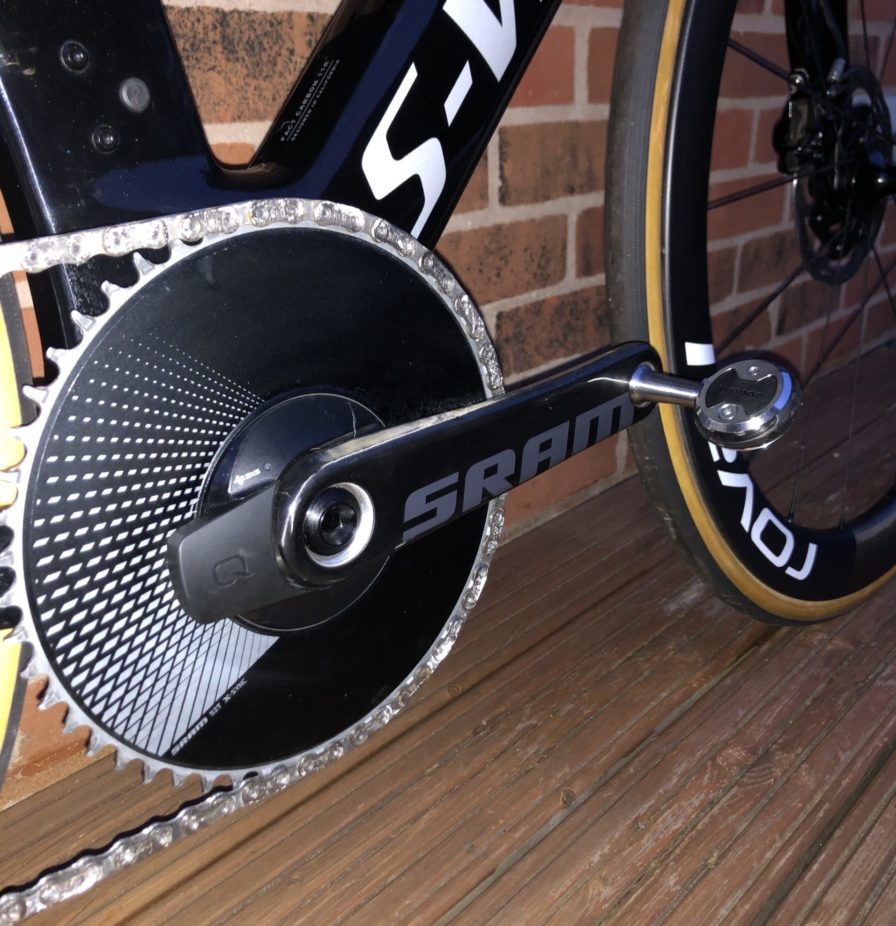 The Shiv is fitted with a Quarq power meter and Don detailed that nearly all of his rides are structured and metric driven:
"99% of my bike riding is done to power and HR with my coach Matt [Bottrill]. I also race to power in 70.3 and ironman [full-distance] and we always have a set race pacing strategy."
Roval wheels and Specialized rubber
As you may expect for a Specialized athlete, Don's Shiv is paired with Roval hoops and Specialized tyres. Don is a big fan of the Roval wheelset:
"I ride a Roval Rapid CLX front and Roval 321 Disc rear wheel built specifically for the SHIV – they are fast and also very stable in crosswinds and the disc is just 1000g tubeless-ready. That's mental !!!!"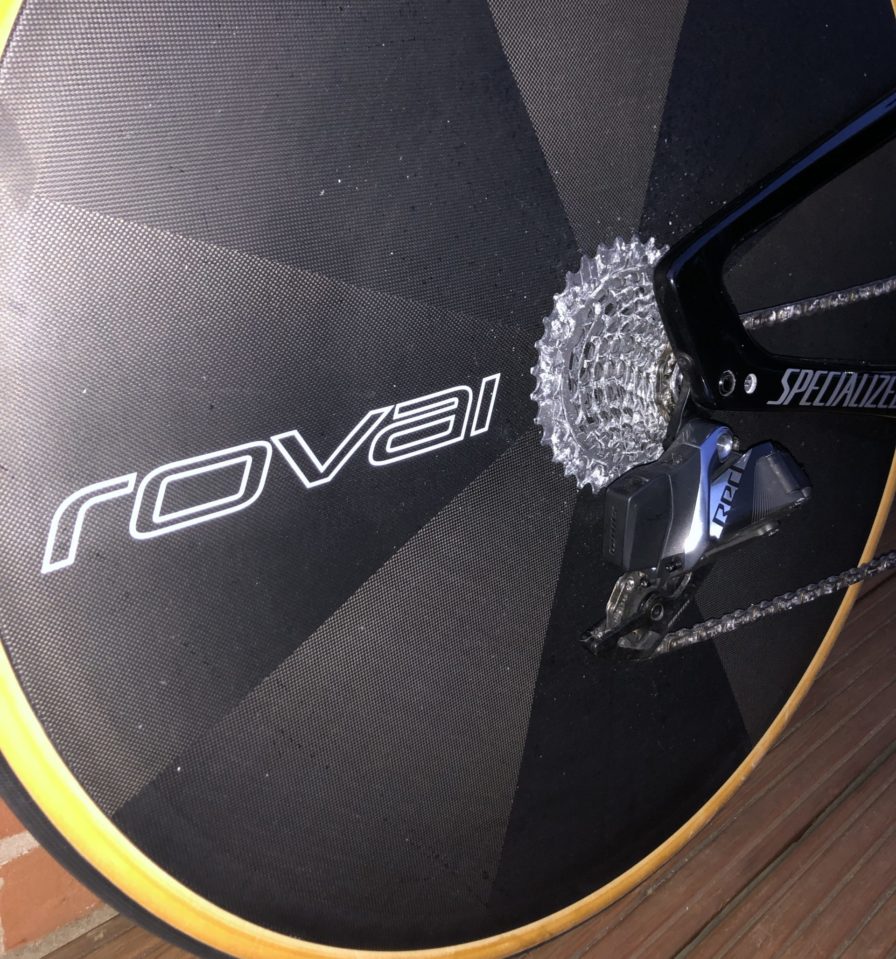 On race day Don opts for Specialized S-Works Turbo cotton 26mm tyres with Specialized latex inner tubes, and runs them mostly at 90psi. However, due to the race-focus of the Shiv, including the sail-like hydration cell at the rear, Don makes a few changes to his ride when training:
"In training I use a different wheelset ,[the] Roval C38, and [Specialized] All Condition Armadillo Elite tyres. [Also] For my Ironman build blocks I take the hydration cell off the back as with my saddle hight I can't fit extra bottles behind my saddle. I also add a bottle cage to my frame and always add a front and rear light."
Zwift racer
Don is a big fan of Zwift racing – he has led Tri247 Zwift rides, takes part in Zwift Pro Z races, and and recently took part in the SLT Arena Games London 2021 – and he makes tactical bike choices when it comes to a Zwift race day!: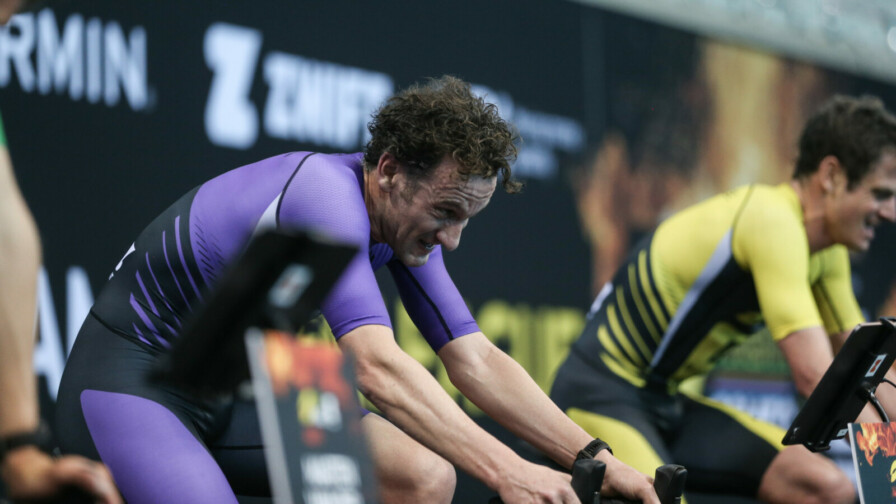 "On Zwift I either ride my SHIV or my Tarmac SL7 for the Zwift Pro races, I find I can get more power when sprinting on my Tarmac, and you need that to hang on in the Zwift Pro Z races."
It was great to watch Tim in the indoor Super League race, and we look forward to seeing Tim riding his Shiv as fast as possible this season.
If you like what you see, check out: Specialized.