Max Neumann led an Aussie 1-2-3 in the men's race at GWM IRONMAN Western Australia while Sarah Crowley was also a home winner in the women's event, seeing off Dutch duo Els Visser and Lotte Wilms.
Neumann's victory was wire-to-wire and his time was just one second off the course best set by Alistair Brownlee in 2019.
Crowley meanwhile powered to the front in the second half of the bike leg and never looked back as she became the first professional athlete in history to win all three Australian IRONMAN races in a calendar year. Today's race added to previous 2022 wins this year at Port Macquarie and Cairns.
Pro Men – Neumann dominates
It was a front pack of four in the water at Geographe Bay in the men's race – headed by Max Neumann (48:13), who finished fourth in the IRONMAN World Championship in Hawaii in October.
Alongside him were fellow Aussies Steve McKenna and Pete Jacobs, plus Swede Patrik Nilsson.
But it was one-way traffic on the bike with Neumann at the front of the field for the entire 180km ride.
He reached T2 a minute-and-a-half ahead of defending champ Matt Burton – who had been 10th out of the water – with last month's 70.3 Western Australia winner McKenna a further three minutes behind.
And on the run Neumann extended his advantage thanks to a best-of-the-day 2:41:54 marathon which saw him cross the line in 7:45:22.
McKenna took second at +5:26, while Burton rounded out the podium a further five minutes back and was the only other man to dip under eight hours.
"I'm feeling better than I did at the end in Kona but it's bittersweet to miss the course record by one second," said Neumann after his sprint for the line.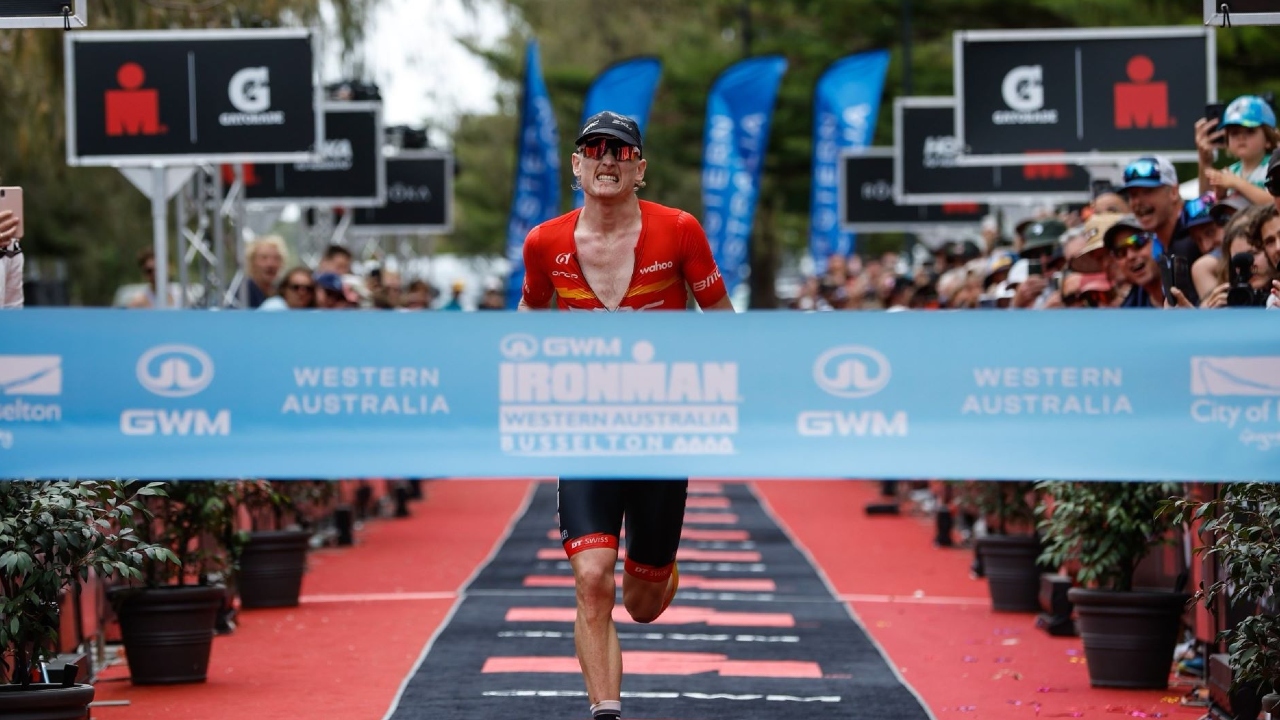 "To finish the year with another win here in Australia is special and means a lot, I enjoy racing here against the best Aussies and am very lucky to be able to do this."
Like Sarah Crowley, Neumann had also won this year in Cairns.
Pro Women – Crowley puts power down
In the women's race, Queensland-based Dutch professional, Lotte Wilms showed her swimming strength once again, clocking 51:48 to finish the opening leg more than two minutes clear of Radka Kahlefeldt (CZE) and Sarah Crowley.
Brisbane's Crowley started the bike almost three minutes behind Wilms but slowly chipped away at the lead, making her way into first just after the 100km mark.
Crowley was in control from then on, coming into transition over three and a half minutes ahead of Wilms, with Els Visser a further five minutes behind in third.
Visser produced the fastest marathon (3:01:50) of the trio to move into second but Crowley had more than enough in hand to close out the win by over four minutes in 8:46:10.
Early leader Wilms claimed third while a sub-three hour run moved reigning champion Kylie Simpson up to fourth.
Crowley's win followed victory at May's IRONMAN Australia in Port Macquarie and June's IRONMAN Cairns.
"I'm pretty tired, so excited, I still don't really believe it, I was so focused today I think I'm finally waking up to what I just did," she said. "It's a legacy now, it's something I've done in the sport, I love Australia and it's such a cool way to have a fabulous year after some pretty horrible ones with COVID and everything."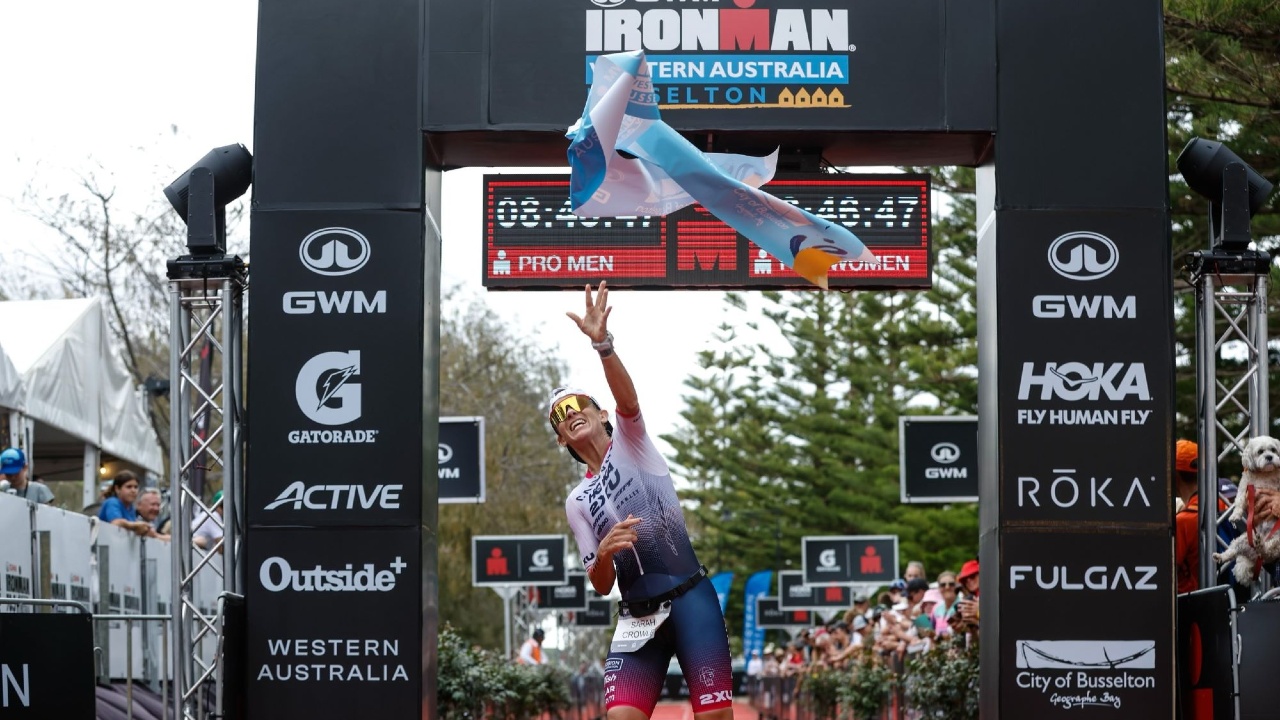 IRONMAN Western Australia 2022 Results
Sunday 4 December 2022 – 3.8km / 180km / 42.2km
PRO Men
1. Max Neumann (AUS) – 7:45:22
2. Steve McKenna (AUS) – 7:50:49
3. Matt Burton (AUS) – 7:56:09
4. Mitch Kirby (AUS) – 8:01:53
5. Fraser Walsh (AUS) – 8:22:05
PRO Women
1. Sarah Crowley (AUS) – 8:46:10
2. Els Visser (NED) – 8:50:49
3. Lotte Wilms (NED) – 8:52:53
4. Kylie Simpson (AUS) – 8:56:29
5. Radka Kahlefeldt (AUS) – 9:01:58