Canada's Brent McMahon and Australia's Chloe Lane were the clear-cut winners of IRONMAN Wisconsin as they booked early potential spots for Kona 2023.
Sodden conditions amplified the test but in truth 41-year-old McMahon was barely threatened while Lane, taking her first IRONMAN title, got the better of a see-saw battle – at least on the swim and run – with Jess Smith (USA).
Pro Men – One-way traffic for McMahon
McMahon's forte is leading from the front and this was an exhibition show as he went wire-to-wire as he put a difficult period behind him and returned to his best.
The 2019 winner Emilio Aguayo Munoz kept him company on the swim but McMahon was in splendid isolation thereafter.
Ben Hoffman (USA) got to within a couple of minutes on the bike but by T2 the gap was 7:39, with Cody Beals (CAN) now a distant second.
And on the run the pattern continued, McMahon stopping the clock in 8:36:02 with Beals – in his third full IRONMAN in seven weeks – second 14:22 behind and Adam Feigh (USA) rounding out the podium in third.
Speaking to legendary IRONMAN announcer Mike Reilly shortly after crossing the finish line, McMahon said: "It's just so satisfying after the last few years. I've had people in my corner all the time and I'm just very grateful to be able to do this after 26 years of racing.
"There are always ups and downs and when you overcome stuff it's so satisfying. I'm just grateful to get to the finish too. I found my way to get through this race."
Asked by Reilly, who hangs up his mic this year, if he's going to take up his Kona slot in 2023, he confirmed: "I've got to give it one more go – can't you stick around for another year too?!"
"That was the comeback of the pandemic for me," said a gracious Beals of winner McMahon afterwards. And he added he might swerve Kona this season and instead focus on 2023.
Pro Women – Lane out on her own
The women's race was a closer affair to start with. Out of the water Rachel Mensch (USA) led a small group with just fractions between them and it included both Lane and Smith.
That pair rode together for for the whole of the bike leg, getting to T2 with seconds between them and over four minutes back to Katie Morales (USA) in third.
But Lane, fifth at IRONMAN Mont-Tremblant last month, pulled clear on the run and a third of the way through had opened up an advantage of over three minutes.
She then kept extending that in the brutal conditions to break the tape in 9:45:21.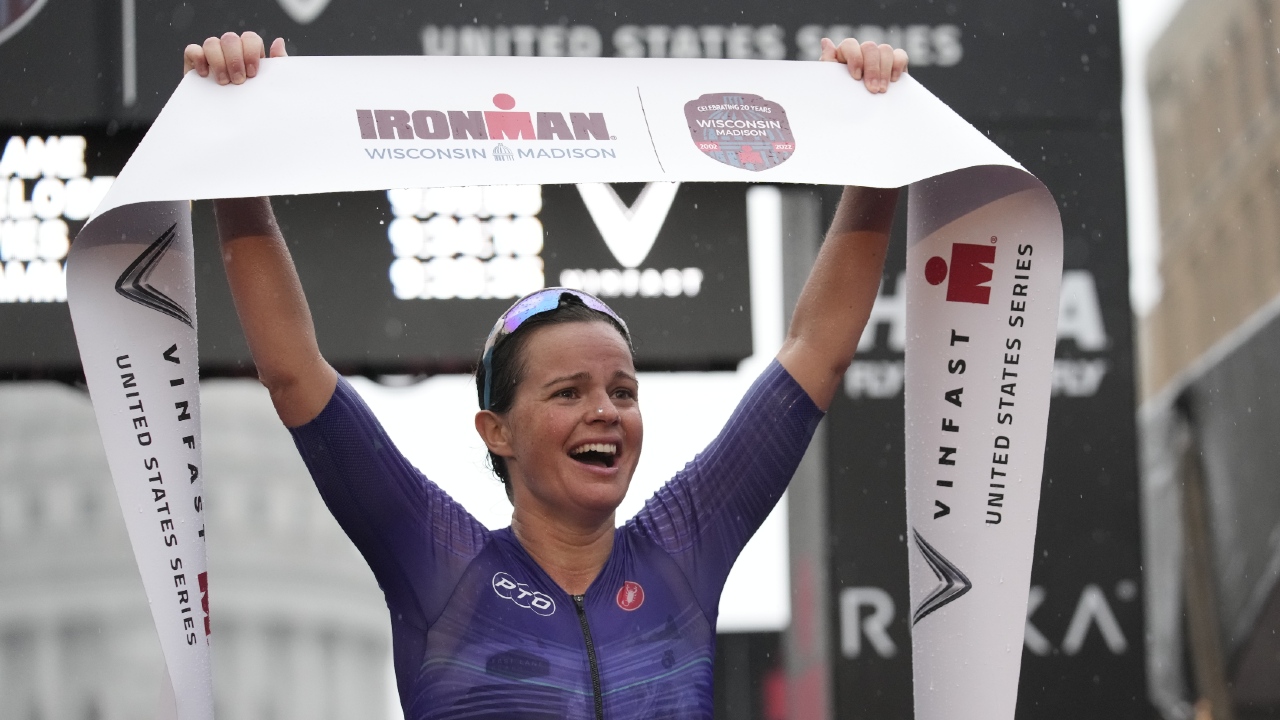 "I just kept reminding myself you've got to be tough. I'm confident with my running legs but I was a bit worried about Mont-Tremblant being pretty recent," she said afterwards.
"It was pretty choppy on the swim and the bike was very up and down but the crowd support has been insane today, especially in this weather."
IRONMAN Wisconsin 2022 results
Sunday 11 September 2022 – 3.8km / 180km / 42.2km
PRO Men
1. Brent McMahon (CAN) – 8:36:02
2. Cody Beals (CAN) – 8:50:24
3. Adam Feigh (USA) – 9:04:26
4. Jordan Bryden (CAN) – 9:14:17
5. Patrick Brady (USA) – 9:23:21
PRO Women
1. Chloe Lane (AUS) – 9:45:21
2. Jess Smith (USA) – 9:53:32
3. Melanie McQuaid (CAN) – 10:06:35
4. Rachel Mensch (USA) – 10:12:22
5. Lenny Ramsey (NED) – 10:17:14