IRONMAN have just published the provisional start list for the women's World Championship in Kona next month – and it could barely be any stronger.
Defending champion Chelsea Sodaro (USA) heads the field in a bid for back-to-back titles but she'll be up against five-time IRONMAN World Champion Daniela Ryf (SUI), 2019 winner Anne Haug (GER) and Britain's Lucy Charles-Barclay, who has been runner-up in the last four editions in Kona.
They have been allocated bibs #1 to #4 and an intriguing name down to wear #5 is American star Taylor Knibb, who is currently second in the PTO world rankings and already this season has defended her crown at the 70.3 World Championships in dominant style and booked her spot for the Olympics.
Knibb adds extra dynamic
Knibb is yet to race at full-distance, though her win at last year's Ironman 70.3 World Championship earned her a spot on the start line in Kona, and the press release from IRONMAN states: "All signs point to her toeing the start line to make her full-distance IRONMAN debut."
Her main target in 2023 was qualifying for the Olympics which she ticked off at the first opportunity with that fifth place at the Paris Test Event, before going on to win a second consecutive 70.3 world title in Lahti, Finland last month.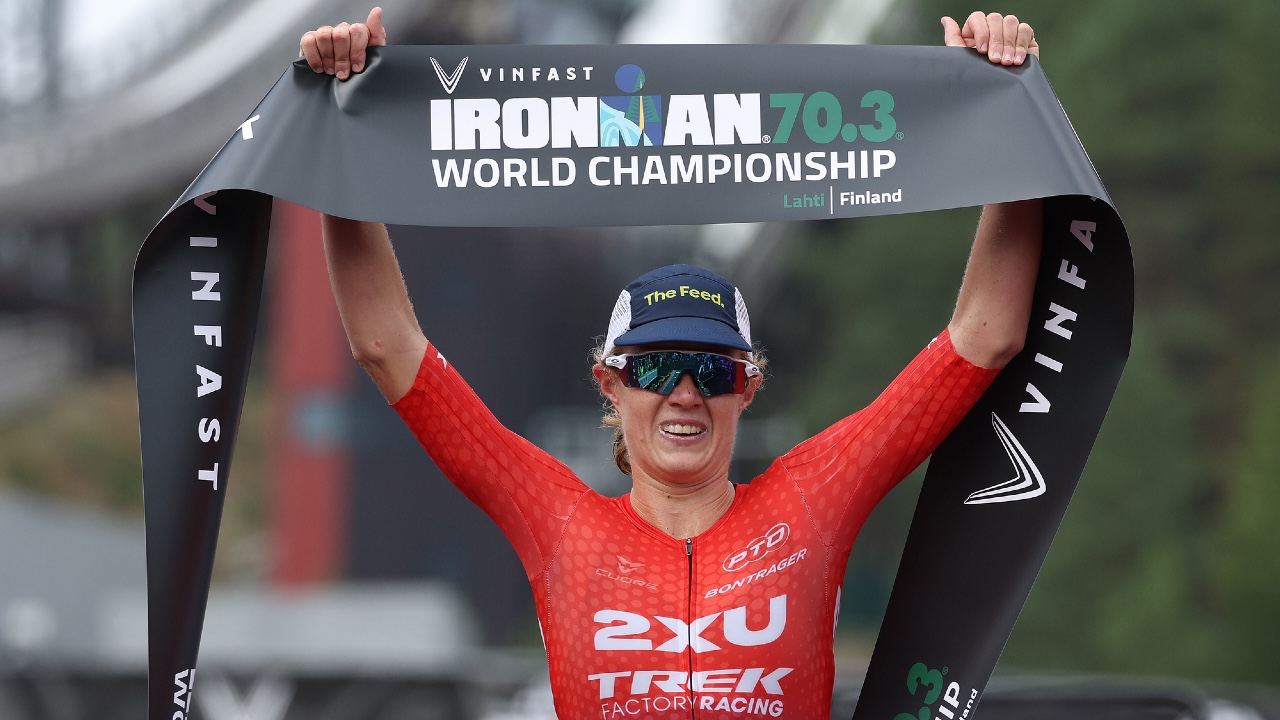 Her presence in Kona could also massively impact the dynamic of the race.
She could likely be at, or near, the front of the swim (where she's ranked #4) while her power on the bike means she tops those standings and might also be able to qualify for the road time trial at the Olympics next year. On the running front she's also in the top 10 in the rankings for the discipline so is very much an all-round threat.
Her season has been all the more remarkable given that she was injured at the start of the year, having surgery in January when a screw was put in her fifth metatarsal which meant virtually no running until April.
And Knibb – providing she races – will also be doing what the two previous male winners of the IMWC haven't done and that's take in this year's race ahead of Paris 2024, with Norwegian duo Kristian Blummenfelt and Gustav Iden both electing to swerve it as they focus on short-distance.
Knibb was always planning to be in Kona to support her mother who has competed at the IRONMAN World Championship as an age-grouper on multiple occasions, twice finishing on the podium as well as landing Sprint and Long Distance AG world titles.
But today's news means it's looking much more likely to be a far more active role for triathlon's latest superstar.
Matthews' incredible return
It adds intrigue to a race which features virtually all the middle and long-distance stars and for the first time in the history of the year's biggest race, professional and age group women will have their own edition in Kailua-Kona, Hawai`i on October 14, with the men having raced in Nice earlier this month.
As well as Sodaro, Ryf, Haug and Charles-Barclay also there is Lucy's fellow Brit Kat Matthews who has made a remarkable recovery following a collision with a car on a training ride a year ago which resulted in fractures to her skull, two vertebrae, and sternum.
She was runner-up last year in the rescheduled 2021 IMWC in St George and recently filled the second spot behind Knibb in the IRONMAN 70.3 World Championships in Finland.
Others to watch in a stacked field include the last two IRONMAN European Champions Sarah True (USA) and Laura Philipp (GER), Olympic Games silver medallist Lisa Norden (SWE) and Brits Fenella Langridge and Ruth Astle.