Jan Frodeno has responded to the news of Collin Chartier's drug suspension with a profound message about the joy of sport, and how it can so easily be destroyed.
Chartier was suspended this week for three years after testing positive for EPO, bringing a storm of criticism from his fellow triathletes from all corners of the globe.
The 41-year-old Frodeno is the latest to have his say on the issue, and he did so in a very poignant way, with an image of himself as a youngster on a bike negotiating the infamous Suikerbossie climb in Cape Town, South Africa.
The German great, now preparing to return to action in a few days at the PTO European Open in Ibiza, provided a very strong message alongside the image, emphasising the positives of sport and the negatives of drugs and cheating.
Frodeno's powerful message on drugs
He wrote: "Sport. You beautiful thing. You drive me, push me up, smack me down, allow me to see the world and meet so many good people. The truest test, perceived as so hard and yet so easy. Black and white. You make it or you don't. As a kid you gave me direction, as a person you give me values. Values that I'm passing to my kids because I believe they can help shape us in a good way.
"Cheating in sport destroys any and all of the joy connected to it. It makes any result irrelevant. Drugs have no place in my world and neither do those who take them. It's a privilege to live a life as an athlete and that feeling of racing my Dad 28 years ago up our local hill is still what it's about to this day. P.S. Dad will tell you the story about me throwing my bike in the bushes the week before when he beat me!"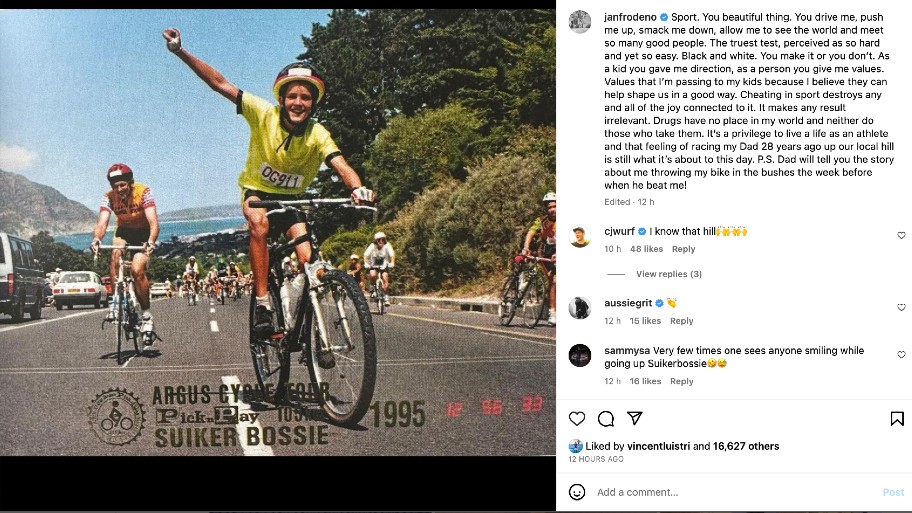 Stars condemn Chartier
Frodeno is just the latest triathlete to speak out following the news of Chartier's suspension. Canadian star Lionel Sanders and America Ben Hoffman in particular were extremely strong in their condemnation of Chartier.
Six-time IRONMAN World Champion Mark Allen meanwhile talked of the wider implications of the news, saying "it taints the entire sport".