The inaugural Collins Cup was the latest milestone in a tumultuous year for Katie Zaferes, and she took time out to reflect on a period in her life which has brought both tragedy and triumph.
The American star was devastated by the sudden death of her father Bill Hursey in April 2021, as she prepared for the challenge of Olympic competition in Tokyo.
In late July the emotion was there for all to see as Katie won not one but two medals in the biggest show on earth – claiming bronze in the individual event behind Flora Duffy and Georgia Taylor-Brown, then silver in the Mixed Relay with Team USA.
What had gone before made that week in Japan even more special for the 32-year-old, as she told us during the countdown to race day in Samorin.
The hardest of years
"This year has definitely been really, really hard with my dad passing away – the hardest thing I have ever been through.
"To be able to regroup after that, to be ready for Tokyo and to actually medal twice was definitely just an amazing feeling, and I think maybe even more special just for the fact the year started like it did. It was great to then to be able to do a couple more races after that, yeah, relatively solidly even though you always want more as an athlete."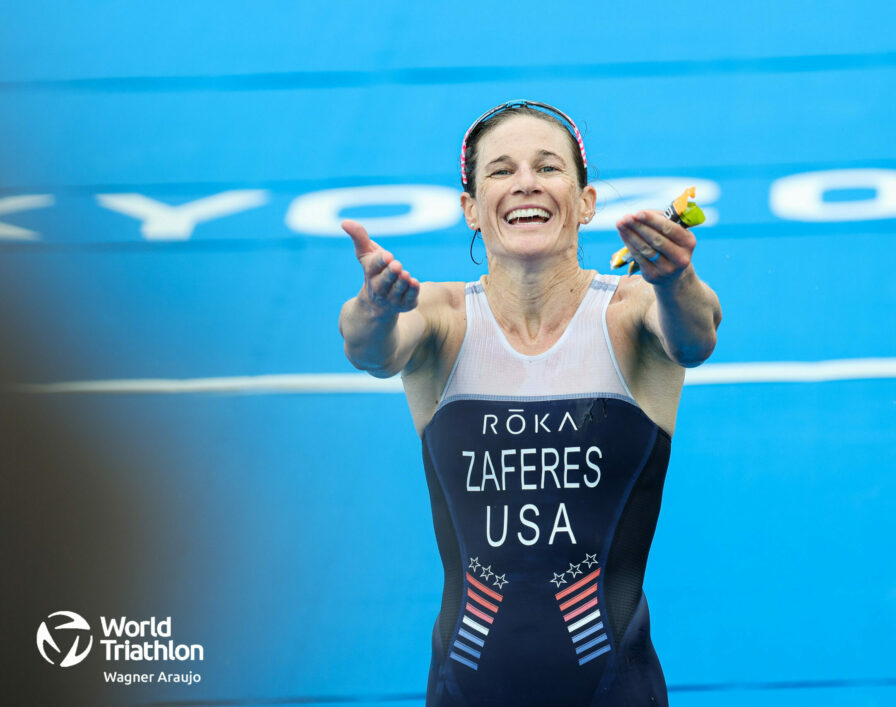 Katie will drop back down in distance for this weekend's Super League Triathlon opener in London, but the Collins Cup has definitely whetted her appetite for racing over longer distance. A discipline she believes will play to her strengths.
She revealed: "I've always had this feeling I wanted to do longer distance, I would say like right now I can wrap my head more around the half-distance (70.3), but I have kept saying I want to do it for the last five years and never felt it was the right time with the schedule.
"I really hope, not sure exactly when, but to keep doing longer distance, and use the experience of the Collins Cup, it's something I am really interested in.
"I think racing at the longer distance would play to my strengths. In races right now when they finish I feel like I'm just getting tuned in, I've always said one of my mantras is the harder it is the stronger I get, and I feel that is one of the reasons why the longer distance could suit me.
"When racing, I typically feel I have more – which isn't a great feeling when the race is over – it's something that makes me think I'd suit the longer distance."
Katie Zaferes Collins Cup debrief
When race day arrived Katie found herself in at the deep end against formidable opposition in the shape of British superstar Lucy Charles-Barclay and PTO 2020 Championship winner Paula Findlay.
Zaferes did what few are able to as she stuck right with Lucy throughout the swim. She predictably fell away a little on the bike and run, but finished a very respectable second – just over four minutes behind the Brit.
Afterwards she told us: "I'd like to be more prepared next time, I am really happy with how I did for my first longer distance, I was feeling really good on the bike – until I wasn't any more (!) – and the I lost Lucy a bit coming into transition. I was so ready to be done with 10km left so I was just trying to get a little bit of momentum to run, it's just really hard without anyone really in sight.
"I could see Lucy pretty far ahead and then soon I kind of became okay, I tried to keep my rhythm and stuff, it was an amazing first experience and super-fun being able to see teammates on the course and see the other Americans crush it and watching Taylor was really cool.
"I'm so happy to be here at the Collins Cup and for this to be my first longer distance experience and hopefully I will have a lot more in the future."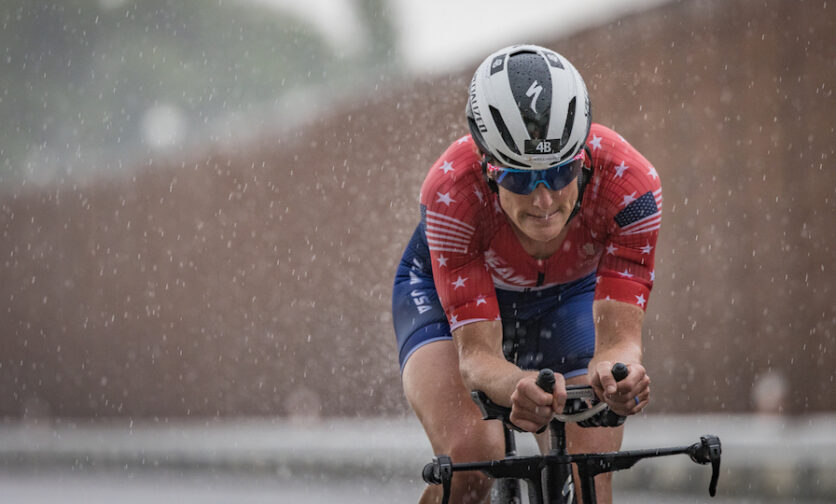 Super swim no surprise
While some people may have been surprised by how Katie was able to stick to Lucy on the swim, Zaferes herself – not so much.
"I think people are more surprised than I am that I kept on Lucy's feet, I know that if I swim to my capabilities that would be what I could do," she said.
"I was just trying to not be too annoying and touching her feet too much because you can't see anything in the water. I'm not sure how much she enjoyed my taps every now and again, but no I was very happy with the swim and that was the plan to get on her feet and so it was really good to execute that.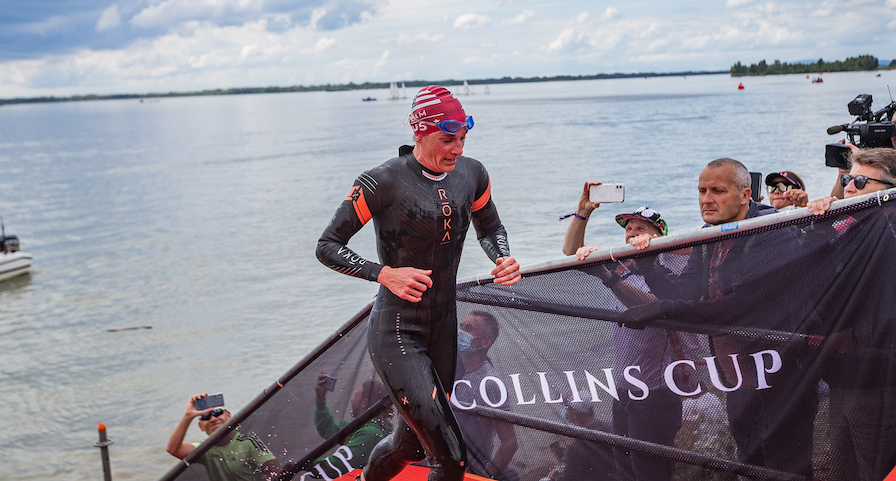 "I'm so used to doing 40km on the bike that I was really trying to stay in the moment and I think it came just a little bit physical and then mental and the combination was really hard. I tried to, every moment I could, regain my focus and rhythm and capitalise on it but I know definitely coming in from the highway I lost a lot of flow and went easy unintentionally – it wasn't ideal but it's a good learning point."