Olympic Champion Kristian Blummenfelt starts his 2022 season at IRONMAN Dubai 70.3 on Saturday, but it is just the first step on the challenge to another frontier.
The Norwegian superstar carried all before him in 2021, claiming gold in Tokyo, a World Triathlon Championship Series title and the fastest time ever for an Ironman race in Cozumel.
This year is all about full distance for the 28-year-old from Bergen, which means this weekend's race in the Middle East is more about preparing for the ultimate early-season goal – the delayed 2021 IRONMAN World Championship in St George on May 7.
All eyes on Utah
Speaking at Thursday's press conference, he said: "It's all about preparing for St George now, which is a couple of months away but it is good to get the confidence boost, performing here in Dubai and having a good start to the season.
"Even if you have a bad day on Saturday, you'll have the motivation to do the work. It's always good to perform though and show that you have the fitness and are on track, ahead of a big year. It's a special one, double World Championship, a unique year."
Time never stands still for Blummenfelt – no surprise there given what he achieved last year. And 2022 offers the challenge to prove he can dominate in Ironman racing.
"I like to move on and set myself new goals. Straight after the Olympics last year I was trying to prepare for Hawaii which was eventually postponed, but I like new challenges and with a big 2022 season coming up, I was using it as motivation to show that I can transform from being a short-course guy to dealing with the Ironman distance and longer stuff. I've done a few 70.3's, but this year is mainly going to be about the Ironman distance."
Blu expects tough battle
The immediate challenge of course is Dubai, and Blummenfelt is looking forward to Saturday's race against a competitive field.
"It looks really good, it's a flat course, fast on the bike. They have changed it a little bit on the run, which is good, so instead of having it on the softer running part it is on the bike part next to the beach, which is really nice and should make it ideal to have a little bit of a higher speed.
"Hopefully we have good conditions on Saturday, it's looking like it will be a tough battle with Daniel (Bækkegård) and also Marten (Van Riel) from the short course. He's going to be fast, so I think it's going to be a good test to see where the fitness are now, two months ahead of St George."
Blummenfelt's most recent memories of this race are not pleasant ones, he was a DNF in 2019 after cramping ruined his day.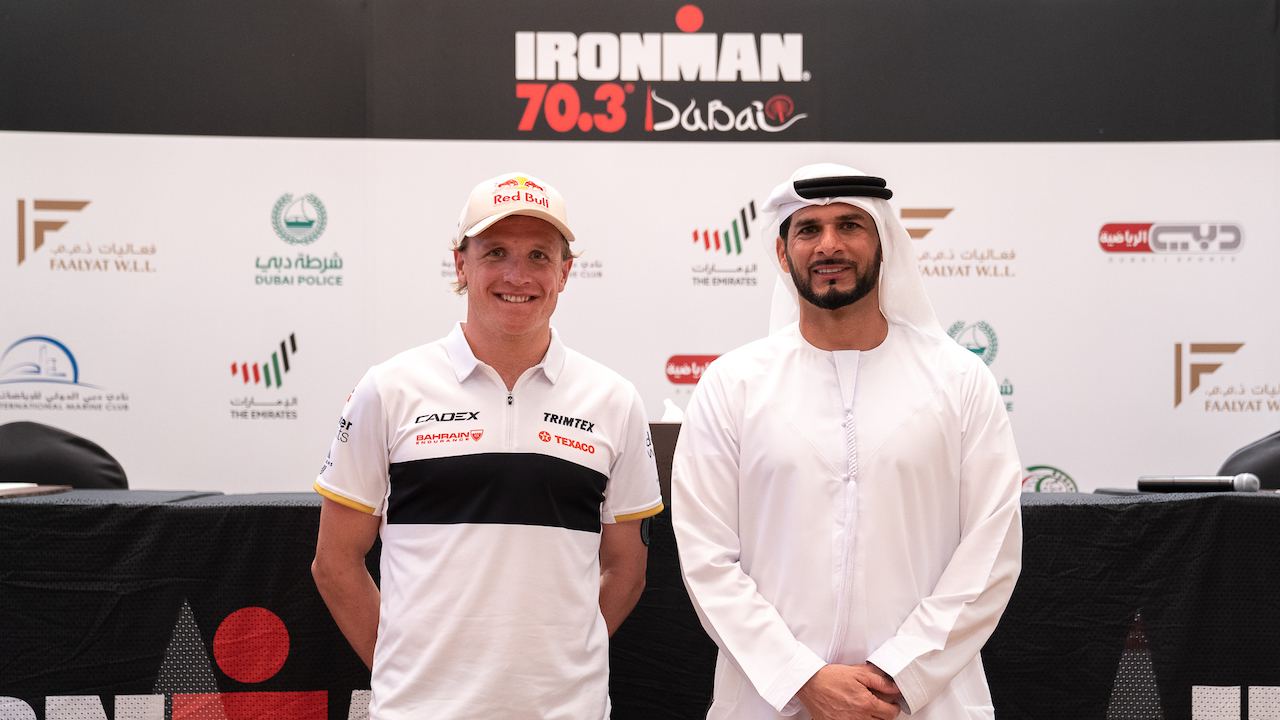 Banishing 2019 memories
"I came here with big expectations, wanted to kick off the season really well," he explained.
"I got some cramping in the first run I did off the flight and I wasn't able to be recovered before the race. I was out in the water cramping in my quads, wasn't even able to make it onto the bike.
"I remember coming out of the massage tent in the recovery area, when the rest of the guys were finishing their 90km bike… so I'm here to hopefully get revenge on the course."