Gold for France as exhausted Morier holds on to take U23 World Champs victory
Third race of the day, another European World Champion and eight of nine podiums collected by European athletes. Will that trend continue until Sunday?
After the Sprint distance Juniors, the ITU U23 World Championship athletes race over the Standard distance, and with the temperatures rising in Lausanne, that almost changed the direction on the race in the very late stages.
If the Junior races were to be decided on the run, the leading U23 women were going to ensure that the bike leg and the regular climbs in Lausanne were going to play a significant part in determining the medals in Switzerland.
A smaller field always provides more opportunities for breaks within the swim, and that proved to be the case in Lac Leman where 11 athletes left the non-wetsuit 1.5km swim within 15 seconds, with another 15 seconds before their chasers followed. Sophie Alden and Olivia Mathias were in that front pack, but Kate Waugh – Silver (2017) and Bronze (2018) in the last two Junior World Championships – was in the second group.
Emilie Morier FRA, Erika Ackerlund USA and Olivia Mathias GBR are absolutely motoring to lead the front group across this testing course in Lausanne.#WTSGrandFinal
📺 Tune into https://t.co/JwsigQEnNx @FFTRI @usatriathlon @BritTri pic.twitter.com/P7PgDFFzYD

— TriathlonLIVE (@triathlonlive) August 30, 2019
Driven on by Mathias and France's Emilie Morier in particular, that leading group did not want to give up the results of their swim efforts, and that proved successful, as by T2 there were just eight athletes remaining, with Feuersinger (AUT), Ackerlund (USA), Hedgland (AUS), Varga (SWE), Poradusu (ISR) and Ulatowska (POL) joining Mathias and Morier starting the run.
Alden was now in the chase group – along with Kate Waugh and the fast running German, Lisa Tertsch – exactly one minute down.
The run took shape early, with Morier looking strong, consistent and pulling away from Mathias, who also looked to be focussing on holding her own pace. Morier is a class athlete, winning the Madrid ITU Triathlon World Cup this year and also a member of the French European and World Championship winning Mixed Relay teams.
Morier and Mathais were looking set for Gold and Silver, while further behind Tertsch and Waugh were making their move from the chase pack through the field, for what would ultimately decide the Bronze medal once they had caught and passed Kira Hedgeland (AUS).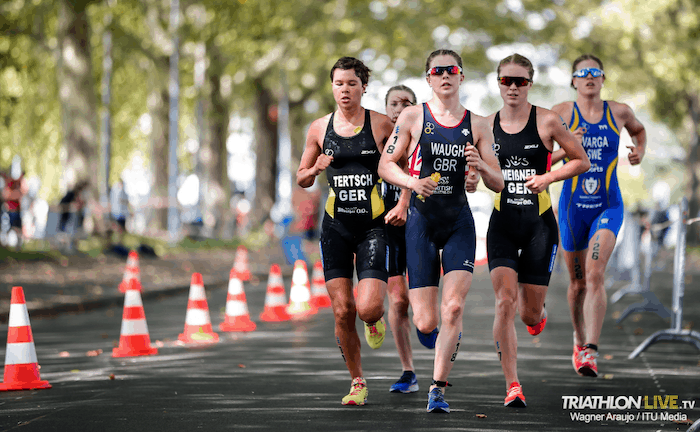 For a few moments, it looked like we might get some very late notice drama as within the last 500m Morier started to look very tired, with a few suggestions that her legs were close to letting her down – was this going to be another 'Jonathan Brownlee in Cozumel' moment? Fortunately not, she had enough to keep running down the blue carpet but was exhausted at the finish. It also meant that her winning margin ended up as just seven seconds.
Emilie Morier from France has executed an incredible race to win and be crowned the 2019 U23 women's World Triathlon Champion! 👏🥇
Follow along at https://t.co/JwsigQEnNx https://t.co/JwsigQEnNx#WTSGrandFinal #WTSLausanne @FFTRI pic.twitter.com/9YPYZKlPXP

— TriathlonLIVE (@triathlonlive) August 30, 2019
Behind, a clearly thrilled and emotional Olivia Mathias was ecstatic with her Silver medal and rightly so – their plan to push hard on the bike and build a buffer over the 'runners' worked, and she also ran well (fourth fastest of the day), while Tertsch was able to pull away from Waugh in the late stages to prevent two British athletes from securing podium results.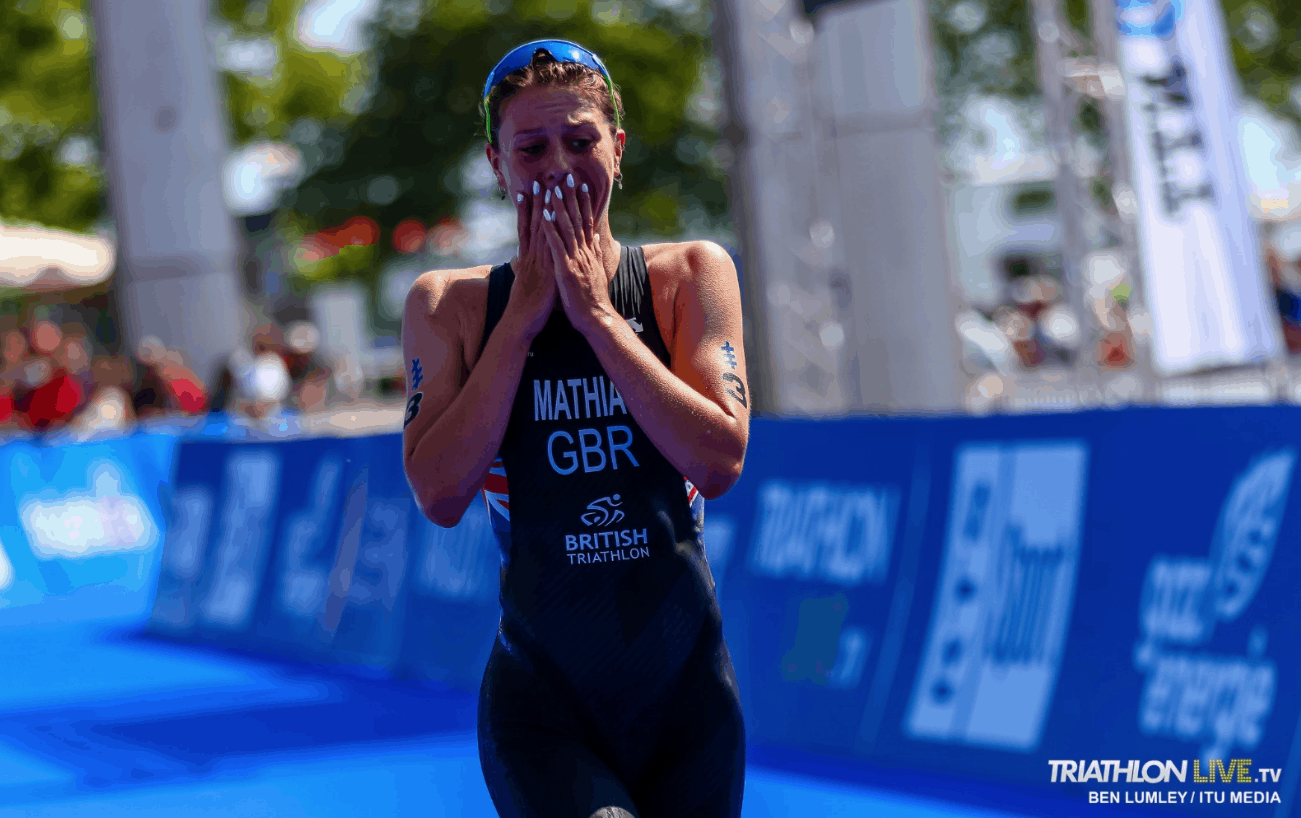 ITU World U23 Triathlon Championships, Lausanne – Friday 30th August 2019
1.5Km / 40km / 10km
ELITE U23 WOMEN
1st – Emilie Morier (FRA) -2:04:01
2nd – Olivia Mathias (GBR) – 2:04:08
3rd – Lisa Tertsch (GER) – 2:04:42
4th – Kate Waugh (GBR) – 2:04:53
5th – Kira Hedgland (AUS) – 2:05:22
16th – Sophie Alden (GBR) – 2:09:54