Whether Magnus Ditlev's Challenge Roth win in 7:24:40 should be seen as a world record full-distance time is a matter for debate.
Kristian Blummenfelt clocked 7:21:12 when winning IRONMAN Cozumel in 2021, albeit with a downstream swim – but that was still an official race, open to all and conditions are going to vary from event to event, year to year.
But what is absolutely not in questions is that Ditlev's performance was simply incredible in every way – the swim, the bike and the run. A complete masterclass from the giant Dane.
Roth is renowned as a fast course, but he knocked a staggering 11 minutes off the previous best course record set by a certain Jan Frodeno, who presented him with his medal afterwards.
Ditlev looks 'legit' now
Sebastian Kienle – in typically thoughtful Sebi way – underlined just what a performance it was in the post-race press conference when he deflected kind words from others about his own impending retirement and contribution to the Roth story.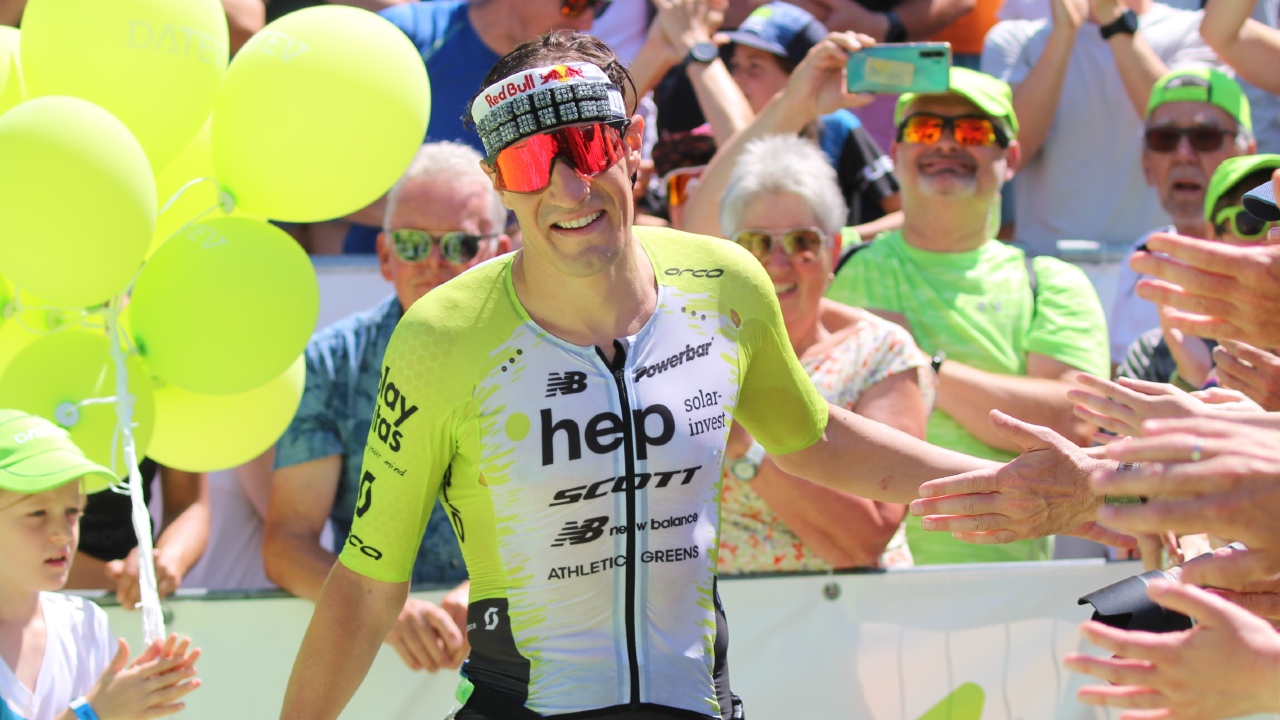 "There's too much talk about me and not enough talk about this guy in the middle," said Kienle. "And he's not a talker. He will learn because he will be at a lot of press conferences, he will be giving a ton of interviews and podcasts and whatnot going forward."
Kienle went on to detail the time he first started to notice Ditlev's talent was when the Dane made his middle-distance debut at Challenge Davos in 2019 and then again the following year when he notched his first win at IRONMAN 70.3 Gdynia, registering an astonishing bike split of 1:57:38. The next quickest was 2:02:35.
"Racing that day was Florian Angert who I know very well and is one of the strongest on the bike – and Magnus absolutely destroyed him. But afterwards, everybody was saying maybe he drafted the lead car all the time and therefore this is not legit. Looks like a little bit wrong now doesn't it!
Unchartered territory
"I just want to say is this guy didn't pop up out of the box last year which it could seem like to people from outside the sport.
"And I think also some people don't understand what that was today. It was like the first landing on the moon in our sport, or breaking supersonic sound or something like that. I mean, for somebody who's followed the sport and also being in the sport for quite some time, this is absolutely crazy and f****** amazing. Congrats Magnus."
When he did change the subject to himself, Kienle admitted it had been an understandably emotional day: "I didn't care about the time. I wanted to enjoy it once again today – riding up Solarer Berg and running into the stadium. That was sensational. I have never experienced this atmosphere anywhere else in my career."
But seemingly happy to pass on the baton to stars of the future he added: "These guys are just on another level, it's the next generation and I'm happy that I retire!"