Denmark's Magnus Ditlev produced another staggeringly impressive display to defend his Challenge Roth title in style, setting a new course record of 7:24:40 in the process, shattering the previous best of 7:35:39 by Jan Frodeno in 2016.
Ditlev looked the man to beat beforehand and that was only underlined in bold when he emerged from the swim in sixth place, just 11 seconds off the lead.
It didn't take the 25-year-old long to move to the head of affairs, though he would soon be joined – and matched until well into the run – by last year's Kona runner-up Sam Laidlow (FRA).
Laidlow's race would unfortunately unravel on the run and it was left to 2021 winner Patrick Lange (GER) to repeat the one-two from last year, 5:24 behind, with American Ben Kanute third in just his second ever full-distance race.
Swim – 'Biker' Ditlev can swim too
There was plenty of talk pre-race about course and / or world best times being up for grabs with a high quality field and excellent weather conditions, and news that the opening discipline would be wetsuit-legal would only further assist those hopes.
Plenty of strong swimmers too, with pretty much everyone pre-race expecting to see Kanute, Laidlow and Daniel Bækkegård to the fore. No surprises there, with Kanute – by just a second – first onto dry land with a 46:36 time.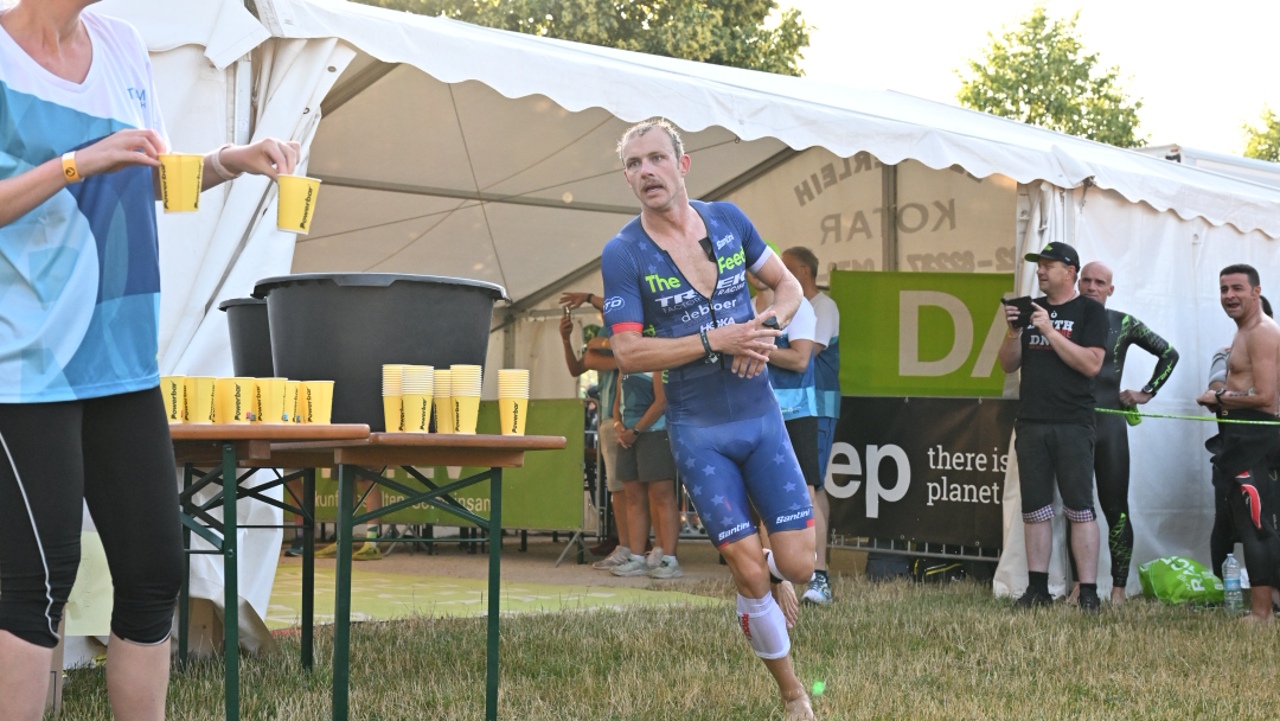 They weren't alone however, as Lange, Robert Wilkowiecki (POL), Ditlev and Pieter Heemeryck (BEL) making that effectively a leading group of seven. Read that again. Yes, uber-biker, defending champion and PTO World Ranked #3 Ditlev was not going to be doing any chasing to get to the front of the race today. Huge news, and a scary prospect for those that looked around to see the giant Dane right on their heels with 180km of riding ahead.
A few of than names that followed, several minutes back, included Kieran Lindars (+0:56), Bradley Weiss (+1:57), Andi Dreitz (+3:15), Sebastian Kienle (+3:26) and Joe Skipper (+4:42). Approaching five minutes behind Ditlev before even removing his wetsuit was absolutely not the way the Brit wanted to begin his day. If Ditlev was the big winner from the Main Donau Kanal, Skipper would be up against it to get back into contention.
Bike – Dynamic duo power clear
The leading seven from the swim were still together through the opening 5km of the bike – but from there on, the attrition would begin. Ditlev moved to the front and would up the power and split the field apart in now familiar style.
Wilkowiecki was the first to be blown out the back, and by 26km another trio had been distanced, leaving just Ditlev, Laidlow and Bækkegård. By 60km Bækkegård was the next to lose the now leading duo, not helped by some reported mechanical issues. When Ditlev and Laidlow went through 90km (in well under two hours…), their lead was up to almost six and a half minutes over Lange, Kanute and Heemeryck.
With their work perhaps done, the second half of the ride saw the strongest riders, Ditlev and Laidlow, more focussed on building their advantage together, rather than fighting against each other.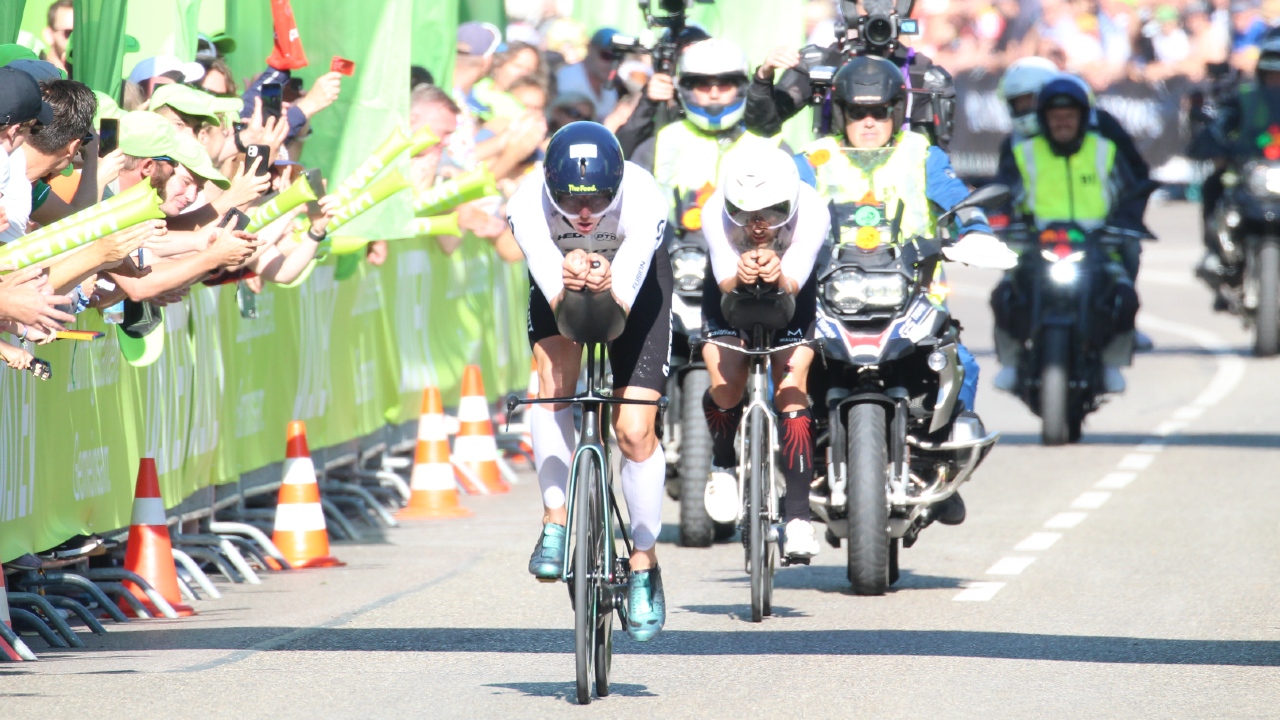 That would be a wise move – and when you consider the speed they were riding at, it's hardly a surprise that they couldn't break each other. Their bike splits? Wait for it… 3:57:45 (Ditlev, a new world record) and 3:58:01 (Laidlow), to reach the T2 dismount line together, almost 12 minutes ahead of a chasing duo of Lange and Kanute. That is seriously quick cycling.
2109 champion, Andreas Dreitz reached T2 alone in fifth 15 minutes back, before a minute later there was a group of five comprising Bækkegård, Skipper, Weiss, Lindars and Nils Frommhold, to complete the top-10 starting the run.
Run – Laidlow drops away
There was nothing between Ditlev and Laidlow starting the run, with the latter a few steps ahead coming out of transition – and that was how it stayed for the first 10km as they ran alongside each other.
But it was soon after that point when the alarm bells suddenly started to ring for the Frenchman, just as they had at IRONMAN Lanzarote when a liver infection was diagnosed, which impacted his training in the build-up to this race.
By the 15km mark, Ditlev suddenly had a three-minute lead and things would get worse for Laidlow who was reduced to a walk and seemingly struggling with a calf issue.
All of which meant he was soon looking over his shoulder rather than up ahead and it didn't take a charging Lange long to close the gap, making the catch just before the half marathon mark.
Kanute was next to go past as he moved up to third, Bækkegård then took over in fourth, closely followed by Skipper.
All the while Ditlev was in splendid isolation up front – Lange was cutting his advantage but only by fractions and with 5km to go it was still looking comfortable at more than seven minutes.
The big question was what time Ditlev would set – a Roth record looked assured but how fast could he go. The answer was that 7:24:40 and the only full-distance race time that has been quicker is Kristian Blummenfelt's 7:21:12 at IRONMAN Cozumel in 2021 when there was a downstream swim.
And huge credit too to Lange who was 5:24 behind at the line after a record full-distance marathon time of 2:30:27, with Kanute rounding out the podium as he notched his own bit of history with the fastest time (7:37:01) by an American athlete.
Bækkegård was fourth, Skipper fifth and Laidlow battled on bravely for eighth place.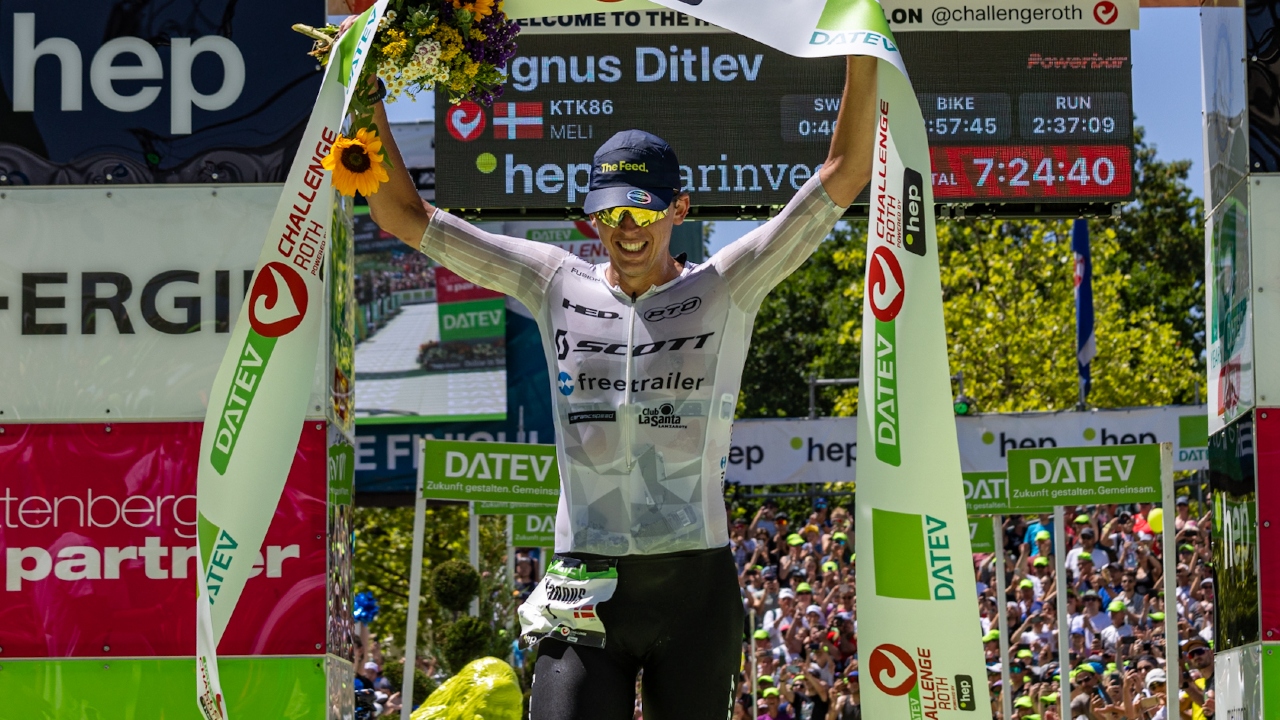 Challenge Roth 2023 Results (Men)
Sunday 25 June 2023 – 3.8km / 180km / 42.2km
1. Magnus Ditlev (DEN) – 7:24:40
2. Patrick Lange (GER) – 7:30:04
3. Ben Kanute (USA) – 7:37:01
4. Daniel Bækkegård (DEN) – 7:39:59
5. Joe Skipper (GBR) – 7:44:10
6. Bradley Weiss (RSA) – 7:46:06
7. Jason Pohl (CAN) – 7:46:59
8. Sam Laidlow (FRA) – 7:48:05
9. Andreas Dreitz (GER) – 7:50:30
10. Kieran Lindars (GBR) – 7:50:53