We always try and keep an eye one events beyond our immediate world of triathlon here at TRI247, particularly when we see some of our 'own' – past and present – performing strongly in other disciplines.
While our annual London Marathon roundup has become something of a staple, Sunday's Therme Manchester Marathon also saw some speedy running from athletes with multisport connections.
The race – organised by a familiar triathlon name, Human Race Events – had additional prestige, hosting an England marathon trial for the Commonwealth Games, along with qualifiers for the British team at the European Athletics Championships.
Podium for Georgina Schwiening
Georgina Schwieining was for many years a championship medal winning Elite duathlete for the Great Britain team. She won a World Junior Championship (2013), European U23 Championship (2014) and was the bronze medallist at senior level in 2018, at the World Championship in Fyn, Denmark, among a host of medals at British, European and World level from 2011 to 2018.
Smashing her previous best of 2:35:22, the Cambridge Runners athlete clocked 2:31:35 on Sunday to take third place in the Elite race. That time is also inside the qualifying standard for the Commonwealth Games and European Athletics Championships.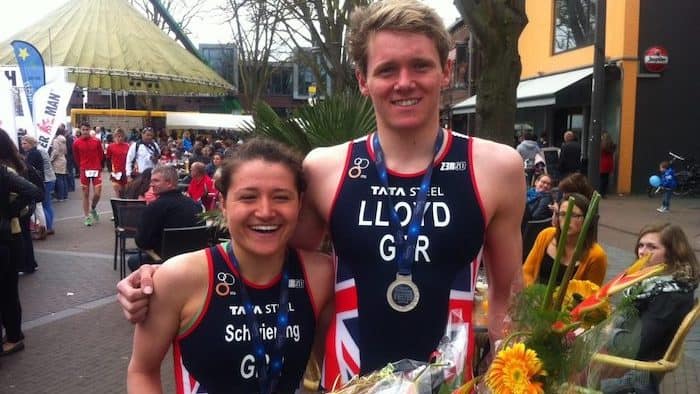 PB for Adam Bowden
Adam Bowden raced his first marathon at short notice in 2021, winning the Newport Wales Marathon in a speedy 2:20:06.
And the former IRONMAN 70.3 Dubai champion has since announced his full-time commitment to marathon running – switching career paths from triathlon.
The 39-year-old, who holds the fastest time for a British triathlete in an IRONMAN 70.3 race (3:35:03 at 70.3 Bahrain in 2018), has set a new career goal of breaking the 2:10 mark for the 26.2 mile marathon distance.
"The big difference for me on this journey is that it's all about me challenging myself," explained Bowden on his decision to commit to marathon running.
"I'm really not chasing a place or putting pressure on myself about being on the podium. This is all about me going faster, beating my own times and running quicker than I have ever ran before."
He's no stranger to athletics, having previously competed for Great Britain as a 3,000m steeplechaser at both the Commonwealth Games and European Championship before making his initial foray into triathlon in 2010.
Now back to his running roots, at Manchester Bowden (Bridgend AC) improved to 2:17:18 (12th) at his second attempt, saying:
"I'm very pleased with my PB today of 2:17:18. I went off with the pace from the start and through half way in a 66 which is a little quick and I paid for it over the next half.
"I'm still learning the pacing but this is only my second Marathon so I'm very pleased with my progression. It was really nice to have my family there for support. The crowds were awesome and the event was well organised."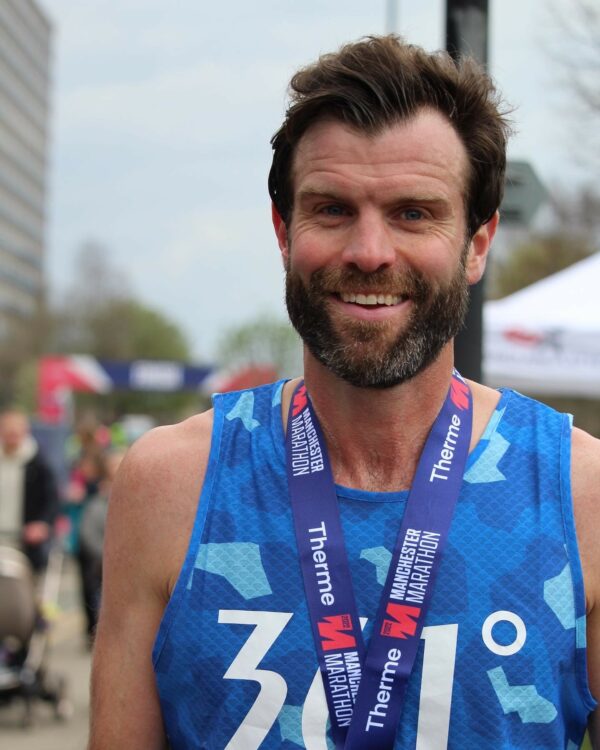 Also in the Elite race we spotted the name of Gary Laybourne (South London Harriers). Gary was an accomplished age-group triathlete for many years, including qualifying for Kona, and going under the nine hour mark in Copenhagen. 2:22:42 for him was a hugely impressive PB. That earned him 24th position.
There were also two very familiar names towards the front of the mass-start waves, courtesy of Will Clarke and David Bishop. They clocked 2:24:30 and 2:24:54.
Will commented, "Super happy with that and loved my first proper marathon. Really pleased I went for this project and I'm still able to compete at a decent level after all these years. Thanks for the love and thanks to everyone who supported this journey."
Therme Manchester Marathon Results 2022
Sunday 3 April 2022
WOMEN ELITE
1. Becky Brigss (City of Hull AC) – 2:29:04
2. Naomi Mitchell (Reading Athletics Club) – 2:30:54
3. Georgina Schwiening (Cambridge Runners) – 2:31:35
MEN ELITE
1. Jonny Mellor (Liverpool Harriers) – 2:10:46
2. Ross Millington (Stockport Harriers) – 2:11:37
3. Kevin Seward – 2:11:54
12. Adam Bowden (Bridgend AC) – 2:17:18
24. Gary Laybourne (South London Harriers) – 2:22:42
OPEN Race (MEN)
1. Fraser Stewart (Cambulsang Harriers) – 2:18:40
2. George Philipps (Notts AC) – 2:24:16
3. William Clarke (Barrow Runners) – 2:24:30
4. David Bishop (Team Derby Runner) – 2:24:54