2016 World Champion uses speedy run to win in Australia
An 'M &M' one-two as it is Mola and Murray on top at Gold Coast
If I pretty much skip over the swim and bike legs from the ITU World Triathlon Gold Coast today, please excuse me. If you want to put forward evidence that Sprint distance is a far better and exciting format for triathlon in the Olympic Games… then today probably wasn't your best evidence.
The athletes gave it a go – swim leader Henri Schoeman, along with Ben Kanute, Javier Gomez, Taylor Reid and Trent Thorpe did try and break / keep clear at the early stages of the bike, but the sheer volume and quality of athletes behind – separated by smaller gaps from a 750m swim, rather than a 1.5km effort – meant that effort was soon extinguished.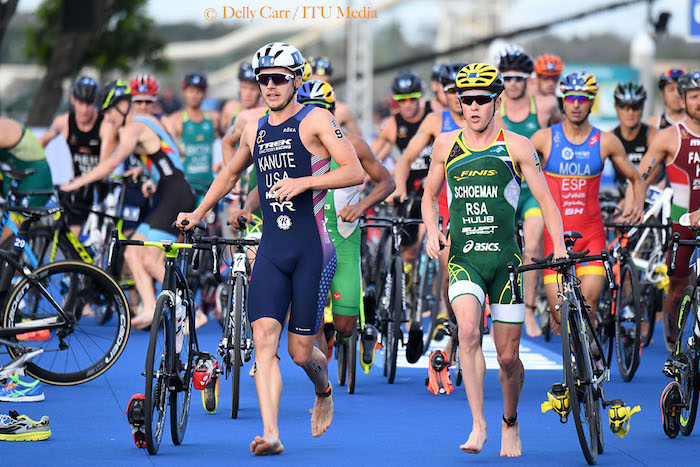 After that, for some periods the bike looked like club ride with a few sprints for sign posts – until Ryan Fisher (AUS) broke clear, fully committed, and built a 16 second lead at T2.
Unfortunately, when you then have a running group of Mola, Murray, Gomez, Alarza and Birtwhistle chasing you down, 16 seconds can vanish quickly. Mola was aggressive and setting the pace right from the start – and gradually reducing those who could stay with him.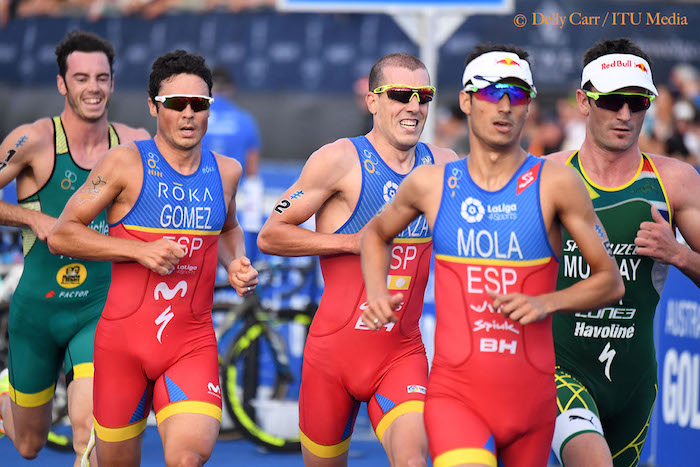 Jacob Birtwhistle looked like he was jogging – and then got dropped.
Fernando Alarza looked like he was struggling – but then dropped Gomez.
Richard Murray looked like he was cruising on Mola's shoulder… but actually, he was "on the rivet", and Mario Mola was the class of the field today.
"It was a very tough race as usual, but with the sprint, Richard, Fernando and Javi they were all on fire. I had to give 100 percent today to get this win," Mola said.
"Every race is a new opportunity and a different opportunity to give our best and to try our best. In Abu Dhabi I do not think I was less fit or more than I was today but in this racing these guys are very good and if you don't have your best day you go from first to eighth to twentieth, that is racing. So to get a good result I am happy to have a good performance."
Epic race here at #WTSgoldcoast , time for some Burgers and beers . Well done to @mariomola @Fernando_Alarza @Jgomeznoya 2nd will do 😉 pic.twitter.com/Je8NbJiL4h

— Richard Murray (@RD_murray) April 8, 2017
ITU World Triathlon Gold Coast – Saturday 8th April 2017
ELITE MEN – 750m / 20km / 5km
1st – Mario Mola (ESP) – 52:35
2nd – Richard Murray (RSA) – 52:39
3rd – Fernando Alarza (ESP) – 52:44
4th – Javier Gomez (ESP) – 52:51
5th – Jacob Birtwhistle (AUS) – 53:03
6th – Luke Willian (AUS) -53:08
7th – Ryan Sissons (NZL) – 53:08
8th – Henri Schoeman (RSA) – 53:11
9th – Wian Sullwald (RSA) – 53:11
10th – Sagir Sagiv (ISR) – 53:!4
World Triathlon Series Standings after Gold Coast
1st – Javier Gomez (ESP) – 1433
2nd – Richard Murray (RSA) -1326
3rd – Fernando Alarza (ESP) – 1318
4th – Mario Mola (ESP) – 1264
5th – Henri Schoeman (RSA) – 861