Michael Johnson, the legendary track star who won four Olympic gold medals and eight World Championship titles and is now one of the most respected pundits in any sport, saw top-level triathlon close up when he appeared in an ambassador role with the PTO at their US Open in Dallas last year.
So now, almost exactly 12 months on, how does he feel the sport has progressed, how does it compare to track and field and what's his verdict on the PTO, the broadcast product and more?
We sat down with him to find out – and also get his views on the battle against doping, especially relevant given that the winner of the men's race that day in Dallas was Collin Chartier, currently serving a three-year ban after testing positive for EPO.
We'll be covering all of that in the coming weeks but the first question for him was how did that link up with the PTO come about?
Keep a clear focus
He told us: "I think they saw what they were trying to do in the sport of triathlon was very similar to a lot of the things that I had been advocating in my sport of track and field. So I think because of that, they reached out and we started having some conversations and they invited me down to Dallas, which is my hometown."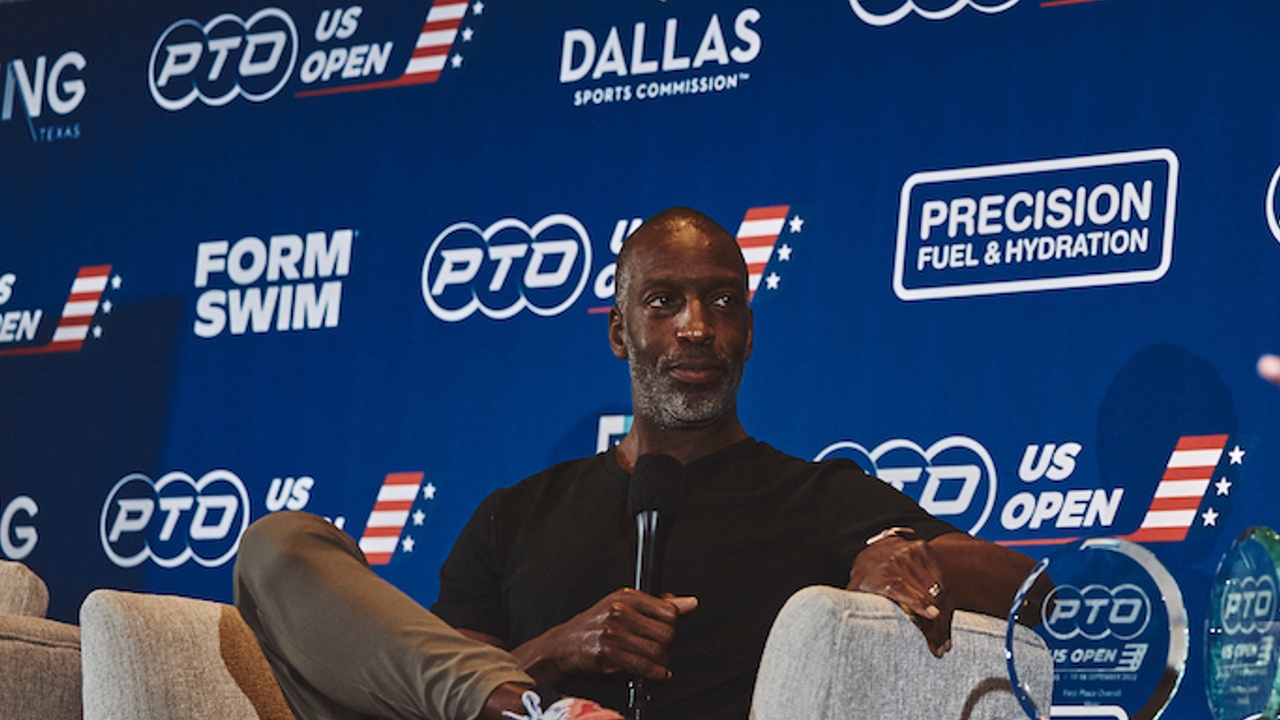 Johnson has spoken passionately about the challenges facing athletics, especially in terms of keeping the sport in the spotlight outside of the Olympics and the World Championships, with a compelling season-long narrative.
So does he feel triathlon is in danger of falling into a similar trap?
"I think one of the bigger issues has been all of the different sort of distances and whether or not the same athletes do those and the confusion that can create. That was one of the first things that I wasn't aware of and it was very interesting to me. I think just helping fans understand that about the sport is one of the issues.
"And then, similar to athletics, you have to kind of ask yourself the question, can we gain new fans in all of these different things, or do we need to sort of bring it in a little bit and make it a little bit more concise so that we're focused on one thing that we're trying to bring fans into, as opposed to, hey, we got four or five different things here.
"I'm not going to try to articulate that for triathlon, but I would say the parallel for track and field as a sport is to ask is it really realistic that you're going to find a critical mass of fans who like to see people throwing things far, see people jumping far and high, see people running distance for endurance, and then see people sprinting for power and speed? That's a lot to try to find someone who is equally passionately interested in all of those things.
"The sport may be a little too broad and I think that's also one of the issues with triathlon."
Taking the tough decisions
The PTO has come in for some criticism for not catering to the long-distance end of the spectrum – all their races so far have been over 100km (2km swim, 80km bike, 18km run) which is less than even a half IRONMAN (1.9km, 90.1km, 21.1km).
But Johnson feels that it is absolutely the right call to keep things simple: "Absolutely. And I think that those are some of the hard decisions that I admire them for. There's pros and cons to that. You're shutting off some of the fans and hoping they're going to come over and follow this particular distance, but you just have to make those decisions and they're difficult decisions.
You want to try to be all things to all people, but that just doesn't work and there's no doubt about that. That's been proven.
"So it makes sense to do your research, figure out what you feel is going to be most compelling for your particular model, and then you've got to stick with that and you've got to ride it out. There's going to be some challenges and some hurdles to overcome along the way and you're going to question whether you've made the right decision or not."
Learning process
Johnson also feels it's imperative that triathlon looks outside its traditional fan base in order to grow significantly as a sport, adding: "I admire them for trying to understand not just what the existing current triathlete fan is looking for – which is important as well – but also doing a lot of work to understand what's happening today in sports and entertainment and what the trends are.
"And then it's about taking that, creating a narrative for your product and then continuing to get that out there and be consistent with that. That's what's going to help you to ultimately gain traction and trend positively upward in terms of gaining new fans.
"But then it's listening to those fans to learn what they like, what they don't like from an analytical perspective, what are they engaging with, what's resonating with them, what are the things that we're doing that's working? And also what are the things that we're doing that maybe isn't working quite so well or isn't worth the effort?"
Best of the best
A key theme of the 2023 triathlon season has been the number of times the top athletes have faced each other.
Stellar fields have lined up in the PTO European, US and Asian Opens, with the latter seeing wins for #1 ranked athletes Ashleigh Gentle and Kristian Blummenfelt despite the event's close proximity to the 70.3 Worlds a week later.
And in addition, we're also going to see a stacked women's field at the IRONMAN World Championship in Kona, where the presence of the 70.3 World Champion Taylor Knibb adds further intrigue.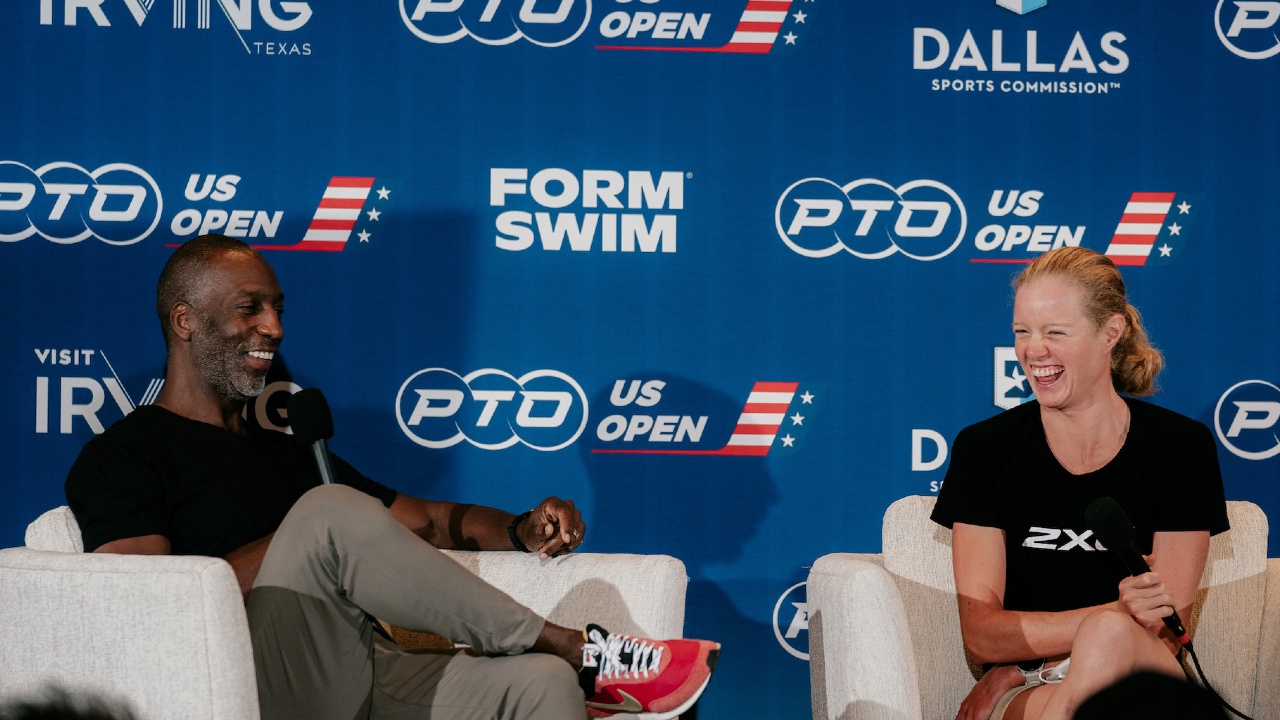 Johnson says all of that is in stark contrast to his sport of track and field, explaining: "One of the things I think these guys [the PTO] have done a great job around is getting the getting the best athletes on board, getting them to buy into the concept and getting them to compete against one another.
"We had that problem in track and field, so I understand exactly what they have had to deal with. And yeah, it's super important if you're trying to get fans to watch, they have to feel like they're watching the best.
"Even though team sports are dramatically different from individual sports, it's true there too, indeed there's a lot you can learn from team sports.
"MLS soccer here in the US struggled forever because you had soccer fans in America watching the Premier League and all those top European leagues, but not watching MLS because it wasn't the best. Now that it has gotten better, now people are watching it more.
"You look at the WNBA and it struggled for years because a lot of the best women's basketball players were going over to Europe to play because that was a better league, a better level of competition. Now that league is thriving. It's the absolute best women's basketball players in the world. People are coming from all over the world to play in this league."
All about the money
But whether it's triathlon, track and field, soccer or basketball what is it that primarily attracts the best participants?
"Yeah, it is prize money," agrees Johnson. "It's money. Whether it's prize money, appearance fees, whatever it is.
"One, you have to make it worth it for the athletes to go out there. I've never faulted the athletes in track and field for not competing against one another. When an athlete has a bigger priority, which for track and field every year is either the World Championships or an Olympics, that's the big prize.
"That's where the most money is. That's where, whether it's Nike or adidas or whoever, that contract is heavily incentivised for you. Making your national team first of all, which takes place in June, July, that's your priority. If you don't finish top three, you're not on that team. You're not going to a World Championship, you're not going to an Olympics. So that's the first part of it.
"And then second is them doing their best at that Championship. So what ends up happening is all of the other events – Diamond League for example in track and field – become meets that you use to prepare to perform at your best, at those meets that really matter, at those competitions that really matter.
"They're not paying very much, so there's no reason to go out and face your main rival there. In fact, the way that the whole structure is with our sport, you're disincentivised to compete with those. So it's about the money."
Changing perceptions
But Johnson also feels there's another aspect to it in terms of trying to take triathlon to the next level as a sport, adding: "So it's not just that [solely about money]. The PTO has taken triathlon and elevated it to something that looks to an athlete and feels like this is a prestigious competition. I'll brag on myself for a second, which is going to feel weird, but it is a good example…
"I have all the respect in the world for all of those athletes that I met at that competition in Dallas but they felt like it was a huge honour that the PTO had brought me in – a great Olympian who's coming here to watch us compete and has an interest in our sport.
"That's the sort of thing that athletes feel like, okay, well, this organisation is taking this seriously. They're prioritising it. They're doing what they need to do to get us in front of a large audience, doing what they need to do to get us presented with a professional level competition that treats us like the great athletes that we are.
"That respect is very important to athletes, especially athletes in sports like triathlon. And that's something that we've yet to do in track and field. But the PTO has done a great job and set a great model for it so far."