The Accenture British Triathlon Mixed Relay Cup welcomes some decorated additions to the 2018 line-up, seeing quartets from Australia, France, USA and New Zealand invited to go head-to-head against Britain's Triathlon High-Performance Centres on Saturday 4 August.
Yesterday witnessed a supreme French squad take the ITU Mixed Relay Triathlon World title in Hamburg, with Australia narrowly out-sprinting USA for second place. Having made it onto the podium at the 2018 Gold Coast Commonwealth Games in April, New Zealand are also a force to be reckoned with and will only add to the excitement when the event gets underway next month.
Last September in Nottingham, the inaugural Accenture British Triathlon Mixed Relay Cup profiled the country's Triathlon High-Performance Centres and provided a platform for Britain's next generation of stars to compete alongside the world's top athletes. Similarly, this year, the addition of these four squads poses an even greater challenge for Britain's elite triathletes, who will use this as a real opportunity to test themselves against nations with proven mixed relay prowess.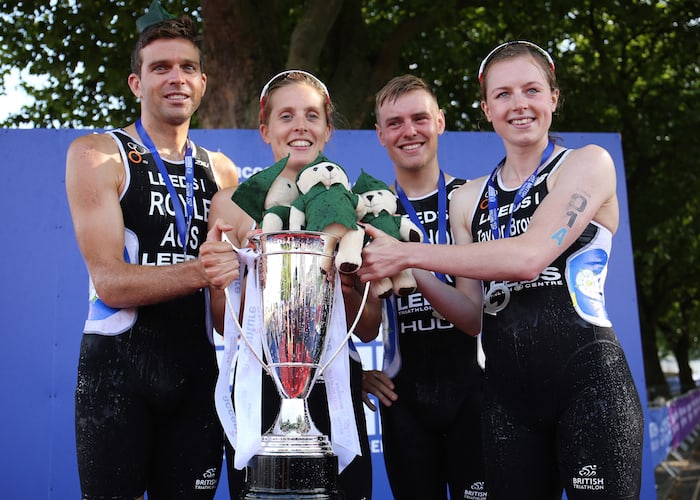 The international teams join a seven-strong line-up already set to dive into the London Docklands for the second instalment of the event, with competing athletes to be announced in the coming weeks. Team Leeds I lifted the cup in 2017 and will be set on retaining their title next month alongside squads from Bath, Birmingham, Cardiff, Loughborough, Nottingham and Stirling.
Andy Salmon, British Triathlon CEO said: "Having some top international squads in the mix will really put the cat amongst the pigeons at the Accenture British Triathlon Mixed Relay Cup. With the mixed relay discipline making its Olympic debut in Tokyo in just two years' time, what a great opportunity for our British squads to hone their skills and test themselves against some of the world's top triathlon nations."
Jarrod Evans, USA Triathlon National Team Coach, said: "USA Triathlon is very excited to be a part of the Accenture British Triathlon Mixed Relay Cup.  This premium event will allow us to showcase some of our emerging talent against world class competition as we continue to build towards the 2020 and 2024 Olympic Games."
The Accenture British Triathlon Mixed Relay Cup this August will be delivered in conjunction with the AJ Bell London Triathlon. Competing athletes will be confirmed in the coming weeks.
The event is free to view and is located at the London Excel Centre. For more information, visit https://www.britishtriathlon.org/mixedrelaycup