Morgan Pearson ensured that Team USA secured both wins at the World Triathlon Cup Karlovy Vary on Sunday, after his compatriot Gwen Jorgensen had sprinted to victory in the women's race.
Pearson, who recently qualified for his second Olympic team after finishing sixth at the Paris Olympic Test Event, notched his first ever World Cup win thanks to a dominant performance in the Czech Republic.
Winning by more than a minute, the Boulder-based professional has bounced back remarkably well from a challenging past 18 months and looks to be one of the main contenders for another podium at this year's WTCS Grand Final in Pontevedra in two weeks time.
Gun to tape victory for Pearson
After finding his form over the first lap in the water, Pearson had a strong swim to emerge just 10 seconds shy of the lead group, which was headed by Hungarian Mark Devay, German Jonas Schomburg and Italian Nicolo Strada, plus the British duo of Marcus Dey and Samuel Dickinson.
After rolling around in the front group for the first couple of laps, Pearson made a break for it with two laps to go and eventually had a lead of over 30 seconds coming into transition, with Schomburg, Dickinson and German Simon Henseleit leading the chasers on to the run.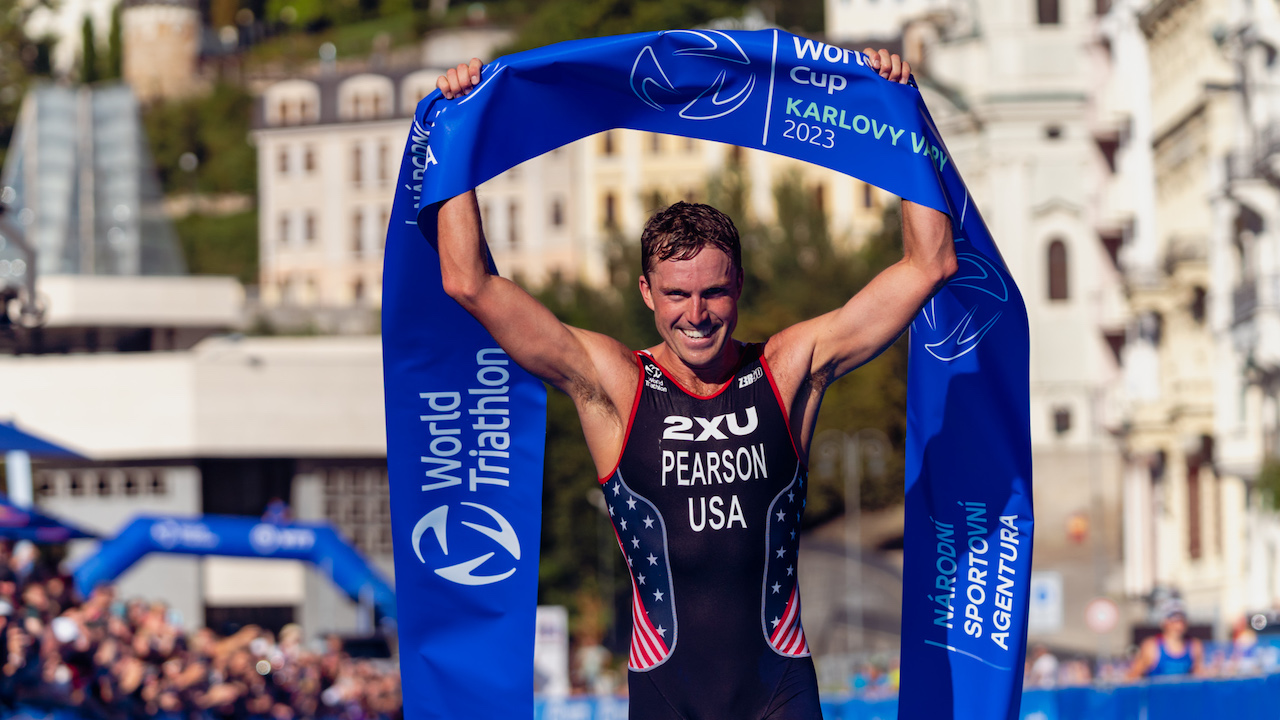 With his lead quickly stretching out to a minute by the end of the first lap, Pearson was home and dry and had the quality to enjoy the rest of the run course en route to victory. Behind him, Hungarian Devay got the better of Schomburg to take second, with the German third ahead of Austrian Luis Knabl and his compatriot Henseleit.
World Triathlon Cup Karlovy Vary Results
Sunday September 10, 2023 – Karlovy Vary, Czech Republic.
1. Morgan Pearson (USA) – 1:51:55
2. Mark Devay (HUN) – 1:53:07
3. Jonas Schomburg (GER) – 1:53:10
4. Alois Knabl (AUT) – 1:53:43
5. Simon Henseleit (GER) – 1:53:47