The fifth edition of the Outlaw Half Holkham on Sunday proved to be another triumph, at surely one of the best settings for a triathlon in the country.
Even the weather (which was scheduled to be so bad that venue evacuation procedures had been drafted by the organisers behind the scenes), came to the party. So much so, it was getting pretty toasty on Sunday afternoon.
Following our full report from North Norfolk, we spoke to the top-five quickest men over the middle-distance course, all of whom were inside the previous course record. We'll bring you the reaction from the leading women very soon too.
James Teagle 3:52:13 (PTO wave)
Kieran Lindars 3:55:48 (PTO wave)
Sam Wade 3:56:32 (PTO wave)
Harry Palmer 3:57:55 (Elite wave)
William Draper 3:59:00 (PTO wave)
Favourite status no pressure for Teagle
James Teagle was a dominant winner, in course-record time, on his first start in an Outlaw Triathlon Series event.
Pre-race, he had been pretty clear on his objectives, stating confidently: "I think I'm the top-ranked athlete here… so I'm going to try and win, that's the aim". Given his recent success at Challenge Gdansk, there was certainly no sense of over-confidence in that statement.
With the late withdrawal of George Goodwin, he was indeed the pre-race favourite. If that was going to add any pressure, he seemed to brush it off easily and looked in control all day.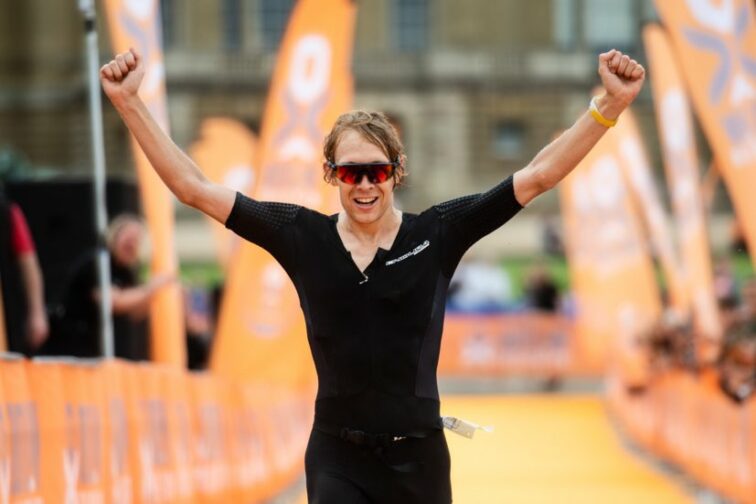 Afterwards he admitted: "It might of looked like that… but it was definitely very hard!
"Jack Willis set a really hard pace in that swim. On the bike I didn't know where anyone was, so in my mind I assumed they were only 30 seconds behind and you've got to keep pushing.
"It wasn't until I go onto the run that I realised the gap was three minutes, but even then, you don't discount your competition. That hill on the run, three laps of that, brutal… really hard!
"A beautiful venue, I want to thank Outlaw and the PTO for allowing us to race."
Local knowledge helps Lindars
Kieran Lindars spent most of the swim alongside James, but from there he held second place to the finish, despite the competition chasing from behind:
"It was a time trial format, so it was basically go hard from the start. You had to keep very much within yourself.
"We broke away on the swim and had a little gap (with James Teagle and Jack Willis), and then James pulled away on the bike. I'm not the strongest cyclist or runner, but I've been working with some guys who been really been helping me bring it up.
"I knew from speaking to the locals there would be a tailwind on the second half of the bike, so I made sure I pushed on the first half to then take advantage of that.
"It's so fantastic that the PTO and Outlaw have put this event on to help keep us in the sport."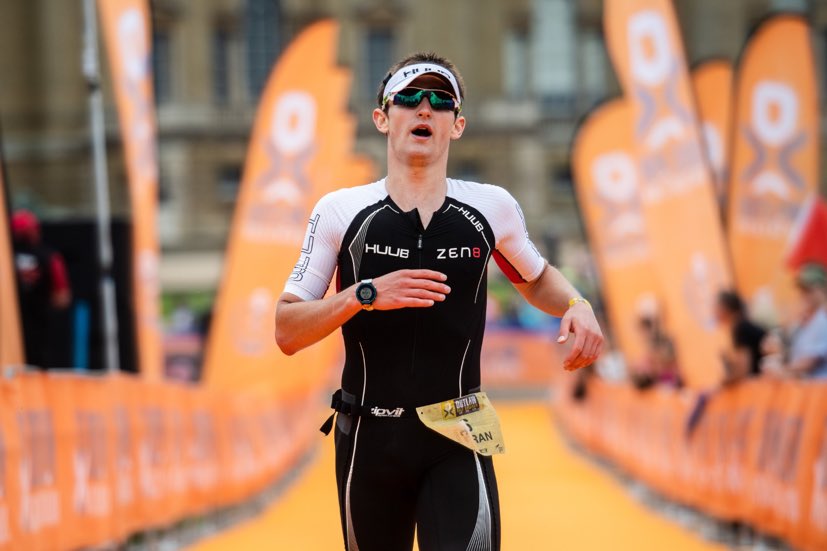 Saw Wade back to form
Sam Wade was around one minute down on the leaders after the opening 1.9km swim, and while he spent much of the three-lap run course with Lindars in sight, the Cardiff-based triathlete couldn't quite make up enough time, finishing the day third fastest overall.
"I was really pleased with that. I've had a couple of races this year which were lower than I expected in terms of results, so getting on the podium in a Pro race is really nice.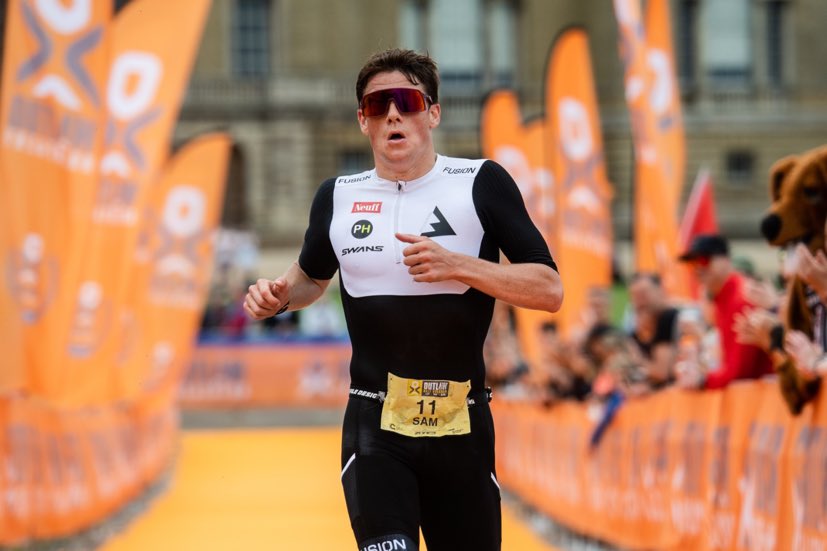 "Kieran raced really well. I thought I was going to catch him… but third place at the end I'm perfectly happy with that.
"The bike course was really nice and rolling, really fast. The run was challenging with lots of varied terrain, but I think it suited me. It was an honest course and I'm pleased with how I raced it.
Harry Palmer mixes it with the PTO Pros
In addition to the PTO-supported Professional wave, there was also some great quality with the Elite waves, with several athletes, male and female, relishing another opportunity to measure themselves against, and take some scalps, amongst many of the top domestic middle-distance athletes.
Harry Palmer certainly ticked that box. Fourth overall at the Outlaw Half Nottingham two weeks ago, his time here – 3:57:55, which was one of several inside the previous course record – was enough to win the Elite wave, and also set the fourth fastest time overall on the day.
"Outlaw Holkham was a great day. The organisation was fantastic and to share the course with some top end elite and pro athletes made for a really competitive day.
"I knew it was going to be hard from the gun but with the hard run course I wanted to save enough energy in the legs to do some damage to the other athletes who were struggling towards the end and hopefully chase down a lot of the pro athletes in the PTO wave ahead.
"The competition at these events is getting faster and faster so the chance to recover from any mistakes is being reduced significantly, luckily I had a pretty smooth day and was able to hold it together."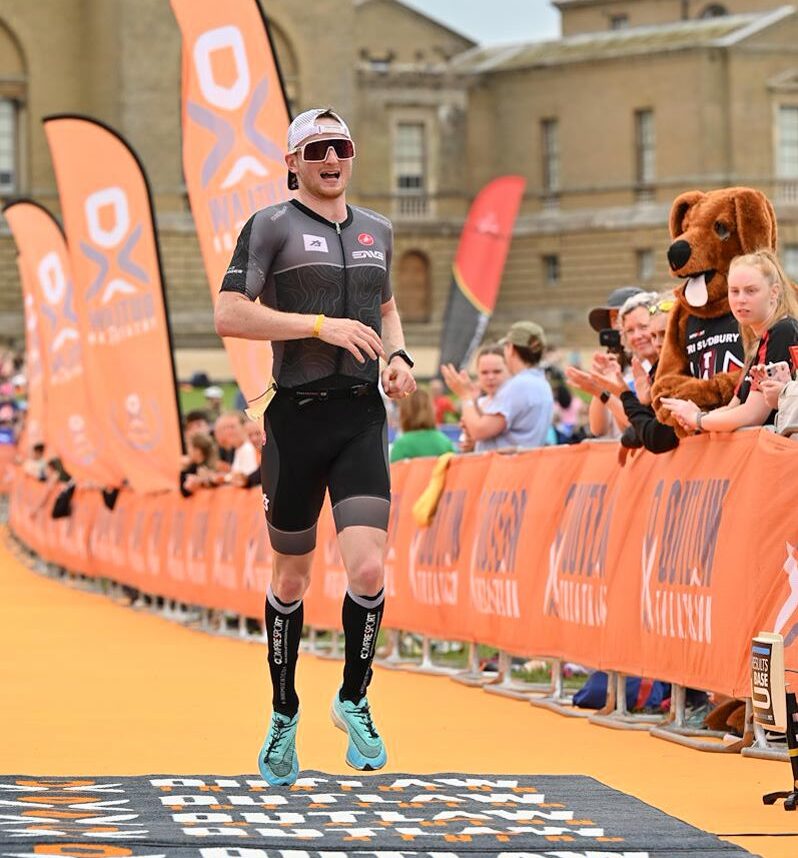 Draper bikes back into contention
Off the pace of the leaders during the swim, Will Draper was able to excel on the rolling 90km bike leg around North Norfolk and get himself right back into contention with the half marathon ahead.
He explained: "I started off with a slower swim which is what I'm like at the moment, but then had a really good bike, made up the places and really felt like I was in the race today. At the Outlaw Half Nottingham (two weeks ago), I never really did that.
"It's a great result in my first season as a Pro and great to take forward a lot of lessons learned. I was good to not die for once towards the end of the run!"