Last weekend in Leeds was a momentous one in many ways for Richard Murray.
Most important of all, his performances [two top 10 placings] gave him huge confidence for the future following his heart surgery last year.
But it also saw him race for the Netherlands for the first time – and with his wife Rachel Klamer in Sunday's Mixed Relay.
'Over the moon'
We caught up with him to talk through how it all went – in an event which holds many happy memories following his victory there in 2018.
And it was clear that it marked a significant step in his comeback following the procedure to deal with Atrial Fibrillation (AFIB).
"I couldn't really complain about the individual race – I was over the moon really," he said about finishing seventh behind Hayden Wilde.
"I had zero expectation coming into Leeds, which was actually very nice as there was no pressure. It was just nice to be racing.
"Top 20 or top 30 was sort of the idea and if I'd got anywhere near that I would have been happy. I wasn't sure what the form was like so all in all it was great to be able to be back at this level.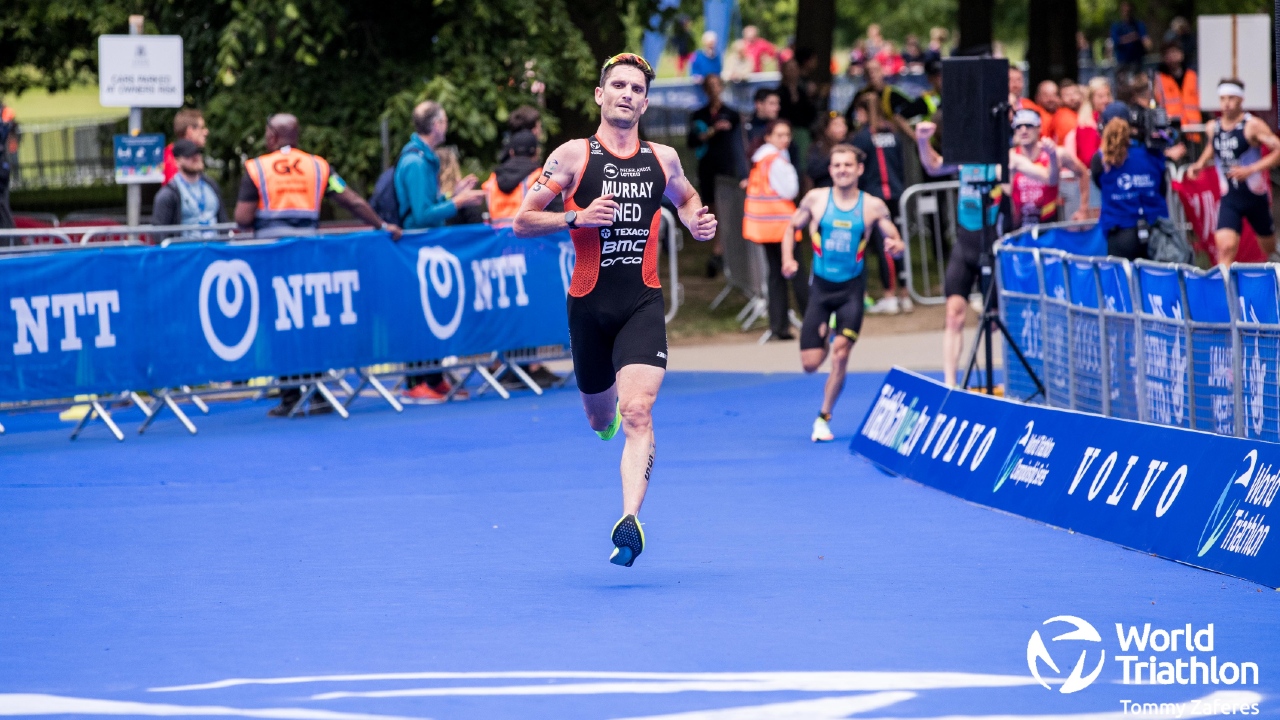 "I trained in Leeds back in 2011 with the Brownlees at the Met University so it means a lot to me. And triathlon in the UK is massive, there are always so many fans. It's a great place to race."
Building back the confidence
Murray had the heart operation in May 2021 and explained: "Last year in January I thought I might have to quit triathlon. But getting a different opinion and going ahead and getting the ablation on the heart procedure done was a huge change."
Leeds also saw Vincent Luis racing again after heart issues, with the Frenchman just a few places behind Murray.
"Vincent told me about his procedure and that's just great – and pretty crazy – that he can be racing so soon afterwards."
Murray will take it one step at a time as he continues his return, explaining: "The plan is to build things up gradually as the year goes on and get a bit of confidence back.
"It's about the psychological confidence of being able to push yourself – you have to believe in your ability to go deep and not have issues afterwards."
Going Dutch
Leeds also saw Murray sporting the colours of the Netherlands at the highest level for the first time.
Now based in Holland, South African-born Richard is the husband of top Dutch triathlete Rachel Klamer and he was in the top five when he handed over to her after the opening leg of the Mixed Relay.
He said: "I was actually a bit concerned about doing the relay the day after the individual as I'm getting slightly older – early thirties is a big difference to early twenties – and feel the racing a bit more.
"It was really cool to be racing with the Dutch and Rachel but it was a bit of an interesting feeling and very weird when I was standing there at the start. Normally I'm racing against them and then all of a sudden I'm racing for them!
"Tagging off to her in the relay was quite cool and I'm super happy. It's awesome to be part of it and race with the Netherlands.
"It was such a big change but an amazing one and something new. We're obviously speaking Dutch at all the meetings and things like that and my mindset has changed."
The focus going forward is very much on Paris 2024 and the performances in Leeds sound like they could act as a catalyst.
"I had initially thought that maybe I can't go for the individual – maybe I'd lost a little bit – and I'd aim to be part of the relay.
"But it's gaining the trust back this year and then focussing next year on qualifying for Paris."