Even Ruth Astle admitted that finishing fifth in her first IRONMAN World Championship as a professional was "surreal".
The British star had shown her developing potential over the full distance in 2021 by claiming famous victories in Mallorca and then South Africa.
She proved those displays were no fluke as she ran into fifth place on Saturday, behind Daniela Ryf, Kat Matthews, Anne Haug and Skye Moench.
Astle believed it, and then did it
Ruth, first overall Age-Grouper at Kona back in 2019, admitted: "Probably towards the middle of last week, I started to believe that if I had a good day, I could be top five and maybe even sneak onto the podium if everything went right.
"But there's one thing kind of believing it and then there's another thing actually doing it. So, yeah, it definitely feels really surreal."
The day started well for Ruth – she was delighted to find temperatures in the waters at Sand Hollow had warmed up slightly.
"Thankfully it was a bit warmer than it had been earlier in the week. That definitely helped me out a bit. I would have struggled even more if it had been colder."
Brutal bike course
Astle's prowess on the bike is renowned, and she relished the challenge of the next 112 miles through the Utah hills.
She said: "The bike, I love that course, but it is just brutal. It's just relentless – up, down. It started getting slightly windy. I wouldn't say anything like it has been this week, but enough to make it harder work than you might want in the back half of the bike."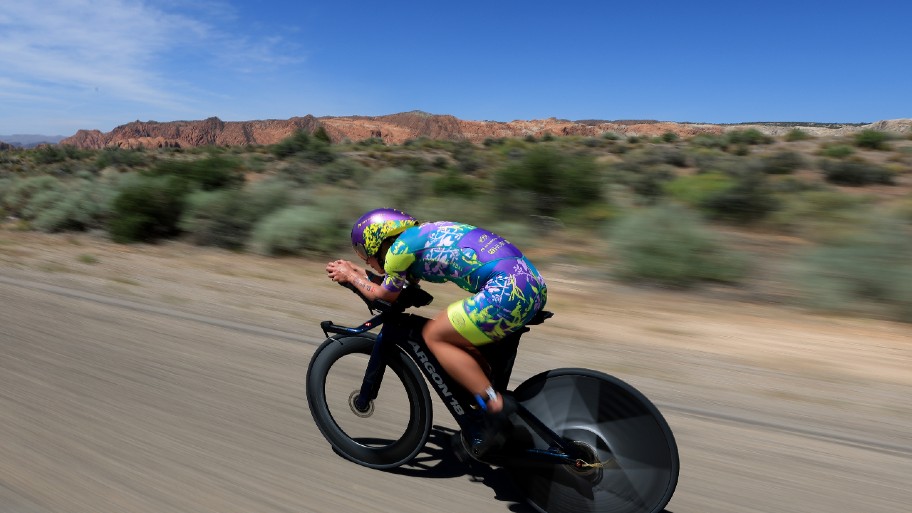 Astle came got off her bike in seventh with the marathon to come, and the pain would not stop there.
Savage run
"That run, just absolutely savage. Nothing else to describe that marathon off that kind of bike.
"I was more than ready for that (finish line) to have come about 30K earlier, to be honest. But yeah, as always, great crowds out there. The support was unbelievable.
"And being able to actually run down that red carpet at my first professional World Champs was a great moment."