Last year's CLASH Endurance Miami champion Sam Long is heading back to Florida to defend his title this week, with the "Big Unit" sharing his excitement for the race in his most recent YouTube video (embedded below).
After a tough end to the 2022 season, which included THAT penalty in St George, plus a disappointing IRONMAN Arizona, the American will hope to kick the new season off in style in the Sunshine State.
He will be racing in Miami for the first time under new coach Dr Dan Plews and says he's heading into the event as a very different athlete to 12 months ago.
"I'm focusing on the future"
"Here we are, the first race of the season, and I guess if we go back a year ago, I won the race, but it's interesting because I haven't really reflected on the fact that I'm the defending champion.
"I don't try to live that way anymore, because I think living that way puts unnecessary pressure on me. The past is in the past, I'm just focused on this race, this year, and it's a different me going into the race this year."
Whilst Long was keen to reiterate that winning in Miami is the goal of the race, it's not as important as getting the best out of himself and acting as a stepping stone for the rest of the season:
"Of course the goal is to win, but I'm not too obsessed over who is there, it's mostly focusing on getting the best out of myself and I'm supremely confident this year that just getting the best out of myself will take care of the results.
"I don't need to stress about anything outside of getting the best out of myself and this has been a really enjoyable mindset for me. I've carried this mindset elsewhere, I don't really pay attention to what others are doing in training and that applies to other pros and similarly to the armchair quarterbacks I've got."
Blocking out the haters
On the topic of armchair quarterbacks, Long shared that the reason he has gone from being relatively transparent on Strava with his training data to taking a more conservative approach is because of the constant critique provided by those who only got a glimpse into his life via the training platform.
I actually think that the main reason I stopped showing all my Strava data is because when I showed 100% of my data everyone felt like they knew more information than me and my coach.
"Even though that was 100% false, I would literally get three-page-long emails about my training and how I was doing everything wrong just based on what people got from my Strava data."
The American shared that now, by taking a more conservative approach to the amount of data he shares, the "armchair quarterbacks" have backed off, with the resulting breathing space something Long is enjoying.
"Now, because I'm not showing as much, people don't feel so entitled to tell me all of that and that's been really great."
Looking at the bigger picture
With CLASH Endurance Miami set to be his first race under Plews, who is also the coach of fellow American and IRONMAN World Champion Chelsea Sodaro, Long is excited to see how it will play out.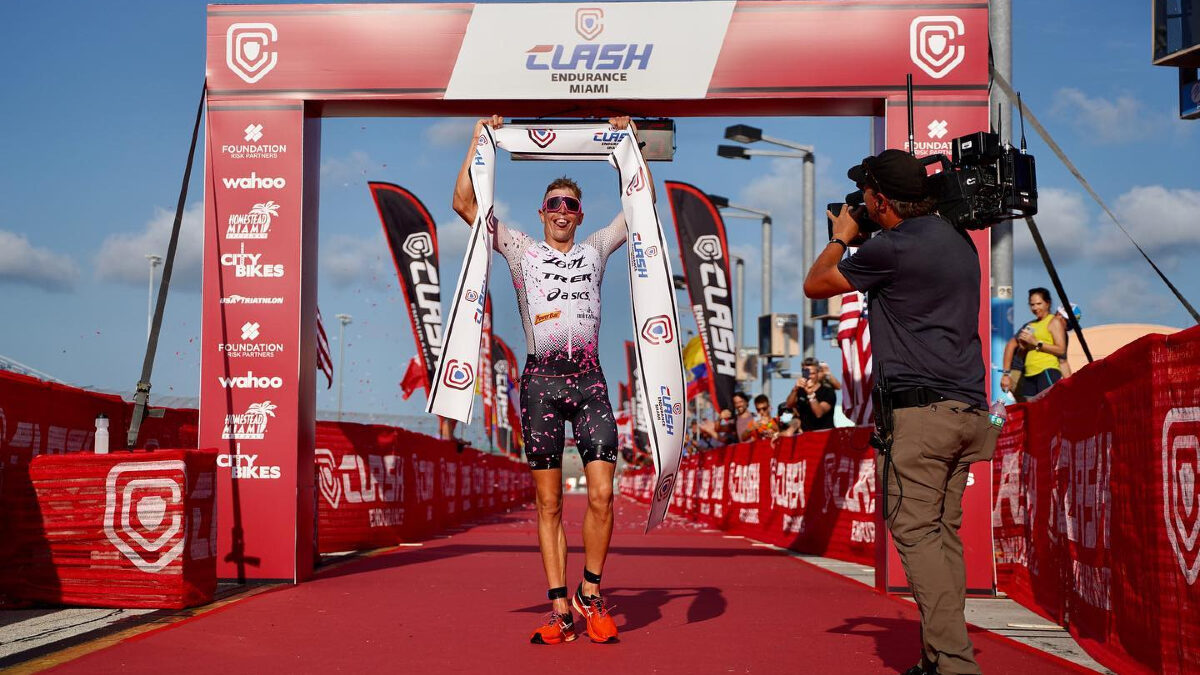 "There's been changes, new coach, new training regiment, a lot of low-carb talk, but race day is what matters and we will see how it plays out and I'm super excited about that."
Looking past Miami, Long, who will be welcoming his first child this year, is locked on the bigger picture, something he has struggled with in the past.
"This year, I'm focused on having fun and providing for my family, and the results are really secondary to that."
"Every other year, I lived day to day, or week to week, and at the very most race to race. I just didn't have this big picture view."
"There's an old expression that says you don't have to win all the battles to win the war and I think I am viewing this season as a war campaign. There's the battle of Miami, then there will be the battle of Oceanside.
"I think because I have this perspective I have a peace and calmness about achieving the objectives and each race is just one objective that makes up the grand scheme of the year."