Joe Skipper is not in Germany just to take part in SUB7SUB8 on Sunday – he's here to win and an astonishing time target just backs up that fact.
The British star stepped in at the 11th hour on Monday after the unfortunate withdrawal of two-time Olympic king Alistair Brownlee through injury.
Now it will be Skipper facing the mighty man of the moment Kristian Blummenfelt at the Dekra Lausitzring near Dresden on Sunday.
Blummenfelt has carried all before him in the last 12 months:
But despite that incredible run of success Skipper clearly believes he can dethrone the King in the North, and smash through that seven-hour barrier in the process.
Athletes were asked this week to put forward their targets for each leg of Sunday's race – and Skipper's make for eye-popping reading.
Joe Skipper Sub7 target splits
Joe is looking to start with a 49-minute swim, but it's his target bike split that really takes the way. He is targeting an incredible 3:20…
For context that is 54kph pace, and the current world hour record – at altitude and in a velodrome – is 55kph. Admittedly that record was without pacers, but Skipper is still shooting for the stars here.
Skipper then believes he can hop off the bike after that epic ride to come home with a 2:37 marathon. Not too shabby…
The net result of all that with a little transition time thrown in is an incredible 6:47 – 13 minutes under that 7-hour barrier.
It is also exactly 13 minutes less than the targets Blummenfelt has put forward – which net out at 7 hours dead for the full Ironman distance.
Kristian Blummenfelt SUB7 target splits
The Norwegian says he is looking to hit 45 minutes on the swim, which would give him the advantage over Joe coming out of the water. Nothing surprising there.
The bike though is where the big differential hits – Blummenfelt has 'only' 3:49 as his target for the ride – only 13 minutes faster than he produced in Cozumel last year despite the assistance of pacers and therefore drafting.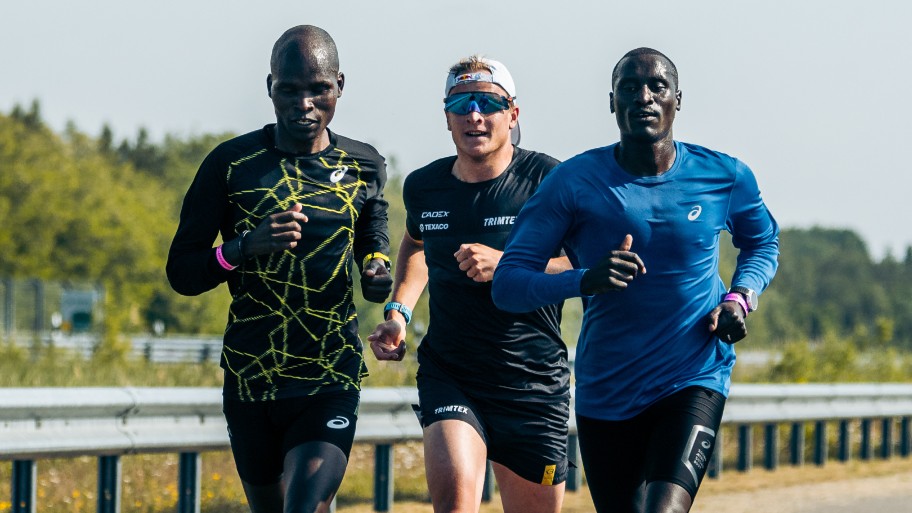 Crucially it would also leave Big Blu around 25 minutes behind Skipper heading onto the run.
Blummenfelt has been consistently saying he could hit 2:20 for the marathon off a strong bike, but he's lowered that goal time slightly to 2:25 here. He would make some time on Skipper here, but not nearly enough to rein him in.
Of course you can take these predictions with something of a pinch of salt – there could be an element of bluff here, particularly in terms of Blummenfelt's targets. He's kept strategy close to his chest and is normally not short of confidence.
But there's no one better placed to give an impartial view on both targets than data expert Graeme Acheson, the co-founder and CEO of Sports4Cast and the man behind Super League Triathlon's Stats Hub.
He'll be providing the live timings throughout Sunday's attempts from the Dekra Lausitzring and has looked at the duo's predictions and past records (at all distances) to weigh up what's possible – and potentially what's not.
Swim – Blu a little optimistic?
He explains: Kristian is aiming for 45 minutes in the swim – a pace of 1:11 min/100m and Joe is aiming for 49 minutes, a pace of 1:17/100m.
"Blummenfelt's best is 39:40, but that was Cozumel and it is well known to be fast. His one other full-distance race was the IMWC last month, which he did in 49:39 and a pace of 1:18/100m. This is probably a more reasonable time for him, although the St George swim was a bit congested, so he may be able to go a little quicker.
"His average paces in the shorter formats are 1:13 over eight sprint races, 1:13 over 21 standard distances and 1:14 over seven half Ironmans so 45 minutes at a pace of 1:11/100m is probably optimistic I'd say. More realistically I'd say we're looking at 47/48 minutes for him – a pace of 1:14/1:16. He'll need to make up these two or three minutes elsewhere."
"Joe's best swim time is 38:22 in IM Switzerland in 2021 – a pace of 1:01 min/100m – although that is almost certainly fast.
"He has no shorter stuff to look at, but thankfully has a prolific long course dataset. His average pace over 11 70.3 distance races we have is 1:20/100m, and his average pace over 31 – yes 31 – full distance Ironmans is 1:21/100m.
"So 49 minutes is a reasonable target for Joe – his average of normal Ironman swims is around the 50 minute mark, and with favourable conditions and some good pacers he should be good for 49 minutes."
Bike – Joe's time 'is absolutely bonkers'
But while Skipper's swim target seems entirely reasonable, Acheson is not as sure about the bike leg!
"The targets are 3:49 for 'Bloomy' and 3:20 for Joe, which are average speeds of 47.2 and 54kph respectively. Joe's time is absolutely bonkers. Nuts. Crazy. But I love it!
"Blummenfelt's best bike is his 4:02 from Cozumel which was at an average speed of 44.5 kph. It's tough to say what they'll be capable of drafting a pacing team. An increase of 2.7kph may not seem like much, but air resistance is exponentially proportional to speed, so the drag will go up significantly with speed.
"The fastest ever solo Ironman bike leg is Jan Frodeno's 3:55 in the Tri Battle last year and given Kristian is only aiming to take six minutes off that time, you'd say it is very doable.
"Joe's best is his 4:01 from IM Hamburg which is an average speed of 44.7kph. He is aiming for 3:20 and an average speed of 54kph. It makes Kristian's 47.2kph look positively pedestrian.
"In some ways I think Kristian has been a little conservative with his bike target and I think he should be aiming a little higher to get time in the bank for the run. However 3:20 is just nuts.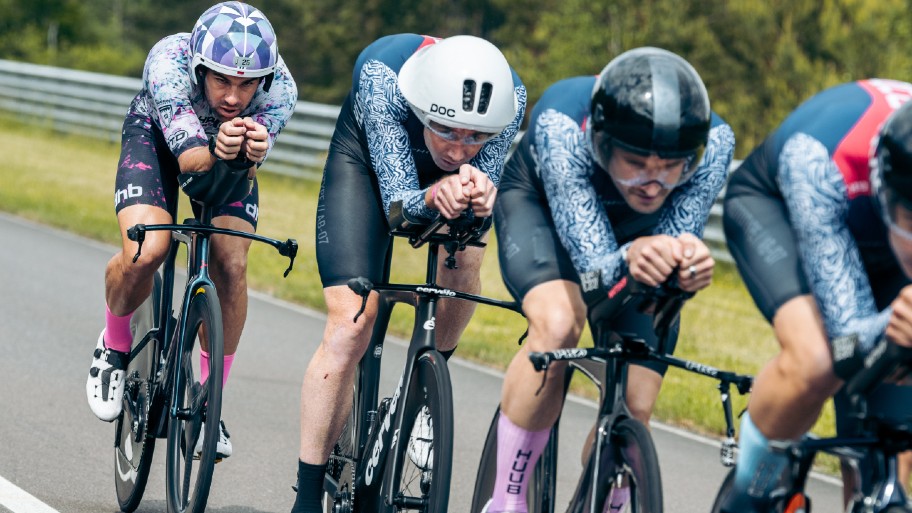 "An average speed of 54kph is just 1kph off the pace set for the World Hour record set by Victor Campenaerts back in 2019, when he cycled a distance of 55.089 in Mexico. Clearly, there was no drafting in this and it was only one rider, but it seems very ambitious to set this as a target outdoors, even with a full team. I hope the pacers are ready for pain.
"If it were me, I'd say a target of 3:35 (a leisurely 50kph) would be the happy medium for the athletes, but nobody's listening to me!"
Run – Targets look 'doable'
And so to the run – 2:25 for 'Big Blu' and 2:37 for Skipper are the predictions.
And Acheson points out: "Blummenfelt's best is 2:35 from Cozumel which is a pace of 3:41/km. However, his Strava file suggests this is a little short, and that his pace was actually around 3:47/km. So cutting 14 seconds per km is quite a chunk of time to take off, and is perhaps a little optimistic, although that run did involve toilet stops.
"It depends how much energy they can save on the bike, and this could be substantial, so perhaps it is doable.
"Joe's best run time is technically 2:29 from Challenge Weymouth in 2014, but this is almost certainly short. His best 'normal' time seems to be a 2:39 at Roth in 2016. He is aiming for 2:37 and a pace of 3:43/km – which seems reasonable. It just depends if he has blown himself out the water with the insane bike leg!"
All of which adds up to a bang on 7:00 total (including transitions) for Blummenfelt and a 6:47 for Skipper. Ambitious? Realistic?
Both according to Acheson, who's conclusion may surprise: "To be honest, I think Joe has set the most reasonable targets here. He isn't aiming for huge PBs on either the swim or the run – which, given the limited scope for drafting on these legs seems sensible – and seems to have grasped that the bike is the big one to gain time on. However, he has gone REALLY big on the bike."