It was a fast and frantic start to the 2022 Super League Triathlon Championship Series in London, and when the dust settled Lucy and Mark Buckingham – who provided their expert insights during the race from Canary Wharf on our live blog – picked out their highlights.
Women's race – Spivey's starring role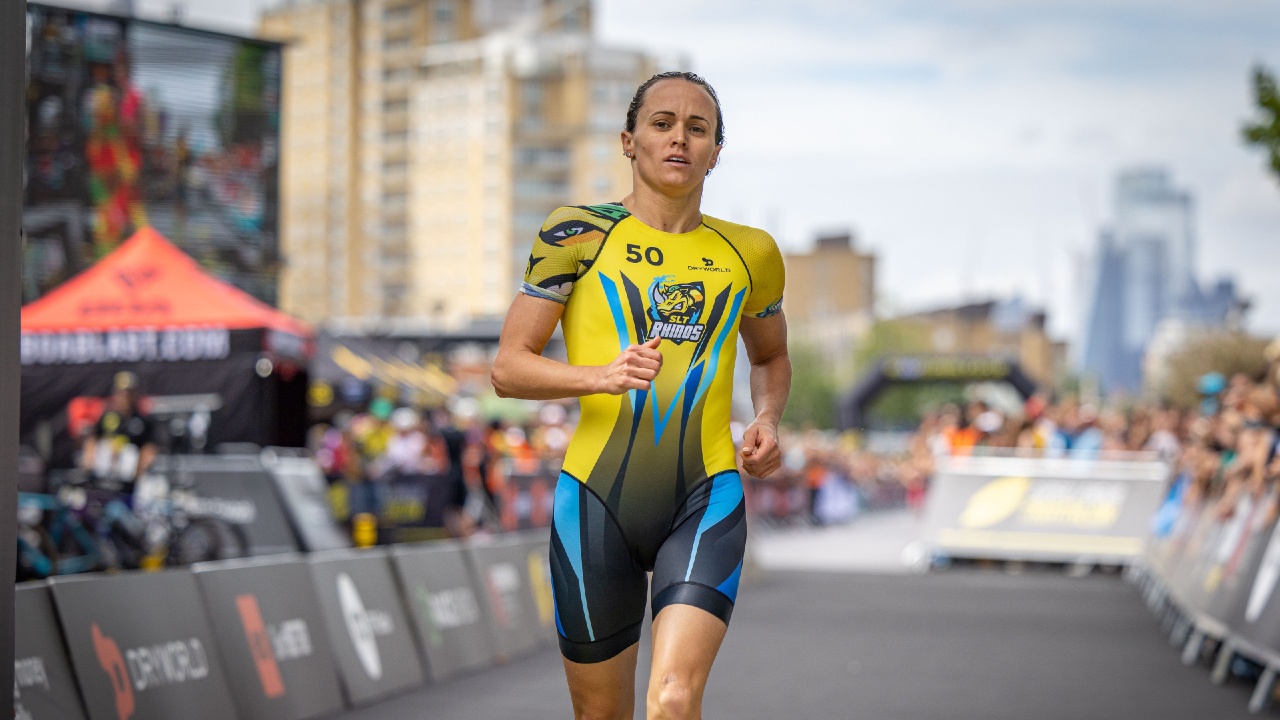 She may not have quite held on for the win, but both agreed that Taylor Spivey produced the standout performance in the women's race.
Lucy said of her Stage 3 display: "Taylor was brilliant – she rode solo for most of the bike, she then led out the swim and gave Cassandre a real run for her money on the run."
And Mark admitted: "In all honesty I didn't have Taylor in my top three beforehand – I thought Beth Potter would have been on the podium with Cassandre and Georgia."
And looking at the race as a whole Mark added: "One big thing that I did pick up on was how many mistakes there were.
"It was frantic but there were people not getting their goggles on in time, not remembering which way to go or where the transition stations were."
Though Lucy pointed out: "It's the first race isn't it! I know Non [Stanford] said she had issues with the clasp on her helmet and I saw Sian Rainsley had a graze on her elbow – there were definitely quite a few little issues at crucial points.
"But the Championship is really long and this is just the start – maybe there was an element of blowing away the cobwebs."
Men's race – hats off to Hauser
Looking at the defining Stage 3 in the men's race, Lucy said: "The front pack of three on the bike had it between them which we pretty much knew would happen, but I thought the chase pack did really well, with Tyler Mislawchuk and Jonny Brownlee taking fourth and fifth.
"And young Spaniard Sergio Baxter put in a great performance to be sixth on his Super League debut.
"But on the swim we saw that Matt Hauser just couldn't break Hayden Wilde and Alex Yee. But we should also mention that Yee just slipped going on into the swim."
And Mark added: "And Matty Hauser got caught behind that as well. So Hayden got about 50 metres of swimming under his belt before Hauser came alongside.
"Hayden then did such a good job of just slowing him down and just keeping him there – for me, that's where he won the race."
And it bodes well for the rest of the series that Hauser was able to keep tabs on Wilde given the circumstances, Lucy adding: "He did such a good job considering he got that [swim false start] penalty when it shouldn't have been him that had to take it. Psychologically to come back from that is great."