American Jason West and Canadian Paula Findlay took convincing wins at the St. Anthony's Triathlon in Florida as the pair look primed for a stiffer test at the PTO Tour European Open in Ibiza next weekend.
West, who has been running sublime splits in all of his races so far in 2023, added to his win at CLASH Miami and second at IRONMAN 70.3 Oceanside with victory, as Findlay found a timely return to form after a disappointing race in Oceanside.
St Anthony's Triathlon, which is America's fourth largest Olympic distance event, was reduced to a duathlon this time round, with athletes racing over a 2km run/40km bike/10km run format.
West the runaway winner
West proved to be the cream of the competition, as he recorded the fastest splits across all three sections of the race to take the tape in style and prove beyond doubt that he is ready to test himself against the best in Ibiza.
Having split 6:43 for the first run alongside Marty Andrie, West quickly distanced himself from the rest of the field on the bike, throwing down a 54:44 bike split, as the Boulder native was the only athlete to break 55 minutes for the bike course.
Close to a minute clear from the rest of the field in T2, West had one hand on the win at the start of the second run, but still kept the pace hot to come home +2:10 clear of second place finisher and defending champion Matthew Sharpe, as Nicholas Quenet finished third.
Findlay convincing winner
Despite the cancellation of the swim, Canadian Findlay took down the field with a strong showing across all three legs of the race and will gain a huge amount of confidence ahead of the PTO European Open in Ibiza.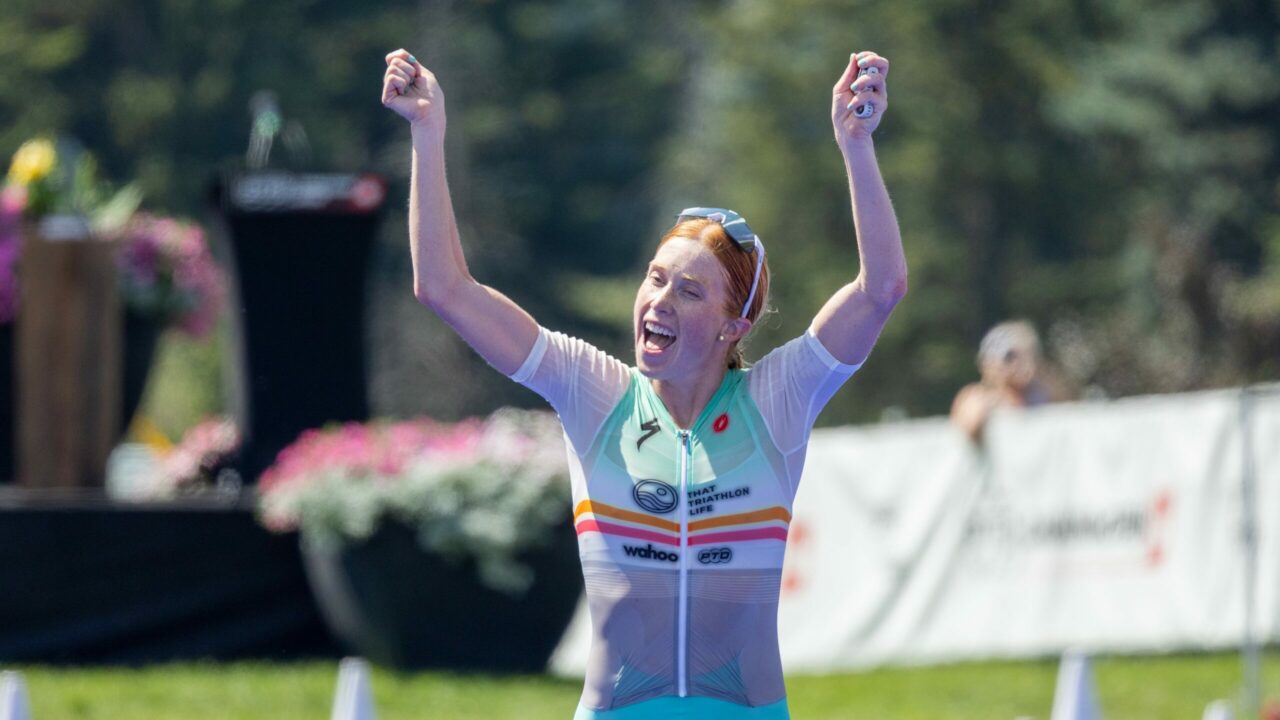 Like West, Findlay led from start to finish, as she split the fastest first run alongside Britain's Jodie Stimpson, before coming into T2 alongside American Lisa Becharas, who put together a great ride, before running away to victory with a 36:55 final 10km.
Behind, Brazilian Vittoria Lopes picked up a strong second place, with American Lisa Becharas rewarded for her fastest bike split with a third place finish.
Findlay, who finished second at last year's PTO Canadian Open, will be hoping to replicate a similar result against a top class field in Ibiza. After finishing well off the pace in fifth at IRONMAN 70.3 Oceanside at the start of April, today's performance will be a welcome win ahead of a huge showdown in Spain.
St. Anthony's Triathlon 2023 Results
Sunday April 30, 2023 – 2km run / 40km bike / 10km run
Pro Men
Jason West (USA) – 1:33:47
Matthew Sharpe (CAN) – 1:35:57
Nicholas Quenet (RSA) – 1:36:29
Marc Dubrick (USA) – 1:37:00
Marty Andrie (USA) – 1:37:35
Pro Women
Paula Findlay (CAN) – 1:46:09
Vittoria Lopes (BRA) – 1:48:23
Lisa Becharas (USA) – 1:49:09
Haley Chura (USA) – 1:49:31
Jodie Simpson (GBR) – 1:52:48