Canada's Tamara Jewett produced a superb performance – rounded off with an incredible 1:13:00 run – to see off reigning IRONMAN World Champion Chelsea Sodaro (USA) and claim the women's title at a drama-packed Athletic Brewing IRONMAN 70.3 Oceanside.
And in a heart-warming return to racing, Britain's Kat Matthews was a superb third.
We'd caught up with Jewett in the build-up and she showcased her positive mindset in the race and even overcame a 30-second blocking penalty before overhauling Sodaro in what was an exhibition between two of the best runners the sport has seen.
[Click here to read how the men's race unfolded as Léo Bergère took the title]
Swim – Holly in a league of her own
Holly Lawrence produced a stunning performance to take more than a minute out of the field in the water as she clocked 24:15.
The Brit, who has relocated to Boulder this winter, had set out her race strategy as: "Gain as much advantage on the swim, try and stay strong on the bike and the same on the run."
And she ticked off the first part of that equation in style, powering to the front right from the off after a late change meant that rather than an ocean swim, it was instead all inside Oceanside Harbour (as it used to be at this event), with the water temperature 13 degrees celsius.
She was soon out on her own, but with a host of big names battling towards the front of the chase group, including reigning IRONMAN World Champion Chelsea Sodaro (USA), in her first race since her Kona triumph.
And also right in the mix was Matthews, making her welcome return after that horrific collision with a car late last year when on a training ride, and she led that pack out of the water, a minute and 29 seconds adrift of Lawrence.
Canadian duo Paula Findlay and Jewett were third and fourth respectively, with Sodaro fifth and another big gap after that.
Meanwhile Lawrence was in amongst some of the pro men, despite having started three minutes behind, as she started the bike section.
Bike – Fairytale return for Matthews
A remarkable story developed on the bike as Matthews exceeded all expectations – including her own – by heading into T2 in front.
It had ebbed and flowed throughout with the front five way ahead of the rest.
Swim leader Lawrence saw her lead whittled down and at around midway she was overtaken by Findlay and Jewett.
But Lawrence hit back by powering back in front and all the while Matthews and Sodaro were largely content to sit in behind and watch the drama play out.
However Matthews made her move late on and she would come into T2 with a narrow advantage over Findlay and Lawrence.
Sodaro (+22s) and Jewett (+1:14) – two of the strongest runners in the sport – came next, though Jewett's cause wasn't helped by a 30-second blocking penalty.
So it was all down to the run, with Matthews and Lawrence heading out of T2 shoulder to shoulder, seemingly having an animated discussion about something…
Run – Jewett a class apart
Matthews and Lawrence had an interesting start to the run (see above), though it wasn't long before Sodaro surged past both of them.
But there was no one running faster out on the course than Jewett and she rapidly erased the 30 seconds incurred by that bike penalty.
Indeed she was on Sodaro's shoulder by halfway and never looked back after taking the lead.
When the line came she'd clocked a staggering 1:13:00 half marathon (which appears to be an all-time 70.3 best), with Sodaro a minute and 22 seconds back – and Matthews claiming an emotional third place.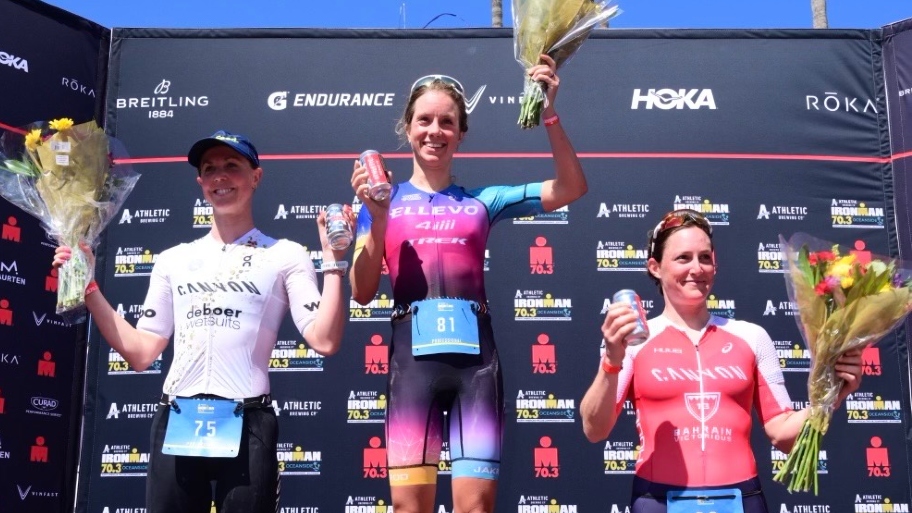 IRONMAN 70.3 Oceanside 2023 Results
Pro Women
Saturday April 1, 2022 – 1.9km / 90km / 21.1km
1. Tamara Jewett (CAN) – 4:08:09
2. Chelsea Sodaro (USA) – 4:09:31
3. Kat Matthews (GBR) – 4:12:27
4. Holly Lawrence (GBR) – 4:16:32
5. Paula Findlay (CAN) – 4:21:52
6. Danielle Lewis (USA) – 4:24:16
7. Maja Stage Nielsen (DEN) – 4:25:28
8. Annamarie Strehlow (USA) – 4:32:00
9. Olivia Mitchell (IRL) – 4:32:55
10. Nicole Falcaro (USA) – 4:42:56