PTO World Ranked #20 Tamara Jewett of Canada will line up at IRONMAN 70.3 Oceanside this weekend for her first season as a full-time triathlete, having left her job at law firm Torys LLP last November to pursue a career in triathlon.
Jewett, who won IRONMAN 70.3 Mont Tremblant last year, also finished ninth at the IRONMAN 70.3 World Championships in St George in 2022. This year, the 30 year old is looking to go even better, and with her incredible run speed, could well feature at the front of some championship races in 2023.
Ahead of IRONMAN 70.3 Oceanside this weekend, Jewett shared her objectives for the event, the reason behind her switch to full-time triathlon and why she has enjoyed being part of a team called "The REAL Triathlon Squad" quite so much.
"Right time to start my season"
Whilst picking the first race of the year is often quite the dilemma for many athletes, heading to Oceanside to kick off the year was a no brainer for Jewett. After missing the event twice, once due to the pandemic and another due to illness, getting on to the start line in California had been on the Canadian's radar for quite some time.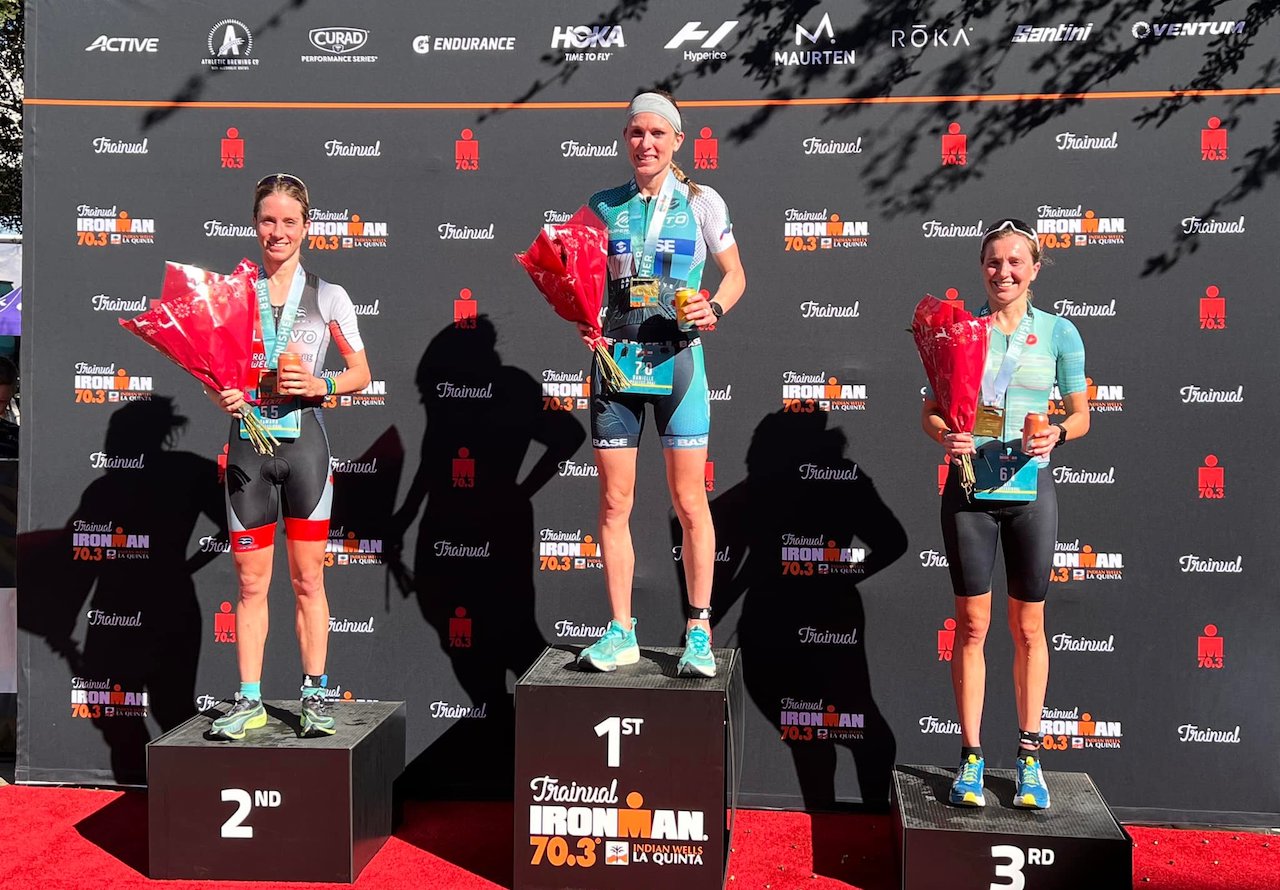 She told us: "I've been trying to get to Oceanside since 2020 – at first, I was thwarted by the pandemic, then last year I caught Covid the week of the race and had to cancel my trip. I feel like it's the right time of year to start my season, giving me a solid break and then training block through the winter; it draws a strong field; and the course and temperatures look good for me."
Having last raced in Indian Wells in December, where she finished second and ran a superb 1:14 half-marathon split, Jewett said that even at the start of the season, "I am always aiming for the podium".
However, she was also keen to stress that despite promising signs of fitness after a good winter, there is a marked difference between fitness and race readiness, and Oceanside is likely to be a test of the latter.
"The first race is always a bit of a rust buster no matter what. I know I am very fit, and I don't see any reason it shouldn't go very well. But also, fitness is one thing and race sharpness is another. This is the very start of rebuilding race sharpness into the season."
Focus on getting in mix on the bike
When answering questions on her objectives for the season, it's clear Jewett is focusing more on the process than the outcome, but she did share that getting to the front of the race earlier on is one of her key goals for the season.
"My focus this year is getting more into the front of the bike race. I will be very happy if I am able to do that. Otherwise, this early in the season, I'm not tied to anything too specific. I want to come out of the race feeling like I maximised an honest effort on the day.
"Regardless of external results, I know for each race when I worked well with what I had on the day and when I didn't. I am pleased with the races were I know I held myself to my best effort."
At Indian Wells in December, the race was won by Paula Findlay on the bike, as she got close to a six-minute lead on two wheels over Jewett. This weekend, the pair will face off once again. A faster bike leg in Oceanside by Jewett might make for a very exciting race between the pair.
"So far so good" for full-time triathlon
Having shown she has the ability to compete on the world stage in 2022, with her ninth place finish at IRONMAN 70.3 Worlds and a top 10 at the PTO Collins Cup, Jewett will again target the same competitions in 2023, but with aspirations to do even better.
"[I'll be racing] both the PTO Tour and 70.3 Worlds. 70.3 Worlds is my biggest focus, meaning that even if qualified for the PTO Asian Open in Singapore, unfortunately, I would have to choose to miss it because the timing is too tight for Worlds. The PTO European Open and PTO US Open, however, are both very much in my sights."
Talking of the PTO, Jewett revealed it was the financial support of the organization that made her move away from balancing a career elsewhere and professional triathlon more financially viable, and as a result she made the switch last November.
"I realised I was at a place where I really wanted to see what I could do if I made it my main focus. And this felt like the last real chance I would have to go for it and to do that. Support from the PTO last year made it more financially viable.
"I left my job at Torys LLP last November to pursue triathlon full time. I was sorry to leave Torys, which is a wonderful place to work, but my heart is in triathlon. I've always balanced sport with other professional goals."
Now a full-time triathlete, Jewett shared that while she still misses some aspects of balancing law with triathlon, the rest from the intense time management required to do both successfully has been welcome.
"I miss aspects of my law/tri balance, but I'm enjoying a rest from the extreme time management Tetris that that involved and a bit more space to fully embrace the communities I'm part of through sport."
One of those communities is "The Real Triathlon Squad", which along with fellow Canadian professional triathlete Jackson Laundry, Jewett is a proud member of, with the 30 year old sharing that joining the group has benefitted more than just her training.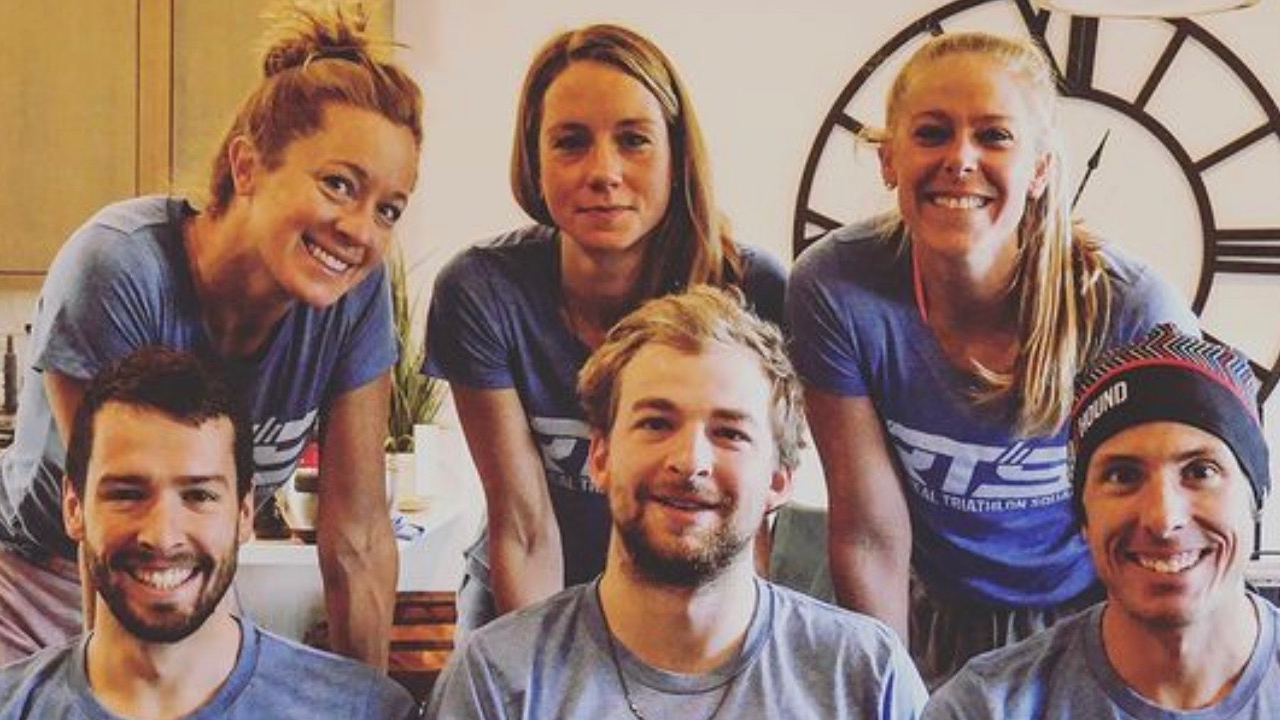 "Long course triathlon can be a lonely sport. I live in an area that's slightly removed from some of the bigger triathlon communities around Toronto. So although I coordinate with them a bit, a lot of what I do is completely solo. Being part of RTS builds in a community with other pros.
"I've also benefitted a lot from help by more established pros like Nick [Chase] and Jackson in making connections with sponsors. RTS has given me a lot of space to do a lot of my own things – including keeping some of my own sponsors on board who are particularly meaningful to me, like Ellevo. I really appreciate the balance between team support and space for individuality in this group."
This weekend, both Jewett and Laundry will toe the start line in Oceanside with aspirations of a first win to kick off the season. For "The Real Triathlon Squad", male and female victories could well be on the cards, but we'll just have to wait and see.