Reigning WTCS world champion Léo Bergère (FRA) made it two wins out of two from IRONMAN 70.3 starts with a thrilling victory over a charging Jason West (USA) at IRONMAN 70.3 Oceanside, the race that really kicks off the season in the United States.
Bergère set the tone when taking a clear lead in the swim and was in the lead group of four coming off the bike.
But his biggest challenger proved to be West, winner of CLASH Miami recently, who started the run 3:11 back but had closed to within just 12 seconds when the line came.
[Click here to read how the women's race unfolded as Tamara Jewett took the title]
Swim – Bergère makes a splash
Bergère put a recent bout of Covid behind him by taking a clear lead in the water ahead of a huge field of over 50 male pros.
A late change had meant that rather than an ocean swim, it was instead all inside Oceanside Harbour (as it used to be at this event), with the water temperature 13 degrees celsius.
And by halfway the Frenchman, whose previous 70.3 appearance saw him win in Lanzarote last March, had opened up a significant gap which he held all the way back to T1.
"I came here looking for new challenges and for something out of my comfort zone," he'd said in the eve-of-race press conference but he'd made it look relatively easy to this point.
He stopped the clock in 22:10, not too far outside the 21:27 course record time from 2009 of Andy Potts, who was in the field again 14 years later.
In second place, 29 seconds behind, was Nicholas Quenet (RSA), with five other men also in close proximity including two of the race favourites in Ben Kanute (USA) and West.
Last year's champion Jackson Laundry (CAN) was out in 22nd place at +1:37, with Sam Long (USA) 29th at +2:29.
However there were some surprisingly drastic changes in T1 – Bergère lost nearly all of his advantage to Kanute, while Laundry had moved up no fewer than 10 places to 12th by the start of the bike.
Bike – Long lights it up
There were some twists on a dramatic bike section but when it all shook out there was virtually nothing between the lead four – Long, Bergère, Laundry and George Goodwin (GBR), who was making a welcome return to form.
Long remember was out of the water in 29th but he animated the action throughout on the bike, having said beforehand he "secretly" had his eyes on Lionel Sanders ' course record of 2:04:46 from 2015.
He didn't quite manage that (clocking 2:06:15) but it was still a superb performance.
Long had surged to the head of affairs at the midway point, though it emerged his task had been made a fraction easier when the original lead group briefly went off course at mile 27, costing them around half a minute.
As things started to settle down Long, Bergère, Laundry and Goodwin had a bit of a gap to Kanute and West.
Bergère briefly took over in front towards the end but as T2 approached, Long was back in pole position and it was all set up perfectly for the run.
Behind the front four, two-time winner Kanute was at +1:54 while West – who powered to victory at CLASH Miami recently with a devastating run – had just over three minutes to make up.
Run – West takes it to the wire
Two men stood out early on the run – Bergère at the head of affairs and West, who was cutting through the field in stunning style.
Midway through Bergère led by 33 seconds to Long in second and Laundry in third but by now West was up to fourth at +2:09.
But the gap now started to close rapidly – West was into second and +1:22 with four miles to go.
Heading into the final mile he got to within nine seconds but a glance over his shoulder from Bergère as he took the final left turn might have proved decisive as he kicked when it mattered and held West (who clocked 1:07:41 for the half marathon) at bay to claim a memorable win.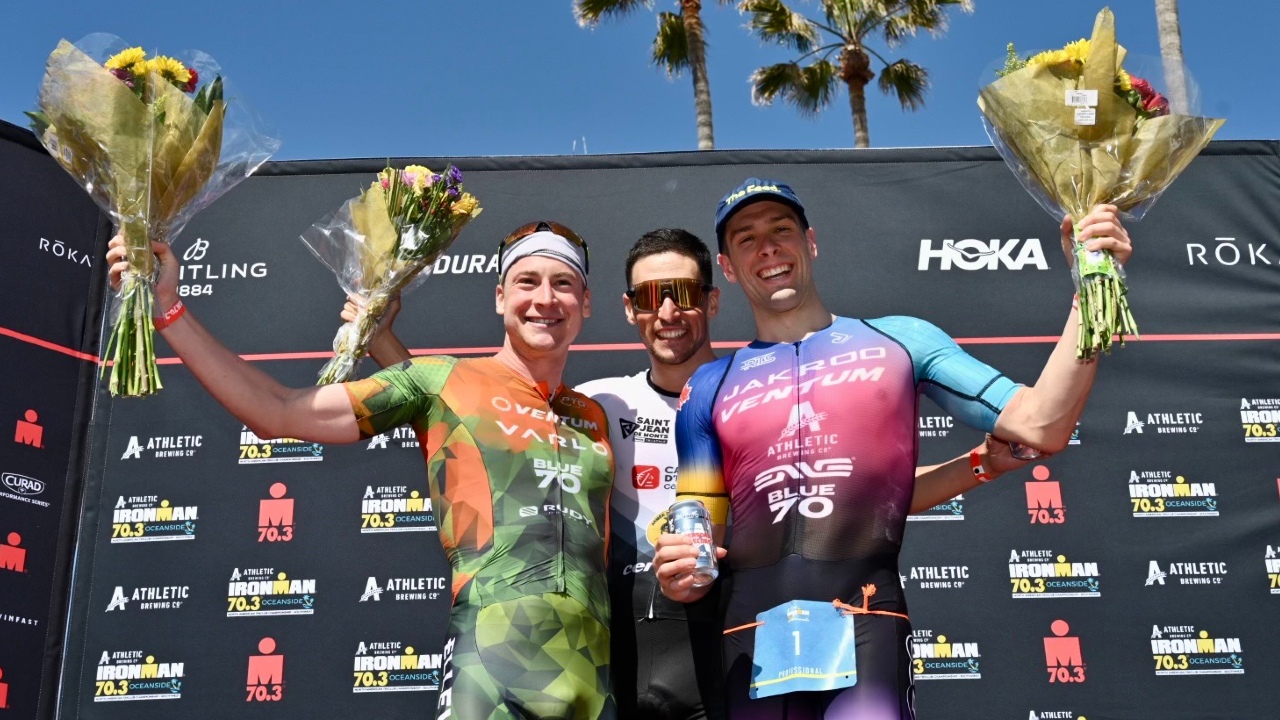 Laundry took a fine third, with Kanute fourth, Goodwin fifth, Matt McElroy (who seemed to have issues with his tracker) sixth and Long in seventh.
IRONMAN 70.3 Oceanside 2023 Results
Pro Men
Saturday April 1, 2022 – 1.9km / 90km / 21.1km
1. Léo Bergère (FRA) – 3:45:25
2. Jason West (USA) – 3:45:37
3. Jackson Laundry (CAN) – 3:47:38
4. Ben Kanute (USA) – 3:49:38
5. George Goodwin (GBR) – 3:50:35
6. Matt McElroy (USA) – 3:50:54
7. Sam Long (USA) – 3:52:19
8. Nicholas Quenet (RSA) – 3:54:45
9. Tomas Rodriguez (MEX) – 3:54:55
10. Trevor Foley (USA) – 3:55:53