Super League Triathlon produced again in Jersey on Saturday as Alex Yee bested Jonny Brownlee in an epic men's race while Jess Learmonth was again peerless.
Yee beat Brownlee in a thrilling sprint for the tape while Learmonth made it three wins out of three so far in the 2021 Championship Series following earlier wins in London and Munich.
Women's Race – The Enduro
If only everything in life was as reliable as a Jessica Learmonth swim lead. Even my cat predicted that one (again), the added importance for swim one of this Enduro, being that it allowed her to earn the first of two Short Chute short cuts, to be taken on the final run leg.
With the second to be earned at the end of the first bike leg, could she claim that too – and pretty much end the race for the top step of the podium, inside of 15 minutes?
Training partner and fellow Olympic Games Mixed Relay gold medallist, Georgia Taylor-Brown, was aware of that risk, and she managed to bridge up to Learmonth, the duo pulling clear of a chasing group which included Vicky Holland, Sophie Coldwell, Maya Kingma, Vittoria Lopes and Taylor Spivey.
All eyes on transition then… where Learmonth knew what was at stake, got the running shoes on quickest and was onto the run first. Two Short Chutes in her back pocket and just GTB for company, it was looking like another Jess-Georgie one-two, exactly as per London and Munich.
As Jess and and GTB started the second bike, they were well clear, more than 20 seconds – and barring incidents it was a race for bronze. With one lap to go on the second bike leg, the British duo were a whopping 38 seconds clear from a group of 10. With athletes eliminated for falling 90 seconds behind, simply finishing today would be an achievement.
Georgia was able to pull a small lead over Jess on runs one and two, but with another swim following immediately afterwards, Learmonth was never under threat because she could always use her swim strength to get back on terms. They started the final swim-bike-run discipline with a 40-second advantage over Holland, Periault and Potter co.
As if the writing wasn't on the wall, Taylor-Brown then totally messed up her bike mount and crashed…. the win was already looking practically impossible and now all hopes were over. Thankfully, the British pair were so far ahead that second place was still available.
So, approaching the final run it was Learmonth (with two Short Chutes available), then Taylor-Brown and then some way back a large group including a resurgent Non Stanford, Vicky Holland, Cassandre Beaugrand, Lenie Periault, Beth Potter, Katie Zaferes, Sophie Coldwell and Rachel Klamer.
Jess headed out onto the run, took the first Short Chute.. and then as if Georgia Taylor-Brown's day couldn't get any worse, she incorrectly followed Jess through the Short Chute, perhaps believing the second Short Chute would roll down to her.
Failure to complete the course and a DQ incoming? Time for the Race Officials to talk. Georgia was clearly confused – and even covered the Short Chute section again, within the race, and still finished second by a considerable margin. Lots of confusion all around.
Behind, Beaugrand was next over the line, followed by Holland and Potter – but who would take second place? DQ for Taylor-Brown was the initial ruling but the Brit was later awarded second place after a successful appeal.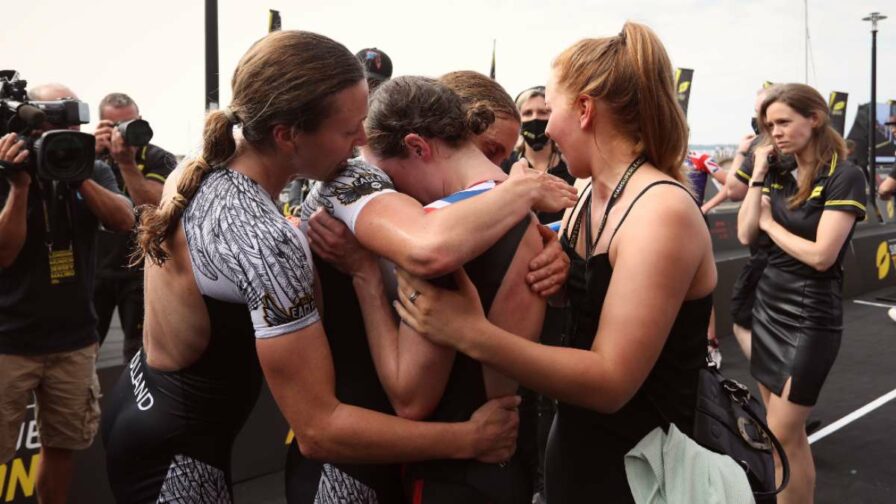 We said in our preview that the Short Chute wasn't needed today. Nothing's changed – that's not the 'excitement' that triathlon needs.
Men's Race – The Enduro
Vincent Luis started favourite to take another victory in the men's race after a resurgent display to take top step on the podium in Munich last weekend.
The Frenchman accomplished the first mission of the day by claiming the first Short Chute at the end of the initial swim, thanks partly to team-mate Matty Hauser slowing to let him across the line first.
The bike leg was a thriller with a lead group hurtling into transition with that second Short Chute up for grabs. Hayden Wilde and Seth Rider led the way in, but Wilde then collided with Rider and the latter came down as a result. The beneficiary was Vasco Vilaca, who skipped through the carnage to take the Chute.
The run saw a select lead group pounding the streets of St Helier and as they headed into the water for a second time it was the aforementioned Wilde just ahead of Marten Van Riel with Jonny Brownlee and Luis third and fourth. Alex Yee was fifth after a terrific first run.
The second swim saw Luis regain control and he was just ahead of Brownlee as they set off on their bikes. The Brit though set a furious pace before Wilde took over on the front end with the pace unrelentingly hot. Brownlee, Luis, Kenji Nener and Van Riel, Yee, Vilaca and Rider made up a lead group of eight.
There was carnage again in T2 as Rider's bike went airborne for a second, holding up Luis. Brownlee and Nener led the field out onto the second run leg with that lead group providing a thrilling spectacle. Luis was now off the back of the group.
Wilde and Brownlee quickly blasted out to cut down that lead group. Nener and Van Riel were both still almost there with them, but Luis had dropped away to be around 13 seconds down.
Hayden, winner in London two weeks ago, was really pouring it on now and he surged clear of Brownlee as the field headed for the water for a third time.
Luis produced a power-packed swim to make up a ton of time, and he was sixth as they exited the water and desperately trying to latch onto the back of the lead group of five. Up front it was Van Riel from Brownlee and Nener, with Wilde and Yee next.
Luis had clearly expended significant reserves to get within three seconds of the front but he paid for it on the final bike leg, gradually falling away from that lead group. That front five were still closely matched.
Wilde, Van Riel and Nener led the group into T2 at breakneck speed, with Brownlee next and Yee a couple of seconds further back after a problem with a shoe in transition. Luis also wasted a couple of seconds getting his shoes on and was now almost 14 seconds back – the Short Chute would be little use from there.
It was Wilde who blasted out on the run to take the initial advantage, the question now was whether had committed too soon. The answer appeared to be yes when British Olympians Yee and Brownlee closed significantly heading into the final 300m.
Brownlee and Yee passed Wilde as the field headed for that tight final hairpin turn and the Brits were neck and neck in an epic sprint finish. It was Yee who finally came out on top in a spectacular climax.
An epic race, and no Short Chutes. Who needs them…
Super League Triathlon Jersey 2021 Results
Saturday September 18, 2021
Women's Enduro
Jess Learmonth (GBR) 58:59
Georgia Taylor-Brown (GBR) 59:18
Cassandre Beaugrand (FRA) 59:45
Vicky Holland (GBR) 59:48
Beth Potter (GBR) 59:51
Leonie Periault (FRA) 59:48
Katie Zaferes (USA) 59:56
Taylor Spivey (USA) 59:58
Non Stanford (GBR) 1:00:00
Sophie Coldwell (GBR) 1:00:07
Men's Enduro
Alex Yee (GBR) 54:20
Jonny Brownlee (GRB) 54:22
Hayden Wilde (NZ) 54:27
Marten Van Riel (BEL) 54:34
Kenji Nener (JP) 54:35
Vasco Vilaca (POR) 54:50
Seth Rider (USA) 55:04
Vincent Luis (FRA) 55:18
Super League Triathlon Standings 2021
After Super League Triathlon Jersey
Women
1. Jess Learmonth (GBR) 45 points
2. Georgia Taylor-Brown (GBR) 42 points
3. Vicky Holland (GBR) 33 points
4. Beth Potter (GBR) 33 points
5. Katie Zaferes (USA) 33 points
6. Taylor Spivey (USA) 29 points
7. Sophie Coldwell (GBR) 27 points
8. Leonie Periault (FRA) 24 points
9. Cassandre Beaugrand (FRA) 21 points
10. Rachel Klamer (NED) 18 points
Men
1. Jonny Brownlee (GBR) 41 points
2. Hayden Wilde (NZ) 40 points
3. Alex Yee (GBR) 39 points
4. Vincent Luis (FRA) 37 points
5. Vasco Vilaca (POR) 33 points
6. Marten Van Riel (BEL) 21 points
7. Kenji Nener (JP) 21 points
8. Seth Rider (USA) 18 points
9. Shahar Sagiv (ISR) 15 points
10. Max Studer (SUI) 14 points
Teams
1. Eagles 275 points
2. Scorpions 197 points
3. Sharks 189 points
4. Cheetahs 164 points
5. Rhinos 149 points