Vincent Luis, Katie Zaferes lead the standings ahead of final
No British women on the Singapore start-list
After three Championship Series races in Jersey, Malta and Mallorca, the final race of the 2018/19 Super League Triathlon (www.superleaguetriathlon.com) season is coming up in Singapore over two days, 23-24 February 2019.
With double points on offer in the final round, the overall title is still up for grabs. Jonathan Bronwlee and Jersey's Oliver Turner will be there, but with the ITU World Triathlon Abu Dhabi following two weeks later, none of the Britsish women who have raced in one or more the the first three SLT races (Jodie Stimpson, Georgia Taylor-Brown, Vicky Holland, Sophie Coldwell, Kate Waugh), will be heading to Singapore.
Who can stop Luis?
In the men's race, Luis currently sits at the head of the leaderboard with the maximum 75 points, but his challenger for the season Henri Schoeman (RSA) hasn't taken his sights off the title yet, with an impressive 63 points. Schoeman's compatriot Richard Murray goes into Singapore with 48 points and Britain's Jonny Brownlee sits just behind with 46 points.
The 'Top 4' has remained largely unchanged this season in the men's racing, with all four managing to hang on to their coloured jerseys** in Malta, Mallorca and Singapore. But the double points scoring system in ONE°15 Marina and Sentosa Cove could see an upset to the overall results thanks to New Zealand's young Hayden Wilde, who has taken to SLT like a duck to water. The 21-year-old currently sits in fifth place with 34 points, and any slip-ups from the 'Top 4' in either the Eliminator or Enduro formats across the racing weekend could see Wilde snatch the podium from Brownlee or Murray or even Schoeman in Singapore.
**Coloured Jersey Winners For Singapore
Pink Jersey (Series Leader) Vincent Luis and Katie Zaferes
Blue Jersey (Swim Leader) Henri Schoeman and Emma Jeffcoat
Green Jersey (Bike Leader) Richard Murray and Rachel Klamer
Red Jersey (Run Leader) Jonny Brownlee and Kirsten Kasper
Grey Jersey (Transition Leader) Ben Kanute and Yuko Takahashi
https://www.facebook.com/SuperLeagueTri/videos/293108598064973/
An all-American dream?
Katie Zaferes has looked unstoppable this season, maintaining her pink series leader jersey throughout. Her fierce USA teammate Kirsten Kasper, who has remained Zaferes' biggest challenger so far, goes into Singapore in second place with 54 points. Impressive performances from a host of the women's roster have seen a see-saw battle for the 'Top 5' at every stage. Rachel Klamer (NED) and Taylor Spivey (USA) could shake things up at the top of the table, as could Summer Rappaport (née Cook) (USA) who has worn the red jersey (run leader) twice this season thanks to some lightning-quick run times.
https://www.facebook.com/SuperLeagueTri/videos/386395918761654/
Who can topple the leaders?
The women have a serious battle on their hands if they want to take away Zaferes' chance of winning the title this season, but the double points scoring system in Singapore could make it a possibility. If the current leader suffers from mistakes and finishes fourth or lower in Singapore, Kasper can take the title if she wins her races. Things could heat up even further if Zaferes finishes in eighth place or lower, opening up the opportunity for both Klamer and Spivey to fight for the crown.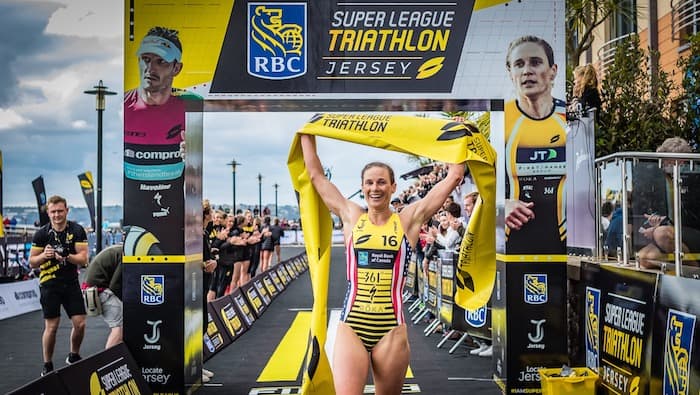 In the men's race, Schoeman can steal Luis' top spot if he wins the weekend's races and the Frenchmen finishes third or below. Both Murray and Brownlee could be in with a chance to poach Luis' season-long lead if either wins the weekend in Singapore, but Luis would need to finish seventh or lower overall and Schoeman fourth.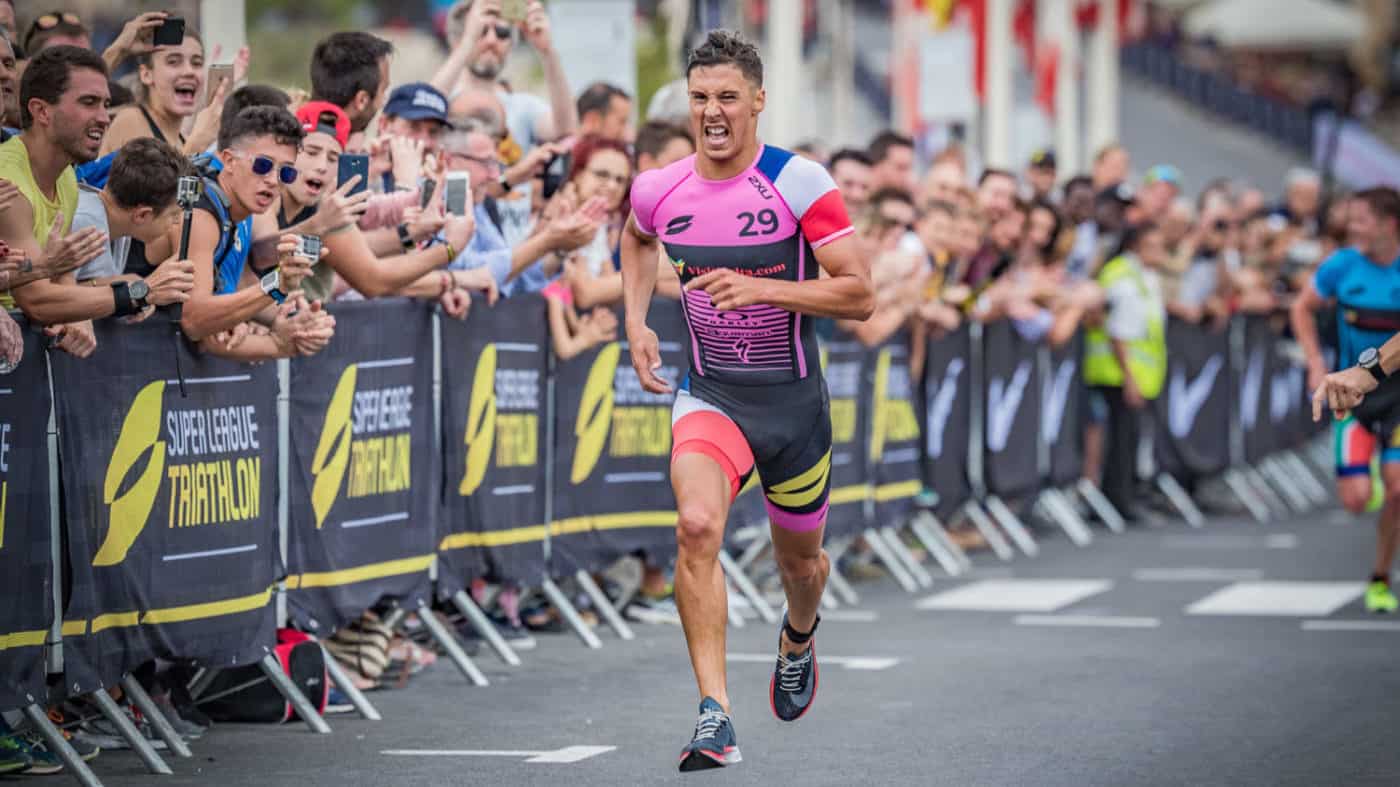 Men's Line-Up (with current SLT rankings):
1.   Vincent Luis (FRA) 75 pts
2.   Henri Schoeman (RSA) 63 pts
3.   Richard Murray (RSA) 48 pts
4.   Jonathan Brownlee (GBR) 46 pts
5.   Hayden Wilde (NZL) 34 pts
6.   Léo Bergere (FRA) 32 pts
7.   Ben Kanute (USA) 22 pts
8.   Tyler Mislawchuk (CAN) 21 pts
9.   Marten Van Riel (BEL) 10 pts
10.  Andreas Schilling (DEN) 10 pts
11.  Igor Polyanskiy (RUS) 8 pts
12.  Jonas Schomburg (GER) 8 pts
13.  Matthew Sharpe (CAN) 7 pts
14.  Luke Schofield (AUS) 4 pts
15.  Jayden Schofield (AUS) 3 pts
16.  Oliver Turner (JER) 2 pts
17.  Tommy Zaferes (USA) 0 pts
18.  Nathan Killam (CAN) -2 pts
19.  Dorian Coninx (FRA) –
20.  Mark Yu (HKG) –
21.  Matthew Hauser (AUS) –
22.  Oscar Coggins (HKG) –
23.  Ryan Bailie (AUS) –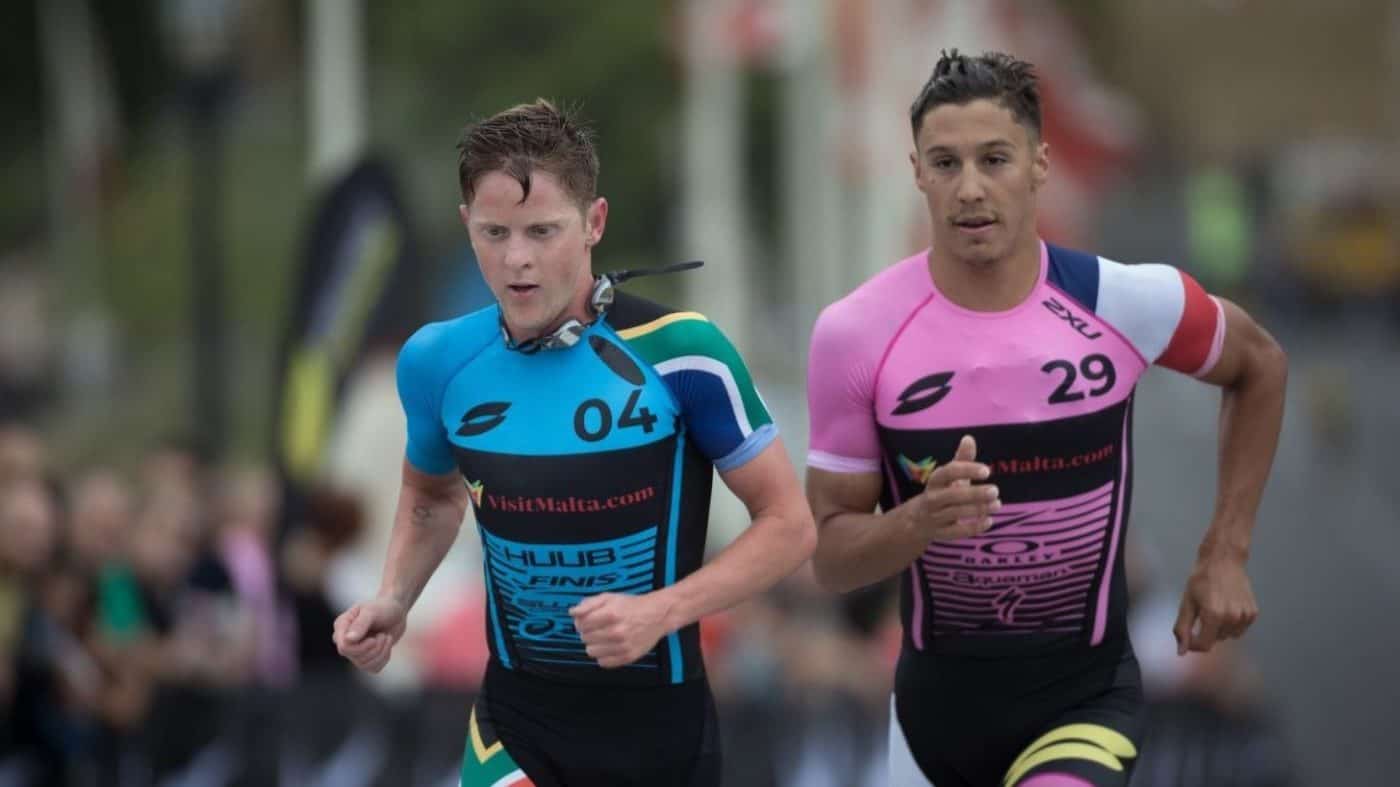 Women's Line-Up (with current SLT rankings):
1.   Katie Zaferes (USA) 71 pts
2.   Kirsten Kasper (USA) 54 pts
3.   Rachel Klamer (NED) 40 pts
4.   Taylor Spivey (USA) 38 pts
5.   Summer Rappaport (USA) 30 pts
6.   Yuko Takahashi (JAP) 19 pts
7.   Charlotte McShane (AUS) 15 pts
8.   Cassandre Beaugrand (FRA) 15 pts
9.   Emma Jeffcoat (AUS) 14 pts
10.  Danielle De Francesco (AUS) 6 pts
11.  Ashleigh Gentle (AUS) 6 pts
12.  Desirae Ridenour (CAN) 5 pts
13.  Erin Storie (USA) 5 pts
14.  Megan Foley (USA) 3 pts
15.  Elena Danilova (RUS) 3 pts
16.  Klaudia Sebők (HUN) 2 pts
17.  Leonie Periault (FRA) -4 pts
18.  Vanesa De La Torre (MEX) -7 pts
19.  Hilda Choi – (HKG) –
20.  Laura Lindemann (GER) –
21.  Maria Claire Adorna (PHI) –