It's fair to say that everyone who raced the fourth round of the 2022 SLT Championship series in Toulouse just couldn't get enough of the electric French crowd.
Hayden Wilde cemented his place at the top of the overall standings, whilst wildcard Dorian Coninx gave the French crowd something to cheer for ahead of Kenji Nener, who got his first ever SLT podium.
We spoke to the trio to hear their thoughts on the course, the crowds and their plans ahead of the grand final in NEOM.
Home crowd boost for Coninx
Whilst the entire field enjoyed the support of the crowd in Toulouse, the roars every time Coninx passed through the transition area were matched only by those for hometown hero Nathan Lessmann.
Coninx, who beat Kristian Blummenfelt in his hometown of Bergen in August, didn't quite have the legs to compete with series leader Wilde, but produced an impressive display to finish second.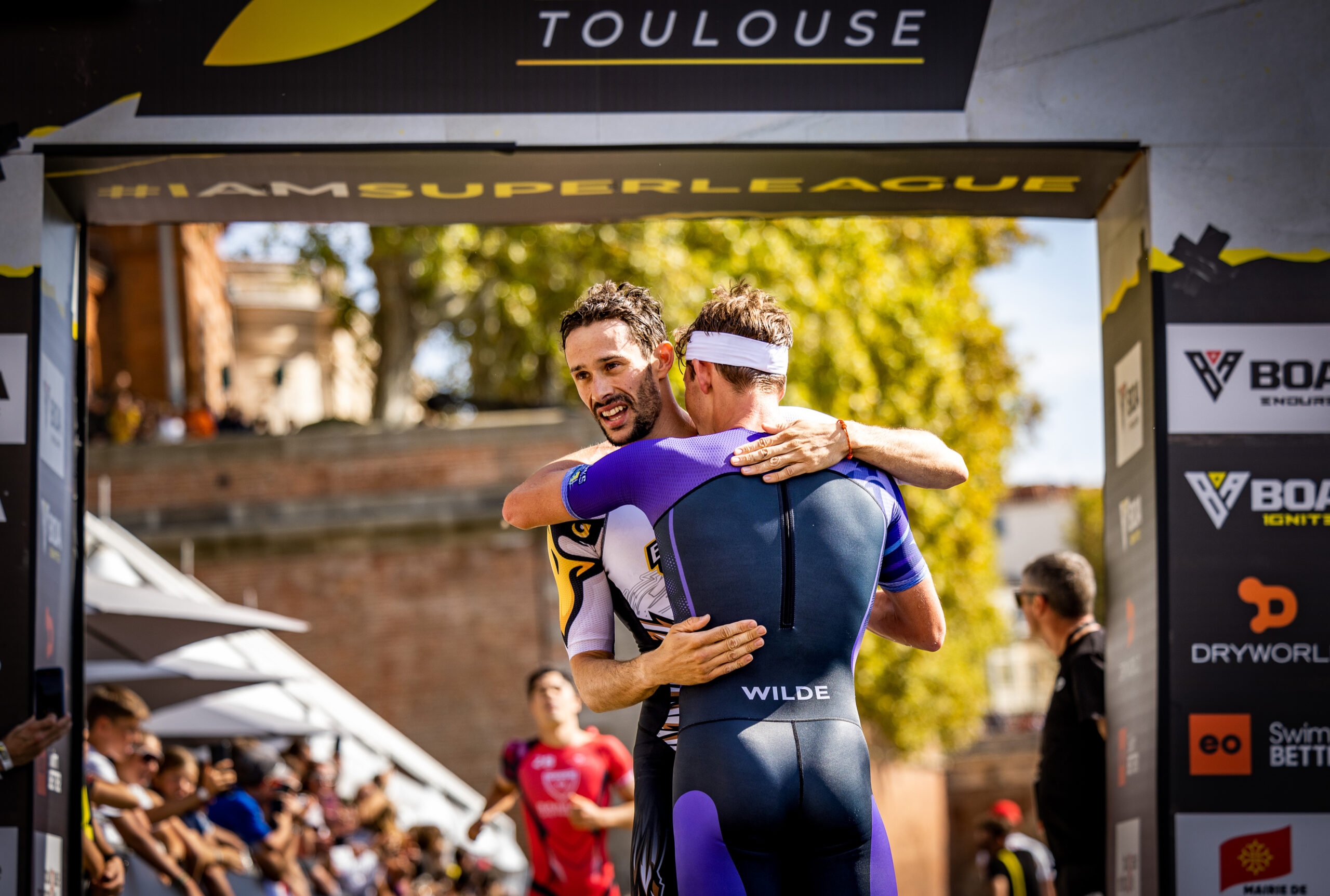 The Frenchman was grateful to race in front of a home crowd, saying: "I felt the great support of the French crowd – we don't get many occasions to race here so it was really nice."
With such a successful event in the south of France, Coninx is now eagerly awaiting the opportunity to race a home Olympic Games. In 2024, the triathlon will be held in Paris and Coninx added: "I think it's going to be a great moment for us and I think we are all really looking forward to it."
Positives for Wilde and Team New Zealand
Now firmly in the driving seat ahead of the final round of the series in NEOM, Wilde was able to take positives from both his own and his fellow Kiwis' performances, with Tayler Reid and Nicole Van Der Kaay also impressing in Toulouse.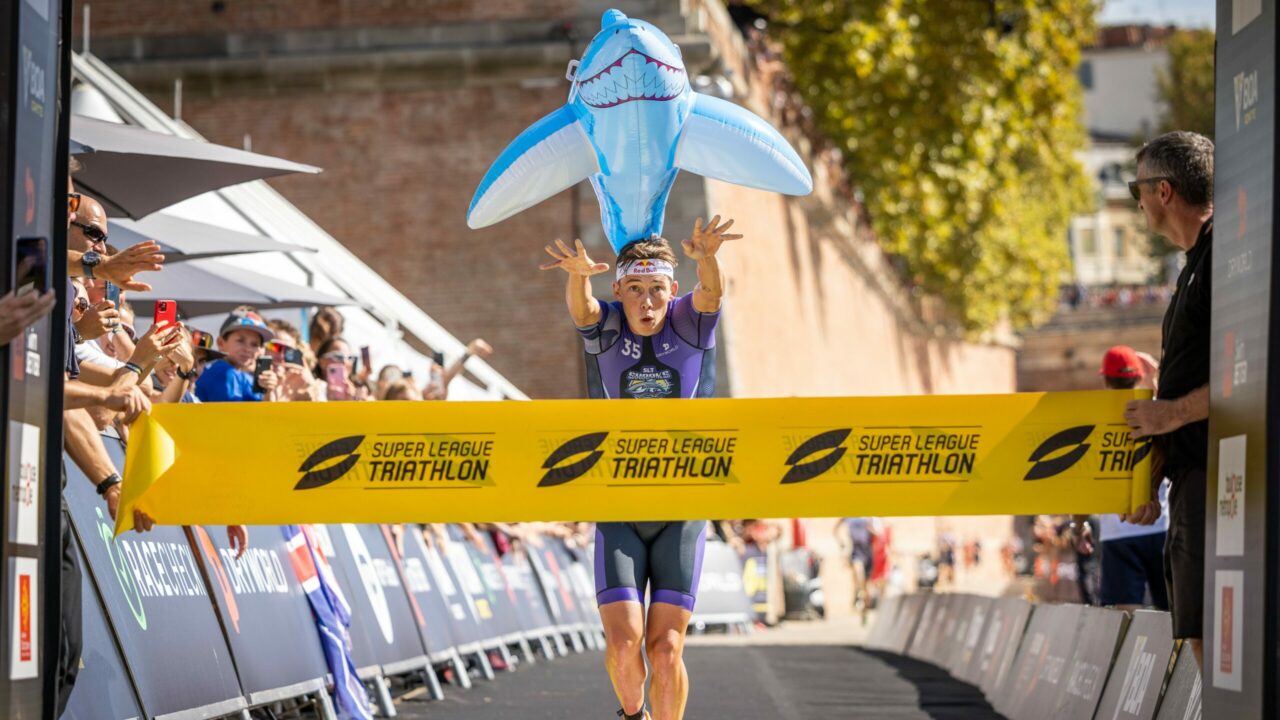 On the topic of a potential medal for the team in Paris 2024, Wilde said: "We have Tayler Reid racing so well, myself racing well and Nicole finishing in the top 10 too. We have some good ladies coming up too so hopefully by Paris we have a really strong team, I really believe NZ can be a top contender for a medal and hopefully we can get the development right in the run up."
On a personal note, Wilde was especially pleased to regain the swim form that we saw glimpses of at the Commonwealth Games, but didn't quite materialise over the first few rounds of the SLT series. The Kiwi said: "It was a good day today. I'm finally super happy with my swims and I was lucky to get into some clear water where I could really get the stroke going."
Whilst Wilde's main series rival Matt Hauser was unfortunate to finish fourth after a crash, his Eagles teammate Dorian Coninx chased Wilde hard all day. On beating someone of Coninx's calibre, Wilde explained: "It's a confidence boost to take down Dorian. I know he's arguably French number one, so to take down a guy like that, who I know is in form and is probably the freshest here gives me a lot of confidence and I hope I can hold the consistency that I've shown across the series now on to NEOM."
Bar a disaster, the final round in the Middle East will be a fitting crowning moment for Wilde, who has displayed the poise, composure and strength of character expected from an Olympic medalist throughout the series to climb head and shoulders above the competition.
Breakthrough for Nener
Rounding out the top three for Team Scorpions was none other than Kenji Nener, who showed exactly why he is a force to be reckoned with by securing his first ever SLT podium in Toulouse.
The Bahrain Victorious athlete has been a beacon of hope for the men's team throughout the series and was sorely missed in Malibu, but showed just how valuable he is to the Scorpions with an exceptional run to hold off a fast finishing Hauser for third. With teammate Tyler Mislawchuk also racing strongly prior to his crash, NEOM could be where we see Team Scorpions make their mark on the men's side.
The Japanese Olympian was ecstatic after the race, stating that third "was a massive breakthrough for me", adding that "Munich was a breakthrough race for me again but I've had the race of my life here". Nener, who raced the individual and mixed team relay race last weekend in the Asian Championships in Kazakhstan, is on his fifth straight weekend of racing, but that didn't stop him in Toulouse.
Speaking about the fans out in force in Toulouse, Nener said that "even when you're feeling bad, the crowd just gives you a huge boost". He called the experience to race in Toulouse "amazing" and hailed the work that SLT are doing to push the sport of triathlon doing, expressing his gratitude to SLT "for the opportunity to race in amazing cities in front of incredible crowds".
Finally, Nener underlined just how hard the racing is and heralded the addition of Coninx as a wildcard to the mix, saying: "I can't even begin to explain just how strong Dorian is, especially over this distance.
"Dorian is a WTS winner and I expected him to be at the front if not winning today, so to be in the mix with him was huge and I can't even begin to express how magical it feels for me to compete and just be a part of this series."