Another busy week and lots for Halo ID duo Tim Don and Ian Dempsey to discuss in their latest 'Monday Message' for us here at TRI247.
Pro View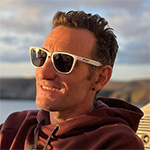 Tim Don
Tim is a triathlon and IRONMAN legend. And alongside Ian Dempsey he's created
Halo ID
, a global community for like-minded people with a love for triathlon and endurance sport – all about your next level, whatever that may be.
No surprise that top of the list is their reaction to the news that modern-day GOAT Jan Frodeno is out of Kona this year.
Both men echo the triathlon community in saying they're "gutted", with Tim adding: "We potentially are never going to see the race of the ages – the Norwegians against Jan Frodeno at Kona.
"I wasn't sure which way it was going to go to be honest."
End of an era
And Tim also picks up on the second significant aspect to the Frodeno update: "He has 'unofofficially officially' announced his retirement – not as early as Sebi Kienle mind, who announced his about two decades before!"
But as Ian says: "It would be no surprise to see him comeback with a last hurrah and take the title at Kona next year – and what a way that would be to go out!"
And that takes things on perfectly to the next topic, with both men delighted to see Non Stanford's latest incredible performance, individual gold in Munich at the weekend.
"I am so happy for Non – she is class," says Tim. "She did it at the Commonwealths with that Mixed Relay silver and to then go to the European Champs – she made it happen."
Brownlee conundrum
There's also lots to delve into in terms of Alistair Brownlee travelling to Sweden this coming weekend for IRONMAN Kalmar.
"I'm surprised Alistair is racing, it seems a little bit rushed to me but he's obviously desperate to go to Kona," says Don.
"I wouldn't have done that – I'd have gone all in for St George and the World 70.3s and then done a late-season IRONMAN to qualify for next year.
"But you know Alistair, he's a feisty guy and maybe he's going to take Jan's place and race those Norwegians."
But Ian can't wait to see how Kalmar pans out, explaining: "We know he's an incredible racer, we saw his form at Swansea, he's showed his cards. I wish him the best of luck and it will be fascinating to see how he gets on.
It's exactly the sort of talking point that merits in-depth discussion and next week we'll get that – both on Brownlee and the Collins Cup – as the full-length Halo ID video will be available to all, not just members.
Remember you can get that each and every week too by heading over to join the Halo ID community to access the full version.