Third career ETU Elite Bronze medal for Great Britain's Alice Hector
Ben Price just outside the podium with fourth position in Denmark
Having told me ahead of today's ETU Powerman Middle Distance Duathlon European Championships in Viborg, Denmark that, "If everything goes well, my strength on the second run should put me in contention somewhere towards the medals", that forecast proved spot on for Alice Hector.
After finishing the opening 10km run in sixth position, she started the second run in fourth place after the 60km bike leg and then passed Nina Zoller on the final run (also 10km), to prevent an all Swiss podium in the women's Elite race.
That represents her third Elite ETU podium in GB colours, having previously earned Bronze medals in Middle Distance Triathlon in Brasschaat, Belgium (2007) and Ibiza, Spain (2018).
The race was dominated by Petra Eggenschwiler (SUI), the reigning ITU Powerman Long Distance World Champion from Zofingen last year, with the Silver medallist that day, Melanie Maurer (SUI) repeating that over the shorter format / European Championships.
In the men's Elite race, Daan De Groot (NED) stepped up from fifth place at the championships 12 months ago to secure the Gold. More than a minute down on the leaders after the opening run, he powered to the fastest bike split to move from 12th at T1 to a lead approaching one minute 60km of cycling later. Belgium's Jan Petralia made up ground over the 10km, but De Groot would be rewarded for his efforts on two wheels.
Great Britain's Ben Price (pictured above with Alice – photo credit Ceci Frascaroli), the current Triathlon England National Champion, was in contention all day. Part of the leading group of five on the run, he was sixth off of the bike but with the final podium position just 90 seconds away, still in contention with 10km of running to go. He finished strongly, but unfortunately for him Spain's Gonzalo Fuentes (ESP) was just a touch stronger from that chase group which left Ben in fourth. 15th in 2017 and eighth last year, a medal is definitely in his sights for 2020.
Viborg ETU Powerman Middle Distance Duathlon European Championships, Saturday 11th May 2019
10km / 60km / 10km – ELITE
ELITE WOMEN
1st – Petra Eggenschwiler (SUI) -2:54:39
2nd – Melanie Maurer (SUI) – 2:58:32
3rd – Alice Hector (GBR) – 3:01:57
7th – Georgina Schwiening (GBR) – 3:04:58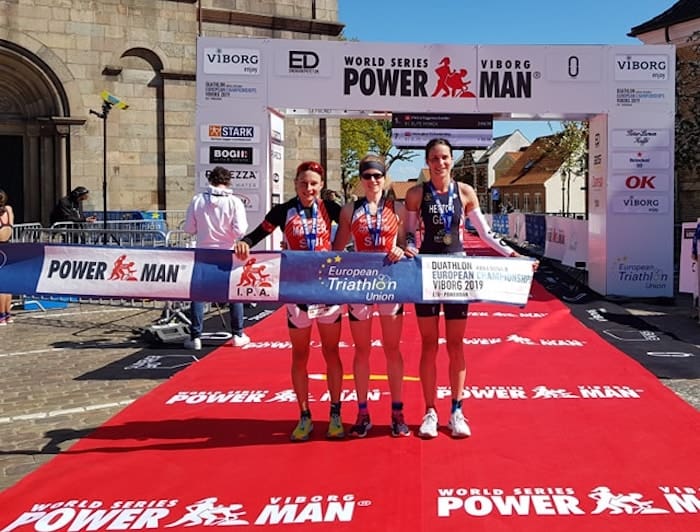 ELITE MEN
1st – Daan De Groot (NED) – 2:37:19
2nd – Jan Petralia (BEL) – 2:37:55
3rd – Gonzalo Fuentes (ESP) – 2:38:57
4th – Ben Price (GBR) – 2:40:02
11th – Peter Ellis (GBR) – 2:44:08