Vincent Luis will bid for Olympic glory in Tokyo in just a matter of days, but his rise to the top of the triathlon world was almost brought to a shuddering halt some eight years ago.
Vincent was preparing for the ITU World Triathlon Grand Final in London in September 2013, when his world suddenly turned upside down.
Vincent Luis on heart condition
Speaking on the brilliant new Super League Triathlon documentary 'INVINCIBLE: The one to beat', the 32-year-old Frenchman said: "I think three days before the race, I just laid down on the table at the physio and I was like 'something's wrong, I don't feel good'. I could see my heart going super-strong.
"I told the physio 'don't tell anyone, I wanna race, I have a race on Sunday, it's fine, I'll be fine'. And a few minutes later I got a call from the doctor who said 'the physio called me and said you didn't feel really great'. I can't blame him – that's his job, he can't let a guy race like this. And I was the luckiest guy."
Vincent's luck was that the race doctor was an eminent cardiologist, and he immediately underwent a battery of tests which revealed shocking news.
"So I got like an extra nerve in my heart. It's called Wolff-Parkinson-White (Syndrome). Basically it got like a different electric signal. If it disappears when you are training, when your heart goes up, it's fine. But if it doesn't disappear, it can make your heart go too fast."
Vincent would be allowed to race in London (he would finish fifth), but his licence was suspended immediately afterwards and his next scheduled engagement would be for heart surgery in Paris. It allowed him to resume his career, and continue his rise to greatness.
"Now every year I need to do a check and it's still all good," he says now.
"So really happy I can still race."
Former star triathlete and now TV analyst Annie Emmerson summed up eloquently the sheer magnitude of what Vincent dealt with back in 2013, and what it shows now.
"I think for any athlete to be diagnosed with any career-threatening illness or injury, must be utterly devastating.
"Particularly when you're looking at how young Vince was at the time he had this condition. It was just at the beginning of him moving into those senior ranks and people starting to look him, thinking this guy has the potential to win a lot of races. So all credit to him that he was able to deal with it and put it behind him.
"It's there, it's always there because he knows he has this condition. But to be able to go on and have the career that he has, says a lot about the athlete he is today."
The pain of losing Laurent Vidal
If Vincent needed any more proof of how brittle a sporting career and life itself can be, it came in the most tragic of circumstances on November 10, 2015. The shock was overwhelming as French team-mate Laurent Vidal died suddenly from a heart attack at the age of just 31.
Vidal (fifth at London 2012) had been an example to Vincent, somebody he looked up to and admired, and this news was difficult to take in.
"I was training. I remember in the morning getting a text – Laurent had a heart attack last night. He did not wake up he did not make it.
"I don't think I realised you know, it's hard, he was still young and I saw him a few weeks before and all this stuff.
"I took the train, went down for the funerals, and I think that's the day I realised it's done, we won't see him again. It was a tough period I lost a few other people – my two grandmas.
"For me, he's a guy I kind of like take as an example. I would love to do what he wanted to do, what he started. He was like 'don't let people tell you that you are the next Brownlee, you're not the next Brownlee, you're Vincent, you are yourself'.
"I think that's strong words because if you want to race somebody else, you're already losing."
Vidal may be gone, but he will never be forgotten, and he remains an inspiration.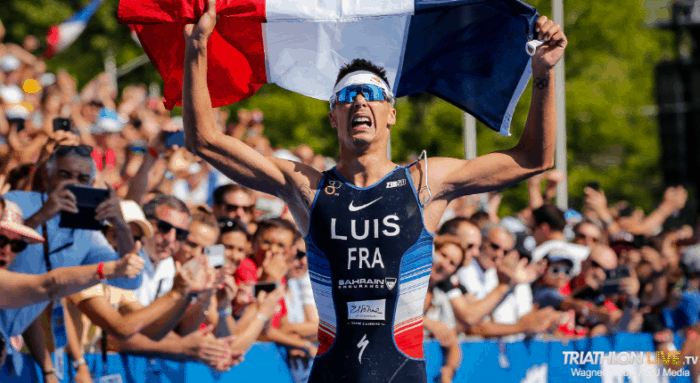 Emmerson said: "I think Vince would have felt a huge void when Laurent went. He was that sounding board. It was wonderful to see in 2019 in Lausanne in the Grand Final, Vince sealed the overall world title and he was able to dedicate that to Laurent. I think that was very touching.
"I think that actually while Laurent isn't here he is helping Vince, because he's inspiring him to those victories."