Gustav Iden, Taylor Spivey earn World Cup Gold in China
It's been quite a year for 20 year-old Alex Yee. After his 2017 season ended in a horrific manner with a terrible crash at the Cagliari ITU Triathlon World Cuo, the 20 year-old has returned to competition in 2018 by winning the British Senior 10,000m Championships and then gaining selection for the European Athletics Championships.
Last weekend on the Gold Coast he finished tenth in the Under-23 World Championships – where Samuel Dickinson won Silver – a race that was his first over the Olympic distance. Another step on his sporting journey today, earning his first ITU Triathlon World Cup podium, with Bronze in Weihai, China. The race was won by Gustav Iden (NOR), who recently beat both Jonathan Brownlee and Kristian Blummenfelt in Lausanne.
What we've been working for for years! So good to be able ride with and have a little dig at the sharp end of a World Cup with my bro @SamDickoTri.#itsonlythebeginning #4HC https://t.co/8VbN23ZJUN

— Alex yee (@Lixsanyee) September 22, 2018
Here is the full race report from the ITU.
---
Spivey and Iden win emphatic World Cup golds in Weihai
On a hot Saturday morning along the coastline of China's Shandong Province, the 2018 Weihai World Cup saw two superb champions as Norway's Gustav Iden and USA's Taylor Spivey took the tape. The sun was relentless and the bike course similarly sapping, but it was Spivey who set the tone for the day with a gutsy win to finish ahead of Annamaria Mazzetti (ITA) and Miriam Casillas Garcia (ESP). Iden then powered the bike section of the men's race to make light of a post-swim gap to the leaders, hammering on home to finish ahead of Antonio Serrat Seoane (ESP) and Alex Yee (GBR).
Men's Report
The men were first onto the beach for the start of only the second ever Weihai World Cup, and the crowds were out in force anticipating a fascinating battle on the bikes with a field packed with strong riders. Jorgen Gundersen had put himself into a useful lead over the likes of race number one Martin Van Riel, Russia's Dmitry Polyanskiy and Italy's Alessandro Fabian, but the top-ranked Belgian was back into pole position by the time the athletes had made it through T1.
The bike segment then unfolded, the long climb and fast downhill slowly shuffling the pack as Van Riel, Fabian and Spain's Serrat took control of a big lead group of more than 20 riders.
Also right in there were Great Britain's Sam Dickinson, silver medallist at the U23 World Championships, and Alex Yee, also arriving from what was his first Olympic distance race at the Gold Coast and clearly enjoying himself in the front group.
Gundersen made his move with two laps to go and went on a solo breakaway, coming out of T2 with a ten-second lead ahead of Germany's Jonas Schomburg and 35 seconds on the main pack, but it only took one 2.5km lap for the likes of Van Riel, Serrat, Yee and Lasse Luhrs to make up the gap.
Through T2 and it is Gundersen of Norway with a calm-looking 10secs on Schomburg (GER) – @MartenVanRiel and @Lixsanyee a further 25 secs behind. The 2018 #WeihaiWC is about to get very interesting… pic.twitter.com/nKEwouLygP

— TriathlonLIVE (@triathlonlive) September 22, 2018
With the heat bearing down on the athletes it was Iden who rolled the dice first, pushing out ahead and dropping Yee and Serrat with one lap to go. As the Norwegian hit the blue carpet he was able to enjoy the final few hundred metres to the line and soak up the cheers, while behind him the Spaniard managed to hold off Alex Yee to claim second, bronze for the Brit and a first World Cup podium, firmly underlining his credentials as a talent for the future. Germany's Luhrs came home fourth with Spain's Vicente Hernandez fifth.
"I'm so relieved right now," admitted Iden afterwards. "I was really nervous before the race and didn't sleep very well, so I'm happy to have performed on all three sections. The swim was well designed and the bike here is amazing, it's perfect for me after training in the Pyrenees, and the run had lots of spots to cool down. By the second run lap I went from thinking about a podium to going for the win."
"This race is hard and the level really tough with some top World Series athletes here so I'm really happy to leave with second place," said Serrat. "I stayed near the front in the swim and tried a breakaway on the bike but couldn't. Gustav attacked the finish and I tried to push but I couldn't go with him."
"Out of T1 I wasn't in the best position but maxed the first two laps all the way and was just in tunnel vision from there," said 20-year-old Yee. "Coming onto the run my legs buckled and I knew it was going to be a tough one so I'm happy to finish as hard as I did and podium. I got a bit carried away being at the front and was loving life up there without thinking too much about the run. I only did my first Olympic distance last week and I probably didn't give it as much respect as I should have but I'm really pleased to come away with that. I was on the limit, had cramp everywhere on the last lap but I hung on and I'm over the moon."
Women's Report
The heat had cranked up a notch by the time the women took to the sands of Halfmoon Bay, but that didn't deter Japan's Yuko Takahashi as she attacked right out of the first strokes to lead a strong front group along with Hungary's Zsanett Bragmayer, USA's Tamara Gorman and Iceland's Edda Hannesdottir.
Takahashi sailed through the long transition, but with 18 athletes all right behind her it looked likely a huge pack was ready to form.
That wasn't to be how it played out, however, and whilst Miriam Casillas powered forward to work her way into contention alongside Spivey and Takahashi, others fell back, leaving a six-strong lead pack that by the second lap had already amassed a 70-second lead over a train of chasers that included Chelsea Burns and Kaidi Kivioja.
The leaders continued to stretch that advantage, Bragmayer, Austria's Lisa Perterer and Italy's Mazzetti all playing their part in opening up more than two minutes on those behind, who had seen Mexico's Claudia Rivas put the hammer down solo to try and close the gap.
And at the 🛎 it looks like our #WeihaiWC winner will come from this group of six – @MiriamCasillasG Lisa Perterer, @TKSpivey Bragmeyer @yuko_takahashi8 @annamamazzetti…

Unless @1claurivas can conjure something up from 90 seconds back… main chase group now 2m15s off the pace pic.twitter.com/um3QfHFJMZ

— TriathlonLIVE (@triathlonlive) September 22, 2018
It was too late by then, however, and Spivey once again gave herself some room with a speedy descent into transition, opening up a slender lead over the other five. Mazzetti was the only one able to hold on to her heels and the pair proceeded to battle for much of the 10km course, while behind them Casillas had managed to drop Perterer and Takahashi.
By the time the blue carpet came into view, Spivey had managed to accelerate away from the Italian and her first ever World Cup gold was in no doubt. Mazzetti continued her strong return to form with second place, Casillas coming home in third. Perterer held off a spirited late charge from Japan's Ai Ueda as they finished fourth and fifth respectively.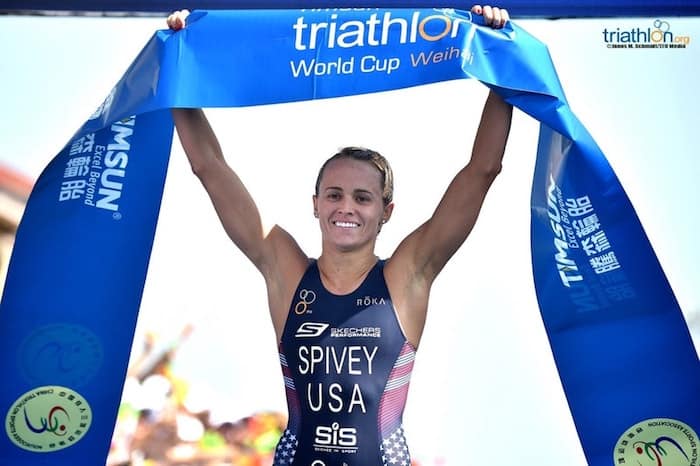 "I couldn't be happier with this result," beamed Spivey in the glow of a first World Cup gold. "I wasn't anticipating the group would separate so quickly but I tried to get them to work together and on the flatter sections we did a good job. Every descent I gapped out a bit and on the last one I tried to maintain that distance and kept the power consistent because I knew the run would be really hard. I was glad Annamaria was there but I really had to push to stick with her. After quite a few second places in World Cups I couldn't be happier to take the win."
"I am super happy with second," said a delighted Mazzetti, "I had a sore neck overnight and didn't want to start but the team helped me through it and I started so i'm happy I made it. We worked well on the bike and didn't sprint too hard and that kept the legs fresh. The run had slight uphills which felt good but I couldn't quite get the finish this time. I felt I had the gears on the hills better than the flat but i'm happy with how it went out there."
"I was one of the last out of the water but I knew the first lap on the bike with that hill was really important so I pushed hard," said Casillas afterwards. "Taylor also pushed hard at the end so it was fast but safe downhill and we had a six-strong breakaway that we knew had to work well with runners like Claire Michel and Ai Ueda further back, so we tried to be smooth and keep working. By the third lap of the run I managed to drop Lisa and Yuko and then I was just thinking about the finish. I'm wearing number 40 so obviously i've not had the best couple of years but it felt good coming back like this."
Weihai ITU Triathlon World Cup, Saturday 22nd September 2018
1.5km / 40km / 10km
Elite Men
1st – Gustav Iden (NOR) – 1:53:11
2nd – Antonio Serrat Seoane (ESP) -1:53:26
3rd – Alex Yee (GBR) – 1:53:30
4th – Lasse Luhrs (GER) – 1:53:40
5th – Vicente Hernandez (ESP) – 1:54:11
26th – Samuel Dickinson (GBR) – 1:57:12
DNF – Barclay Izzard (GBR)
Elite Women
1st – Taylor Spivey (USA) – 2:08:02
2nd – Annamaria Mazzetti (ITA) – 2:08:13
3rd – Miriam Casillas Garcia (ESP) – 2:09:07
4th – Lisa Perterer (AUT) – 2:09:27
5th – Ai Ueda (JPN) – 2:09:35